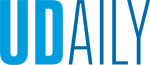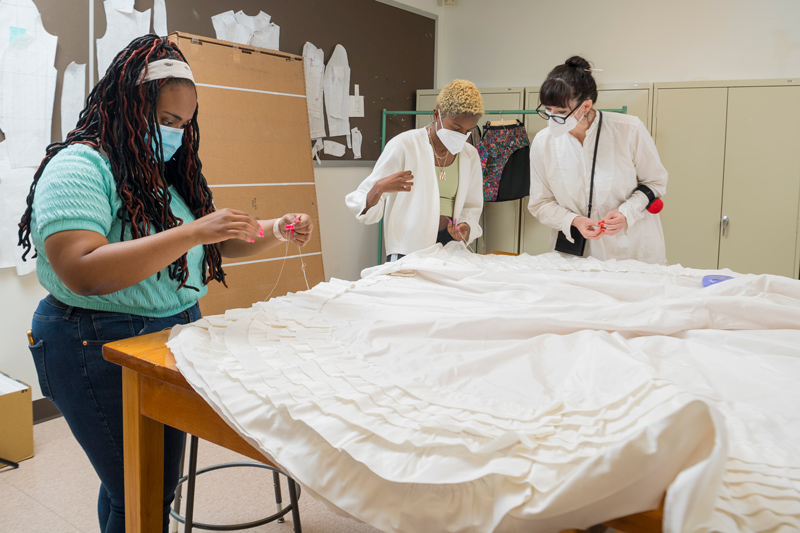 Honoring a legacy by design
Article by Ann Manser Photos by Kathy F. Atkinson July 11, 2022
Replica of famous gown pays tribute to couturier Ann Lowe's talent
In a Department of Fashion and Apparel Studies workroom on the University of Delaware campus, a professor and three students spent most of June painstakingly re-creating a famous wedding gown worn by Jacqueline Bouvier as she married then-Sen. John F. Kennedy in 1953.
As they cut, basted and gathered 154 yards of taffeta trim to hand-sew in tiers around the gown's voluminous skirt, they felt almost as if they were reliving history. But they were clear about one thing: This was not Jackie Kennedy's gown. This was Ann Lowe's gown.
"Ann Lowe was an amazing and creative designer who had many well-known clients, but as an African American, she never got the credit she deserved," said Katya Roelse, instructor in fashion and apparel studies, who is leading the project. "This wedding gown was the culmination of her life's work, and you can see so many aspects of it that are pure Ann Lowe."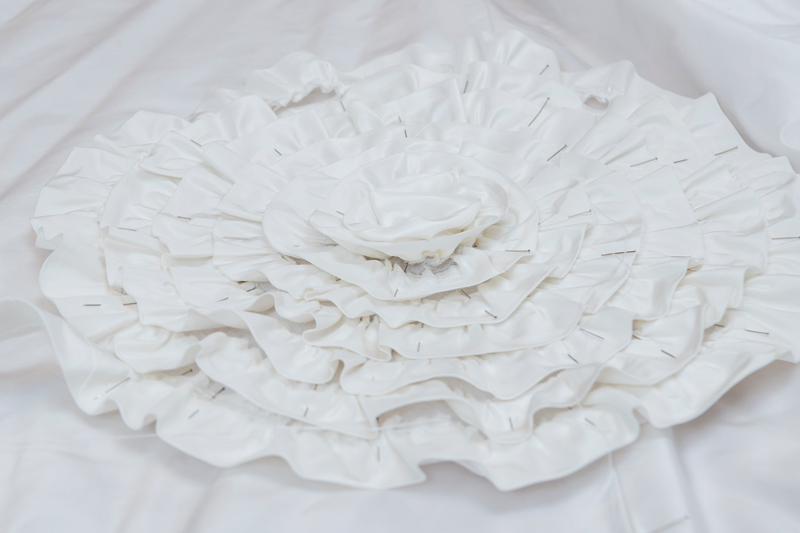 When Roelse and her undergraduate research assistants complete their work, the resulting replica of the gown that was worn at the future first lady's society wedding will be a key element in an upcoming exhibition at Winterthur Museum. "Ann Lowe: American Couturier," opening in September 2023, will feature 40 of the designer's creations from the 1920s through the '60s, many of which have never before been exhibited, and will illuminate her influence on American fashion. 
Curating the exhibition is Elizabeth Way, associate curator at the Fashion Institute of Technology's museum, who graduated from UD in 2008 with bachelor's degrees in apparel design and history.
The original wedding gown is housed in the John F. Kennedy Presidential Library and Museum in Boston, where it is too delicate to display on a mannequin, much less to travel to Winterthur. In order to include such a recognizable and admired item in the exhibition, it was decided to create a reproduction.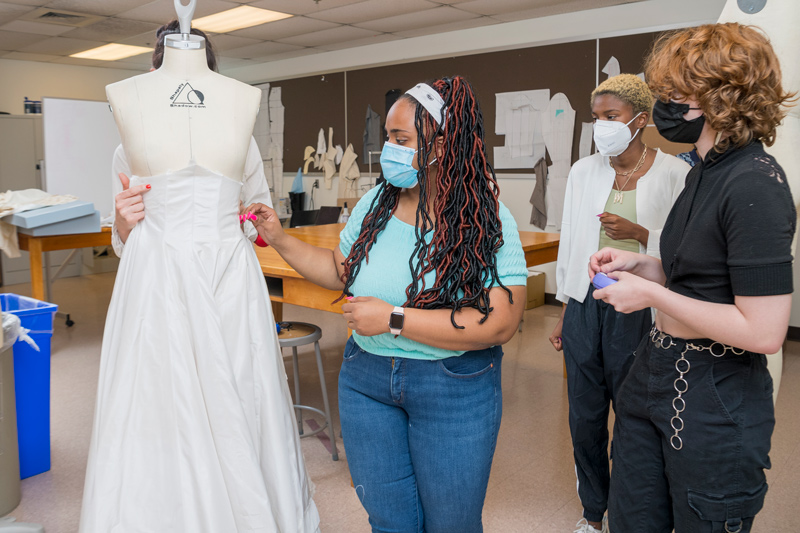 Roelse and Kate Sahmel, textile conservator at Winterthur, traveled to the Kennedy museum and spent three days in the archives with the dress. Sahmel studied the fabrics that Lowe used, while Roelse took countless measurements and made extensive notes so that she could understand and duplicate the gown's construction. 
"There were no drawings or patterns available; I just had to figure it out," Roelse said. "Being there in the archives, surrounded by all these artifacts [of Kennedy's life], I really felt the weight of history."
Back in Delaware, work on what Roelse calls "this incredible project" was frustratingly delayed by supply issues in ordering the specific types of fabric needed. Once everything arrived, she and her students began sewing.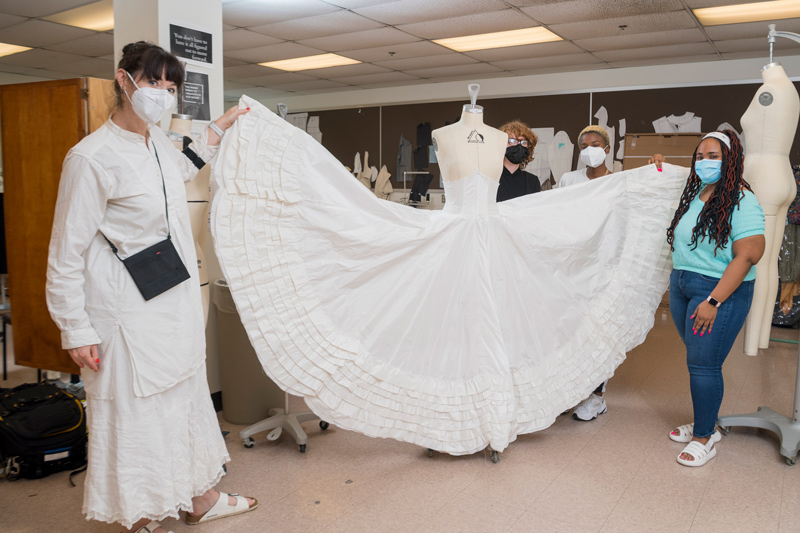 Summer Scholars Maya Bordrick, Alex Culley and Kayla Brown dived into the project, which they described as involving much more hand-stitching and design complexity than they had previously encountered. 
"I wanted to work on this project because I thought it would be a unique experience," Bordrick said. "And I wanted to learn about Ann Lowe and about her techniques."
The students said they felt a responsibility to showcase Lowe's work as carefully and accurately as possible, and they marveled at the account of how a pipe burst in Lowe's studio just 10 days before the wedding, sending her and some 35 employees on a marathon session to recreate the gown and nine bridesmaid's dresses that had also been destroyed.
"I feel like my students and I get to walk in her shoes," Roelse said of Lowe. "It's not just copying a dress. It's trying to live through the creative process, and I think that imparts empathy and understanding."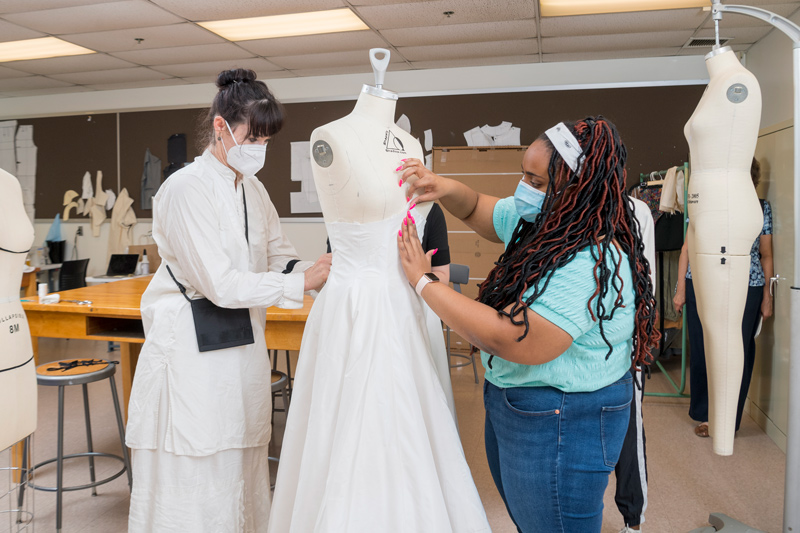 The ivory silk taffeta skirt with its multiple layers of ruffles, all of varying widths, is just one element of the gown, which also consists of a silk faille underskirt or petticoat, a corset and a bodice. The skirt is decorated with seven ornate, hand-sewn rosettes, each with small flowers crafted of a polymer clay in the center.
Many of the design details are characteristic of Lowe's work, including the lack of a waistline seam. That technique, Roelse said, "creates a beautiful line" but also puts weight and pressure on the finished gown that can add to its fragility as time passes.
In studying the original, she considered whether some of Lowe's techniques could have been altered or done more efficiently. 
"But the answer is that the way she did it was the best way, the only way," Roelse said. "She knew the fabric, she knew the stitching, she knew what she wanted to give the dress that perfect, hand-crafted look. It couldn't have been done any other way."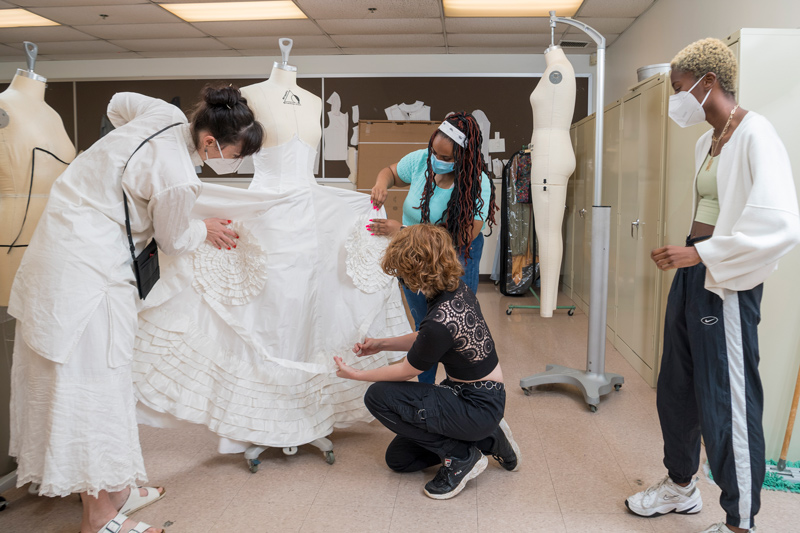 More about Ann Lowe
Ann Lowe, born in Alabama in 1898, created couture gowns for such prominent families as the Roosevelts and du Ponts and for debutantes, heiresses, actresses and society brides from Olivia de Havilland to Jacqueline Kennedy, but she remained virtually unknown to the wider public for decades. 
She learned dressmaking from her mother and grandmother and went on to become a trailblazing designer, a fashion insider and a vital contributor to American culture, known for her distinctive feminine and elegant style.
As an African American couturier, her work was often overlooked by the fashion world and the media. When she personally delivered Jacqueline Bouvier's gown just before her 1953 wedding, she was initially told to use the service entrance at the back of the house. Lowe refused and was admitted through the front door. 
The Kennedy "fairy tale wedding" was covered extensively in the media, but Lowe's name was missing from almost all of those reports. When asked about her gown, the bride referred to the designer only as "a colored dressmaker."
In 1964 The Saturday Evening Post called Lowe "Society's Best-Kept Secret." 
This article contains information from the Winterthur Museum, Garden and Library. The reproduction gown was created in cooperation with the John F. Kennedy Presidential Library and Museum.