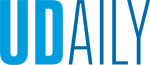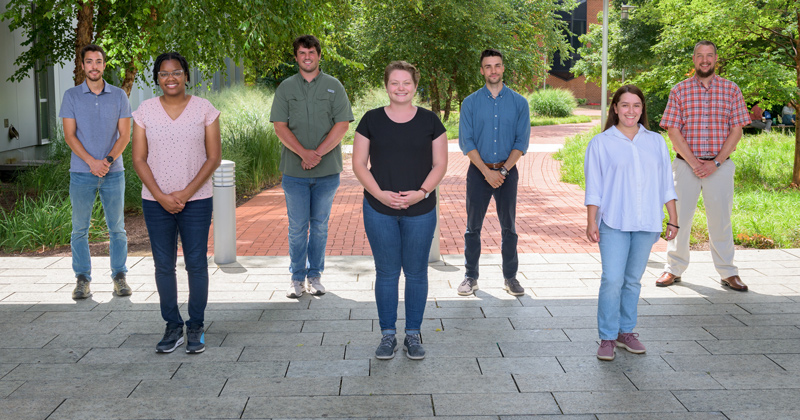 Building the next generation of environmental leaders
Article by Joy Drohan Photo by Evan Krape January 05, 2022
DENIN Environmental Fellows announced
The Delaware Environmental Institute (DENIN) has selected its seventh class of DENIN Environmental Fellows. These highly competitive and prestigious fellowships offer financial support and professional development opportunities to doctoral students at the University of Delaware.
Receiving this fellowship can be transformative in helping students realize their potential and their abilities.
Fellow Lauren O'Connor said that receiving this fellowship brought about "a really big shift in how I view myself in academia." She struggled with traditional classroom learning her whole life, and being named a DENIN fellow feels like a vindication of her skills in hands-on learning.
The two-year fellowships support doctoral students whose research interests demonstrate a bridge between science and society. Eight recipients were chosen following a rigorous selection process that included a written research proposal and an interview for finalists. Candidates must demonstrate an ability and commitment to communicating and transferring the benefits of their research to the wider world in addition to the intellectual merit of their research proposals.
These fellowships allow DENIN to support future leaders in the environmental field. Since 2014, DENIN has supported 40 doctoral fellows, and they've since gone on to positions at universities, government agencies like the Environmental Protection Agency (EPA) and National Oceanic and Atmospheric Administration (NOAA), foundations and environmental nonprofits.
"The DENIN Fellowship offers a chance to work with other graduate students in a close-knit cohort," said Jeanette Miller, associate director for interdisciplinary programs. "They learn about each other's research, carry out environmental service projects, and get a variety of professional development, career and outreach opportunities. They are valued members of the DENIN team."
DENIN manages the fellows program, which is financially supported by private philanthropy and the National Science Foundation-funded Project WiCCED.
DENIN Fellows for 2021–23
Hayden Boettcher and his adviser, Jonathan Cohen, associate professor of marine science and policy, are studying whether microplastic exposure during larval development affects blue crab survival and return to the Delaware Bay population. Boettcher's study will be the first to systematically assess the impact of microplastics at population and ecosystem scales in Delaware Bay. This information will feed into the state's regional management decisions for the blue crab fishery.
Boettcher earned dual bachelor's degrees in zoology and conservation biology in 2018 from the University of Wisconsin.
Paula Cárdenas-Hernández is working with Pei Chiu, professor of civil and environmental engineering, to develop a model to predict the breakdown of explosives in soils. Many dyes, herbicides and other industrial chemicals are structurally similar to explosives, so results from Cárdenas-Hernández's study could also help us understand and predict the fate of other human-made pollutants in the environment.
She earned a bachelor of science in environmental and sanitary engineering from the Universidad de La Salle in Bogotá, Colombia, in 2016.
Sean Fettrow hopes to determine how stable the carbon is in marsh sediments and how it may be affected by climatic shifts. He is investigating and identifying critical soil processes related to the carbon cycle and how those processes will change with sea level rise. His adviser is Angelia Seyfferth, associate professor of biogeochemistry and plant-soil interactions.
Fettrow's prior degrees include a bachelor's in environmental studies from Penn State Altoona and a master's in applied geoscience hydrology from the University of Pennsylvania.
Andrew Hill is exploring gas exchange in a salt marsh ecosystem at St. Jones Reserve near Dover with Rodrigo Vargas, professor of ecosystem ecology and environmental change. Hill hopes to improve how we measure and monitor these ecosystems so we can better include them in carbon cycling models and regional climate models.
He earned a bachelor's in biology/plant science and a master's in geography at Minnesota State University at Mankato.
With adviser Holly Michael, director of DENIN and Unidel Fraser Russell Career Development Chair for the Environment, Mary Hingst is studying salinization of groundwater and groundwater resource management in the Dover region. She is collecting real-time data to develop a groundwater model for future scenario predictions and will explore the behavioral economics of the issue as well.
Hingst earned a bachelor's degree in environmental geosciences at Michigan State University and a master's in geochemistry at the University of Texas at Austin. She has been to East Africa seven times as part of a technical team of volunteers for a nonprofit organization helping to select, design and oversee the implementation of numerous community water systems.
The goal of Max Huffman's research with James Pizzuto, professor of geological sciences, is to develop a model that tracks sediment movement through a watershed to a depositional basin, including the storage phase. His work addresses the lag between when sediment enters the watershed and when it exits. This is important to know in assessing the timing and effectiveness of streambank restoration strategies.
Huffman graduated from Hope College in Michigan, where he earned a bachelor's degree in geology.
Lauren O'Connor is using artificial streams to study the effects of the pesticide chlorpyrifos on aquatic insects in freshwater. She's measuring how chlorpyrifos affects algae, biofilms and stream insect health and how it breaks down in streams. Yu-Ping Chin, professor of civil and environmental engineering, is her doctoral adviser.
O'Connor earned a bachelor's in chemistry from Union College in 2018.
The goal of Vanessa Richards' doctoral research is to enhance the "cooperation" or symbiosis between soybean plants and a naturally occurring soil bacterium that converts atmospheric nitrogen into plant-available nitrogen within nodules on the plant's roots.
Soybeans are essential in meeting future food needs for both people and livestock. Farmers are under constant pressure to increase their crop yields, which can lead to overfertilization that damages water quality.
Richards is studying how viruses within the soil bacterium affect the symbiosis between the bacterium and soybean and the effectiveness of the bacterium in supplying nitrogen to the plant. This work could ultimately lead to greater soybean yields with lower production costs and reduced environmental impact. Richards is advised by Jeffry Fuhrmann, professor of soil and environmental microbiology.
Her prior degrees include a bachelor's in pre-veterinary science and a master's degree in food science and biotechnology from Delaware State University.
More information about the DENIN Environmental Fellows program is available on the program webpage, including profiles of past recipients, information for prospective donors who wish to support the program, and application information in the late spring.
About DENIN
The Delaware Environmental Institute (DENIN), founded at the University of Delaware in 2009, is an interdisciplinary incubator of research, knowledge and solutions specifically dedicated to safeguarding the environment and addressing environmental issues. DENIN provides academic, government and industrial partners broad access to experts from multiple disciplines in a collaborative effort to advance environmental science, promote environmental education and devise innovative, multidimensional strategies for environmental sustainability.