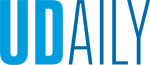 Blue Hen Moment: Memories of a Mascot
The students were a fun, friendly, intriguing group.
Corey Inganamort, BE08, befriended them sophomore year, playing intramural leagues together and frequenting the same Friday night parties. But while everyone else laughed and lingered long into the night, Inganamort's new friends often disappeared early. They had to work the next morning, they'd explain, before politely dashing off.
It would be months before Inganamort learned the true, high-profile nature of their work. And by then, he'd seek to be part of their Saturday morning missions.
"They met me at my energy, which is very high energy and fun," Inganamort says. "The word mascot never once came up." (As an unwritten rule, mascots never reveal their identity.)
Although Inganamort was not selected to join his friends as a YouDee mascot, he donned the furry suit his senior year, after his friend and former mascot Kevin Giambi, BSPA07, graduated early. That brief experience—and UD's famed mascot reputation—would propel him to Major League success.
For 13 years, Inganamort served as Screech, the Washington Nationals bald eagle. In the role, he has met the last three presidents and Supreme Court justices. He's skydived in costume and ridden outside of a helicopter flying above the nation's capital. He's caught the first pitch at the World Series game toured children's hospitals.
Recently retired from the mascot world, Inganamort now works as a radio producer in Washington, D.C. Although there's little overlap with his past role, the Blue Hen reflects fondly on his days in fur.
"It gave me a newfound confidence," Inganamort says of his brief time as YouDee. "I'd recommend everyone try out to be YouDee because it's the greatest experience ever."