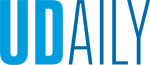 Gold Plated
UD's student-run restaurant is helping set the fine dining bar
Diane StopyraDecember 14, 2022
Vita Nova is special.
It's not just the eatery's melt-in-your mouth mignon or signature salad with asiago cheese and candied walnuts (although a local mutiny nearly erupted when the latter was temporarily removed from the menu). The finedining operation, where Blue Hens in black ties hone their hospitality pedigree, is among only a handful of studentrun restaurants in the nation. OpenTable, the online reservation service, labels it a top-five restaurant experience in the Delaware Valley, including Philadelphia.
"Decanting wine at the table, lifting silver-domed cloches as we serve each entree—these are bygone elements of service expertise that you don't see much in restaurants, let alone in an academic curriculum," says Vita Nova Director Nicholas Waller. "But we feel it's important to learn the crème de la crème of culinary execution."
Student staff members, who each devote approximately 22 hours per week to the job, rotate through 17 positions over the course of a senior year, from bread waiter to manager, sous chef to sommelier (the wine list is 155 bottles strong). During the pandemic, the students pivoted to a curbside pickup model, serving multicourse meals in white gloves on the side of Main Street. It's this type of experiential learning that has landed Vita Nova alumni coveted positions working for industry royalty, like celebrity chef Gordon Ramsay and Manhattan restaurateur Danny Meyer.
And it's afforded the students something even more valuable.
"Not everyone understands or believes it, but successful, happy people are the ones dedicated to service," Waller says. "In this sense, the course sets students up for more than a career. It equips them with wonderful tools for fulfilling, satisfying lives."