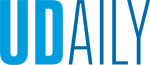 Blue Hen moment: Double Dels down under
Alumnus proposes beneath the sea
Diane StopyraJanuary 03, 2023
The love story of Austin and Jessica Crouse (formerly Jessica Doyle) is going... swimmingly.
The Double Dels, who met as engineering majors, got engaged while scuba diving in Key Largo before tying the knot on May 23, 2022, in Aruba. Now, the water-loving couple work together at W.L. Gore & Associates in Elkton, Md, and they still frequent Main Street for a night out.
Below are Austin's five steps for a successful underwater proposal:
Pay attention during classes in UD's Spencer Lab. You'll need the skills learned there to craft a custom wooden ring box out of walnut. Incorporate magnets (to keep it shut) and a piece of foam (to make sure it floats… just in case you drop it).
Put the real ring—yes, the real ring—inside, but secure it to the box with a lanyard. (You can cut it free when you need to with a dive knife.)
Get down on one knee on the seafloor and pop the question. Hold up a custom underwater banner that reads: "Of all the fish in the sea, you're the only one for me. Will you marry me?" Don't wait for a yes (remember: your beloved cannot speak underwater), but lookout for an "OK" hand signal.
Return to the boat for champagne and key lime pie.
Live happily ever after!