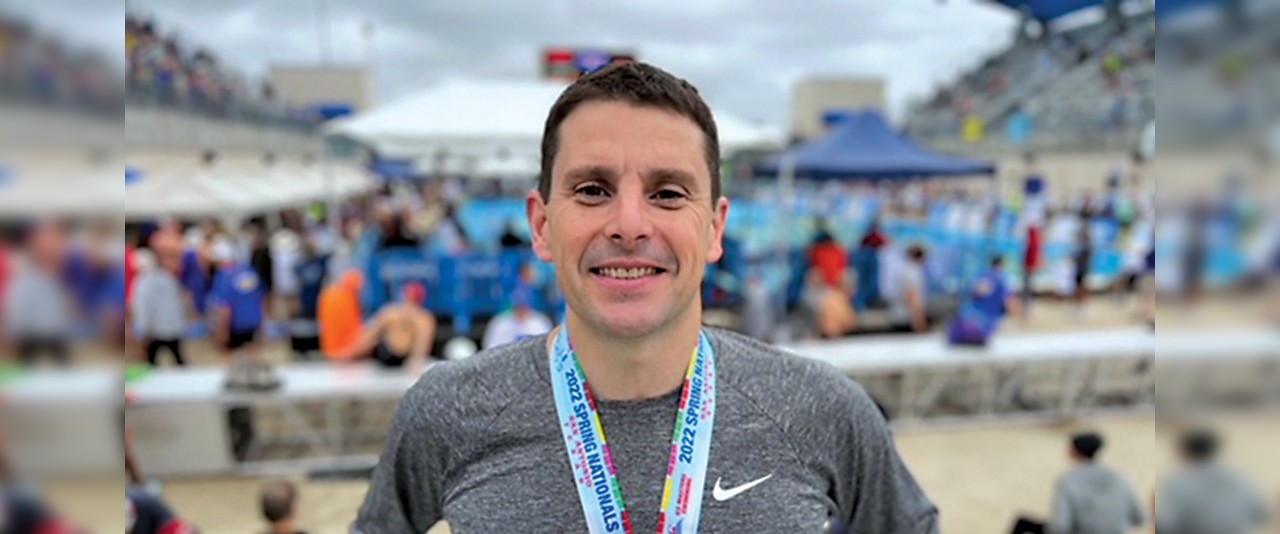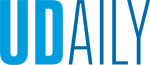 Mastering the pool
UD economics professor finds record-breaking solace in the water
Diane Stopyra August 31, 2022
This spring, when Carlos Asarta launched off a diving block and into an Olympic-sized pool in Pontevedra, Spain, he felt neither a bolt of adrenaline nor the flutter of butterflies. Rather, a wave of calm enveloped him. That may sound odd, given the pressure and intensity of the moment—he was 2 minutes, 26 seconds and, to be precise, 29 tenths of a second away from breaking a Spanish national record in the 200-meter breaststroke. But, for this University of Delaware economics professor, the water has always represented peace.
"It is my medium," he says. "This is where I belong."
Forty-four-year-old Asarta competes in the U.S. and abroad at the Masters level, a class of the sport for athletes 25 and older. But his love affair with swimming began as a child. Growing up in his native Spain, he struggled with asthma, flat feet and knees that bent at an unnatural angle. He wasn't obese, but overweight enough that—the memory's still fresh—his thighs folded into "three little rolls." In every dreaded gym class race, he finished last, becoming the target of hurtful elementary school jabs.
One day, a concerned doctor recommended that Asarta take up swimming, so, at the age of 6, he joined his school's team, immediately enamored with the free, weightless feeling of the pool. The sport transformed him, physically and mentally.
"I'm getting goosebumps thinking about the day I finally beat one kid running," he says. "I can remember it like it was yesterday. I saw what swimming could do for me—how it would allow me to excel."
The sport also offered Asarta a sense of home, no matter how often his father's job as a major general in the Spanish military required moving. As a child, he relocated many times within Spain, then to El Salvador, and eventually to France, where he completed his high school career. In each place, he gravitated toward the nearest pool and a like-minded community of people who found solace immersed in liquid.
The more powerful and refined Asarta became in the water, the more opportunities emerged. As a teenage member of Spain's junior national team, he competed in the European Championships in Switzerland and in other international competitions hosted in England, Germany and elsewhere. During one international meet in Monte Carlo, the royal family of Monaco hosted him and his fellow athletes at the famed Monte Carlo Casino—frequent filming site for the James Bond franchise—for an extravagant dinner and cabaret complete with on-stage lions. When it came time for college, the University of Nebraska-Lincoln recruited him as a D1 swimmer.
America would expand Asarta's horizons in new ways, helping him discover a passion for leadership (he served first as multicultural representative and then as president of his university's student-athlete advisory board) and exploration (he traveled the U.S. for swim meets and took thousand-mile road trips on a "maxi" scooter). But then... life got in the way.
In 2013, Asarta took a job at the University of Delaware, where he now serves as the James B. O'Neill Director of the Center for Economic Education and Entrepreneurship, providing K-12 economic and financial education to teachers and students across the state. The center is a place where, he says, "I found my flock. I love the people I work with, I love our students and I love the sense of community. People stay here—they make their entire careers at UD—and that tells you a lot."
Still, the pressures of academia coupled with the responsibilities of a family—a wife and three children, including one Blue Hen—disrupted Asarta's workout routine. Over the years, he gained 30 pounds and saw his fitness deteriorate. So, in 2017, he reached out to his dear friend and coach from his teenage years, Candido Carvajal. Armed with tailored workouts from this man in Spain, he took a literal plunge and began training for Masters events at home and abroad.
Asarta's workout schedule involves "figuring out where to fit an hour here and there" between lectures, center engagements, faculty meetings and chauffeuring his kids to their own swim practices. But that doesn't mean it's not rigorous. In the leadup to the Spanish Nationals meet in March 2022, he swam five or six days per week for seven months, 60 minutes at a time, utilizing both the "amazing resource" that is UD's Bob Carpenter Center and the YMCA in his hometown of Kennett Square, Pennsylvania. For another 30-45 minutes two to three times per week, Asarta did dryland workouts involving weights and core exercises.
But his success in the water came down to more than formal training. Walking into the event, Asarta wore his favorite piece of Blue Hen gear, a jacket that "always breaks the ice with people who approach me to talk about Delaware," he says. "It might just be my good luck charm."
Asarta broke the Spanish record in the 40-44 age category, a record that had stood for five years, by 1 second and 28 tenths of a second, cheered on by his parents and sister who still live in Spain. One month later, at the U.S. Masters Spring Nationals in San Antonio, he placed second in both the 200 breaststroke and 400 medley, an event that requires a seamless transition between each stroke: butterfly, back, breaststroke and freestyle.
"Academia is like that, too," he says. "It's not just teaching—it's also research and service—and you need to navigate seamlessly from one mission to the other. That's not always easy, but it is gratifying. And, as with anything, it gets easier with training."
While Asarta's passions—swimming and higher education—may not appear all that similar on the surface, his work in the pool regularly informs his work in the classroom. Learning to gracefully lose in the water—which happens a lot more frequently than the winning, he notes—has made weathering academic losses easier. Consider that time one of his papers received an unnecessarily harsh critique from an academic journal. Asarta's athletic career has taught him to "stand up and keep moving forward," a strategy that pays dividends—the paper was eventually published by a more acclaimed outlet.
Today, Asarta is looking ahead to future goals, including—possibly—qualifying for a World Masters Swimming Championship and—definitely—continuing to show his children "they are capable of anything they set their minds to." But when it comes to goals, the professor is equally focused on nurturing the aspirations of others, especially those young people in his classroom.
This commitment to mentorship, you might say, is a lot like swimming. It requires dedication and time, sometimes years before you see the fruits of your labor. But every so often, out of the blue, Asarta receives the best type of win: An email from a past pupil shows up in his inbox, with a message of gratitude.
"A student will let you know that you changed who they are, or that your class influenced their life in some way," he says. "That is its own kind of medal."