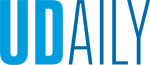 Research Reimagined
Article by Lauren BradfordMay 18, 2022
The 42-year-old building named for George Worrilow, a longtime leader in public service and agricultural outreach, has been completely reimagined, and the newest generation of Blue Hens are loving it.
This flagship research facility for the College of Agriculture and Natural Resources (CANR) was originally constructed in 1980. Reopened in 2020, it is practically unrecognizable to the college's 10,000-plus alumni.
As the primary laboratory building for more than 1,000 students and 80 faculty members, Worrilow Hall is where critical disciplines intersect, from genetics to animal physiology, soil chemistry to wildlife conservation, and food microbiology to poultry pathology. The renovated facility now boasts large open-concept laboratories, flexible lecture and demonstration spaces, updated lighting and ventilation, and mobile workstations to transform the way students collaborate and innovate. It even has a cafeteria.  
This renovation was made possible by more than 100 donors and funded through Delaware First: The Campaign for the University of Delaware, UD's most comprehensive engagement and fundraising effort to date.
A highlight of the newly renovated space includes the bright and tech-friendly anatomy lab, which allows undergraduate pre-veterinary and animal science majors to use state-of-the-art technology to examine skeletal models and practice hands-on clinical veterinary procedures. 
"It was very exciting walking into the building and seeing all the updates," says Jocelin Aguilera, ANR22, a first-generation college student who took her genetics lab and pre-veterinary clinical experience classes in the renovated space.
Elsewhere in Worrilow Hall, plant and soil sciences graduate students and faculty researchers benefit from reimagined labs and diagnostic testing centers where their analyses help farmers, gardeners and Delmarva communities manage soils. Updated lab spaces include new work benches, additional storage and larger prep areas that streamline processes and promote collaboration across research groups.
"Except for the outer structure, Worrilow Hall is a totally new laboratory building," says Ruifang Hu, ANR22PhD, whose research focuses on the evaluation, uptake mechanism and mitigation of arsenic and cadmium in rice. "Our lab used to have two separate rooms and we needed to frequently go across two doors and a hallway during some regular sample processing. Now, we have a much bigger working space in just one lab unit, inside which there is a break room, chemical storage room, biological room, glove bag room, sample storage room, and sink and hood area." 
Rounding out the list of "whoa, that's new" is the Genuardi Food Innovation Lab, a 3,600-square-foot space that includes equipment for UDairy Creamery dairy processing and a viewing gallery so visitors can watch cheese and ice cream production in action. In the adjacent test kitchen, undergraduates experiment with a variety of ingredients as they hone the entrepreneurial and food production skills that will carry them from classroom to career.
In an industry with shifting trends and evolving interests, the new Worrilow Hall offers flexible spaces, cutting-edge teaching labs and myriad new equipment. Most importantly, it continues the legacy of the late George Worrilow: promoting teamwork, problem-based learning and interdisciplinary research, and ensuring faculty and students can strive toward even more innovative solutions to feed the world and protect the planet.