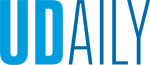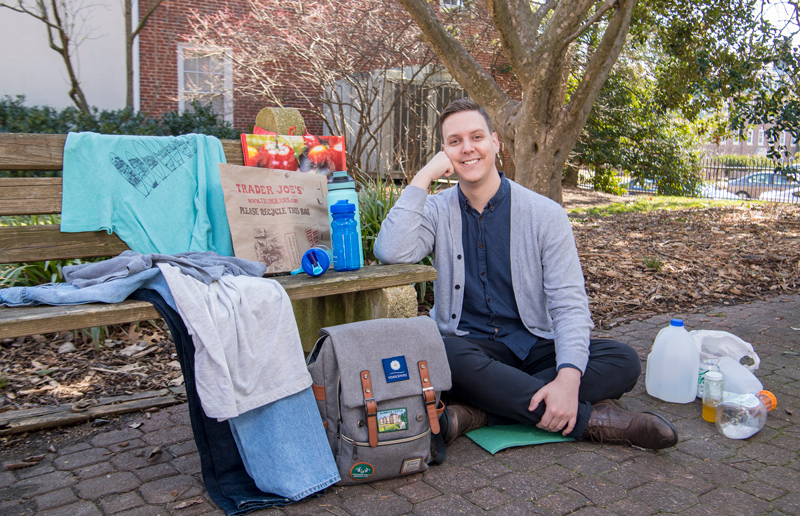 Driven by passion for sustainability
Article by Adam S. Kamras Photo by Kathy F. Atkinson April 21, 2022
U.K. native and UD doctoral student connecting the extended UD community
Although Thomas Benson said he was already almost a vegetarian by default because he could not afford to buy meat during his undergraduate years at the University of Leeds in his native England, his decision to become a vegan and not eat meat, fish, dairy, eggs or honey is really attributed to his commitment to sustainability. Interested in the environment and policies relating to it for much of his life, Benson buys secondhand clothing, does not drive, regularly recycles, uses unscented detergent, drinks out of a reusable water bottle, purchases used books or e-versions, volunteers for efforts to improve local sustainability initiatives, carries reusable cutlery and a straw to avoid single-use plastic, and does all he can to repair electronic goods before getting new ones.
A fifth-year University of Delaware doctoral candidate and dissertation fellow in political science and international relations, Benson has combined his passion for the environment with his education to impact the UD campus and beyond. After taking some time to adapt to living in a new country, Benson became actively involved in a variety of sustainability efforts.
"I came to the realization that it's all well and good to talk about my research and how much I care, but I need to focus more on what I can do to help," Benson said. "I was already trying to do as much as I could for the environment on a personal level, and the recognition came that I could do even more as a graduate student."
Getting involved
He began attending meetings of the Graduate Student Government's Sustainability Committee in the fall 2019 semester and became its chair a year later. Also a graduate representative on the UD Sustainability Council and chair of the Bikeshare Committee, the latter entailed bringing together a group of stakeholders, including Newark residents, urban planners, Newark City Council members and representatives of local nonprofits and UD.
"Thomas has been remarkably involved throughout the University for his sustainability efforts and broader graduate school governance initiatives as well," said Benjamin Bagozzi, associate professor of political science and international relations at UD. "Connecting the community is a passion of his alongside both the research and teaching aspects of being a graduate student."
From the U.K. to the U.S.
Benson's route from the small town of Wetherby in the north of England to the University of Delaware is indirectly linked to the Environmental Law course he took at Leeds as he was nearing the completion of his bachelor of laws degree in 2016.
"I already had an interest in environmental politics, and the course showed me what I want to do with my life," said Benson. "Pursuing a legal career would not have allowed me to devote my full attention to environmental law. It would have to be in conjunction with other areas of the law that I am not particularly interested in."
With very limited funding offered to him for graduate studies in the United Kingdom, and a strong desire not to take on any more debt than he already had incurred, he investigated opportunities away from home. His research took him to UD's website, where he read about the political science and international relations doctoral program that allows students to earn a master of arts along the way. Pleased to learn that funding was available for European students, Benson studied the program's information and struck up an email conversation with Bagozzi.
"The majority of our prospective students do not reach out ahead of time, so that stood out to me," Bagozzi said. "From the very start, Thomas' emails were very thoughtful and thorough, and I could tell he had done a lot of thinking and had a strong understanding of what graduate school entailed."
Benson was also impressed by his interactions with Bagozzi and enrolled at UD in 2017.
"It became very clear to me that Dr. Bagozzi was passionate about environmental politics, and I was able to feel the connection with him at the time," said Benson. "That has definitely been the case. He was assigned to be my adviser and we talk regularly, so it has all worked out great."
Adjusting to a new country
Describing himself as a typical introverted British person, Benson admits he was apprehensive about coming to the United States. His transition was aided by UD's orientation program for international students that enabled him to learn about American culture and form friendships that he has maintained throughout his time at UD.
"The University is very good at helping international students make friends," said Benson. "I like the collegial environment and how friendly other graduate students are. It feels like a home."
Benson quickly noticed that the supermarkets are larger than back in England, and portions in restaurants are often larger and less expensive. While he did have the advantage of coming from an English-speaking country, he does receive some good-natured joking about the way he pronounces words like "water" and "Harry Potter" as well as how he says "motorways" instead of "highways" and "coriander" instead of "cilantro."
In the classroom, Benson said he needed to do some catching up because he came from an undergraduate system that did not place a great emphasis on quantitative skills or high levels of interaction and discussion. By the start of his second graduate year, he felt like he was on par with his classmates. Along with being Benson's adviser, Bagozzi has taught two of his classes and benefited from his work as a research assistant as well.
"One thing that stood out to me about Thomas right from the start is his unbelievable drive and passion for learning," Bagozzi said. "Someone who is so deeply invested in truly just being able to continue to learn is really impressive, even among graduate students who are already predisposed to that type of behavior. I've learned a ton just from overseeing his work on smart cities and urban sustainability, and he has helped me a lot with my work on environmental conflict-related topics."
Accumulating awards
Benson has also presented at numerous conferences, served as a visiting researcher at Boston University and received various grants and awards, including selections for the Princeton Dissertation Scholars Program, the Aspen Institute's Future Leaders Climate Summit, and the Brown University Climate Social Science Network Scholar Program. The Princeton program will allow him to conduct extended fieldwork in Boston and Washington, D.C., as well as Leeds and Bristol in England.
"I am grateful that my hard work is being recognized," said Benson. "It has motivated me to keep going and made me realize that what I am doing is paying off and is a worthwhile pursuit."
Career plans
Although much of Benson's decision to come to the University of Delaware was for financial reasons, and he does miss his parents, brother and sister, his experience at UD has inspired him to stay in the United States after graduating next year. He is considering pursuing a career as a sustainability manager or officer in a local government authority as well as being a college professor. A first-generation college student, Benson has enjoyed the teaching opportunities given to him while pursuing his master's and doctorate, especially being able to help students understand how theories and concepts are applied in the real world.
"Thomas would be an outstanding professor committed to doing broader service to a university and connecting with the community," Bagozzi said. "If he were to go into the policy or advocacy arenas in either the government or nonprofit sector, he would be excellent on that front too. He is someone who can speak both languages [academia and politics], which is quite rare."
Offering advice
Along with everything else on his plate, Benson is keeping busy helping plan this spring's University of Delaware Earth Day event on April 22, which he said is going to be full of activities and education. Speaking from his personal experience, he has some advice for other students no matter where they are on their educational journey.
"To first-year students, persevere," Benson said. "It might be challenging, and the transition may be really difficult, but if you persevere, you will continue to improve. For anyone else after that, get involved with fellowships, internships and volunteer work. Make the most of your time. After I realized that I can do more and should do more as a graduate student, I tried to make the most of my time."