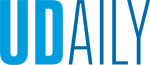 Revolutionary Views
Blue Hens preserve the past to inform the future
Article by Artika Rangan CasiniJuly 20, 2022
Tyler Putman, AS11M, 14M, 20PhD, senior manager of gallery interpretation at the museum, remembers an elderly Black descendant of Mount Vernon's enslaved laborers telling him that being at the exhibit was the first time in her life she had found something from her Washington heritage to be proud of. "It's not about forgiving or apologizing," says Putman. "It's about making sense of an incredibly complicated and diverse period of history."
Presenting this nuanced, complex perspective is the museum's mission, and the Blue Hen fingerprint is etched deeply in this endeavor, from the exhibitions our alumni have curated to the hallowed tent they helped preserve.
LEGACY OF LIBERTY
In the mid-1700s, the school that would become UD was just a tiny institution, with a small graduating class of roughly a dozen men. Three of those alumni—Thomas McKean, George Read and James Smith—would go on to sign the Declaration of Independence, helping to launch a new paradigm of freedom for a nation and a beacon of liberty for much of the world.
In 2017, a museum would be built to commemorate this revolutionary period, and UD alumni would again be part of the story. Working alongside Putman today are assistant curator of exhibitions, Matthew Skic, AS16M, and manager of special programs, Hannah Boettcher, AS16M.
All are graduates of UD's Winterthur Program in American Material Culture. A field of study dedicated to the historic and philosophic connection between people and their "stuff," this 70-year-old program "essentially invented material culture studies as a discipline," says faculty director Martin Brüeckner. Alumni now work in famed sites across the country, from the Metropolitan Museum of Art to Colonial Williamsburg. Distinguishing this esteemed program is UD's joint sponsorship with the Winterthur Museum, Garden and Library.
A separate partnership with Winterthur also exists in art conservation—a relationship that is "key to our collective success," says department chair Debra Hess Norris, AS77, 80M. Students, faculty and alumni from this internationally renowned and highly scientific field have preserved the Dead Sea Scrolls, Emancipation Proclamation, façade of Notre Dame, Lady Liberty's torch and, of course, the war tent of a military commander turned president.
"It will be in my obituary," Virginia Whelan, AS97M, says of the role she played in its conservation. Joined by Joanna Hurd, AS20M, and a small team of about six others, the five-year project spoke to the very heart of their professional mission and training.
"What conservators do is save a view of the past," says Whelan.
"We preserve because objects carry meaning and feeling," adds Hurd. "They connect us to memories we don't have."
"The complexity and diversity of the past is often oversimplified in ways that can lead to misunderstandings or a misguided impression of history. History is how we define ourselves as a nation, how we establish our ideals and work to fulfill them."

—Matthew Skic, AS16M
"The complexity and diversity of the past is often oversimplified in ways that can lead to misunderstandings or a misguided impression of history. History is how we define ourselves as a nation, how we establish our ideals and work to fulfill them."

—Matthew Skic, AS16M
ONGOING REVOLUTION
At only five years old, the Museum of the American Revolution has already welcomed its millionth visitor. It is a source of pride for Putman, who loves conversing with guests. Most haven't studied the Revolutionary War since fourth grade, and fewer still have seen a depiction featuring anyone other than white men.
"People ask things like, 'Was George Washington racist?' 'Was there such a thing as a good slave owner?' They're powerful conversations, and we don't often get the chance to ask difficult questions or talk about difficult topics in an educational way."
A museum fosters such critical dialogue. "Some people think of America's founding as the 'good old days,' and it's our job to present a bigger history—the oppression of women, Native Americans, enslaved people," Putman says. "Then there are others who say, 'These were the Dark Ages. Everyone was evil, the world was a mess,' and we say, 'But then how did people come up with these ideals that we still haven't lived up to?'"
In leading special events at the museum, Boettcher never tires of this centuries-long interpretation. "The Revolution is ongoing and includes all kinds of voices," she says. "It's something to define for yourself."
She takes joy in designing events that cross history, art, music, theatre, academia, current events and pop culture. For instance, Boettcher helped organize a baroque orchestra concert to accompany an exhibit featuring a contemporary painting of Hessian soldiers captured
in Trenton, New Jersey, imagining the music they might have played. The event serves as a reminder to Boettcher that
"the Revolutionary War is owned by so many different people, in so many different ways."
That's what curator Skic finds especially fascinating. Having grown up in Hopewell, New Jersey, about 10 minutes away from where Washington crossed the Delaware, he has long been enthralled by people and events from the past. In high school, he discovered UD's program in American Material Culture, and when he went to the website and read Putman's student bio, he thought, "Wow, I want to be like him."
In his current role, Skic now explores the ways ordinary people experienced world-changing events. "The complexity and diversity of the past is often oversimplified in ways that can lead to misunderstandings or a misguided impression of history," he says. "History is how we define ourselves as a nation, how we establish our ideals and work to fulfill them."
Washington's tent brings our nation's history to life.
A champion of liberty, America's first president was also a slaveholder whose war tent served as both home and headquarters. Vowing to "share in the hardship and partake of every inconvenience," Washington would live beside his troops through blistering heat and bitter cold. "We are at the end of our tether," he once wrote, but the general soldiered on, ultimately winning an eight-year war, seven years after the Declaration of Independence was signed.
With no biological children of his own, his belongings were eventually passed down to Martha Washington's great-granddaughter, Mary Custis Lee, wife of Confederate General Robert E. Lee.
In time, Civil War would tear the nation apart over the momentous question Washington's generation failed to answer: Do the words "all men are created equal" apply to all people?
Once again, his tent would bear witness to war. Eventually, it would return to the Lee family and be sold to raise funds for the care of Confederate widows. The buyer, a Pennsylvania minister named W. Herbert Burk, dreamed of building a museum to honor Washington and the American Revolution. In time, his dream would come true. And the tent, like the Republic, would survive.
PRESERVING THE OVAL OFFICE
Conservation is not restoration. Rather than making something new, the field instead focuses on retaining as much original material as possible and having it live for as long as it can.
That was Virginia Whelan's goal as textile conservator for Washington's tent. When Whelan, AS97M, began working on the project in 2015, she knew she would have to call upon every facet of her UD education, from history to chemistry to needleworking.
Over the next two years, she would stabilize hundreds of holes in the tent's roof and wall. Some were as large as a deck of cards; others were barely visible. To find the right color, she dyed nylon netting in different shades of "dirty linen," working to match the tent's tone and hue. She stitched the new fabric using polyester threads thinner than human hair. The process took more than 525 hours of actual stitching, and Joanna Hurd, AS20M, played a critical role in its success.
Alongside curators, conservators, structural engineers, a tent maker and project manager, they helped design and install a new sub-tent to support Washington's original. The Blue Hens used rare Earth magnets—no punctures, no stitches—to hold the two structures in place. This collaborative effort now gives the appearance of a tent under tension, as it would have looked when erected in the field, when, in fact, the tent is fully supported and under little to no stress.
Roughly 23-feet long and 14-feet wide and made of an undyed linen fabric, the tent is further protected by limiting its exposure to light, which is damaging to textiles. "If you want to preserve something, keep it in the dark," says Whelan. "But conservation is about balancing preservation and education." And so, the exhibit lighting during the tent presentation is carefully controlled for no more than 15 minutes a day; the tent is in total darkness otherwise.
On April 19, 2017, on the anniversary of the "shot heard 'round the world" that ignited the Revolutionary War, the Museum of the American Revolution opened in Philadelphia, and Hurd and Whelan saw the public reaction to the tent for the first time.
"Until you see it and are in its presence, you don't really understand its impact," says Hurd. It's profound. "In the darkest days of the Revolution, things didn't look good," Whelan adds. "But the tent symbolizes the difficulties that seem insurmountable, and it represents the freedom of the people to govern themselves."