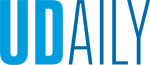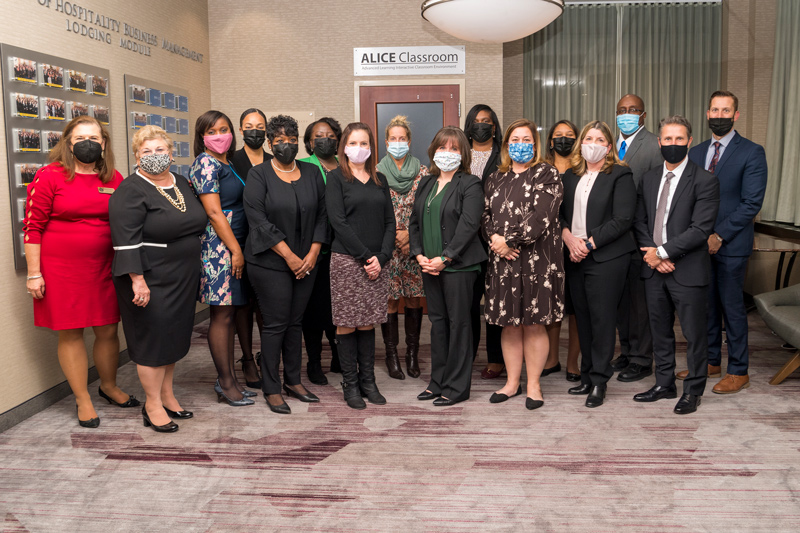 Learning with educational leaders
Article by Jessica Henderson Photos by Kathy F. Atkinson April 01, 2022
UD supports Delaware assistant principals through the Governor's Institute for School Leadership
Effective school principals not only foster positive learning environments and improve teacher retention, but also affect student achievement — recent research has found that they add about three months' worth of growth in students' math and reading achievement.
"Three months of student growth within a school that serves, for example, 250 or 300 students is significant," said Michael Saylor, education associate for school leadership in the Delaware Department of Education (DDOE). "We knew that teachers had a great impact, but we didn't know that educational leaders had such a great impact on math and reading as well."
The ongoing need for effective principals encouraged the University of Delaware, DDOE and the Delaware Governor's Office to establish the Governor's Institute for School Leadership (GISL) in partnership with Delaware school districts and public schools in January 2021.
Through GISL's Assistant Principal Academy, experienced assistant principals participate in a series of collaborative professional development workshops and mentoring activities co-taught by UD faculty and practitioners in the College of Education and Human Development's (CEHD) Delaware Academy for School Leadership (DASL). The first cohort of 12 assistant principals, called GISL fellows, graduated from this yearlong program in December 2021.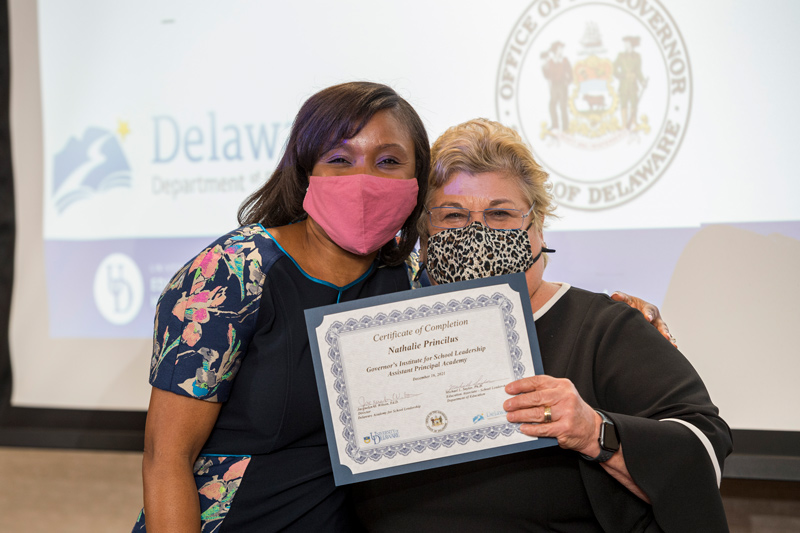 "It has been an absolute honor to learn alongside such great leaders from across the state," said Nathalie Princilus, who is now supervisor of unique programs in Christina School District. "Throughout the course of GISL, we gained so much from each other as we examined our data and researched courses of actions to improve equitable access in learning environments. The roles and responsibilities of school administration can be overwhelming as we make daily decisions, which can have tremendous impact on student outcomes. I am fortunate to have gained 12 critical thought-partners in this work."
What is the Governor's Institute for School Leadership?
Through this unique partnership, GISL provides an opportunity for assistant principals to participate in professional development and mentoring activities, fulfilling a critical gap in their training. Within Delaware, first-year assistant principals receive professional development and mentorship administered through DDOE. In their second year, some assistant principals then participate in an onsite coaching program with members of DASL. But, prior to GISL, a similar program for assistant principals in their third year was not available. 
"Where is the most pivotal point in the development of a principal? To me, the third year is the most important year," said Jacquelyn Wilson, director of DASL and assistant professor in CEHD's School of Education (SOE), who pioneered the GISL partnership in collaboration with Saylor and DDOE leadership. "By then, many assistant principals are learning their jobs — they know enough to know what they don't know. We thought that this point would be a perfect opportunity for an induction program. We'll have mentoring from great principals, we'll have a curriculum that is designed by both faculty and practitioners at DASL, and the courses will be taught in concert by faculty and DASL practitioners. Our faculty can present the research on best practices and then a practitioner can bring it to life."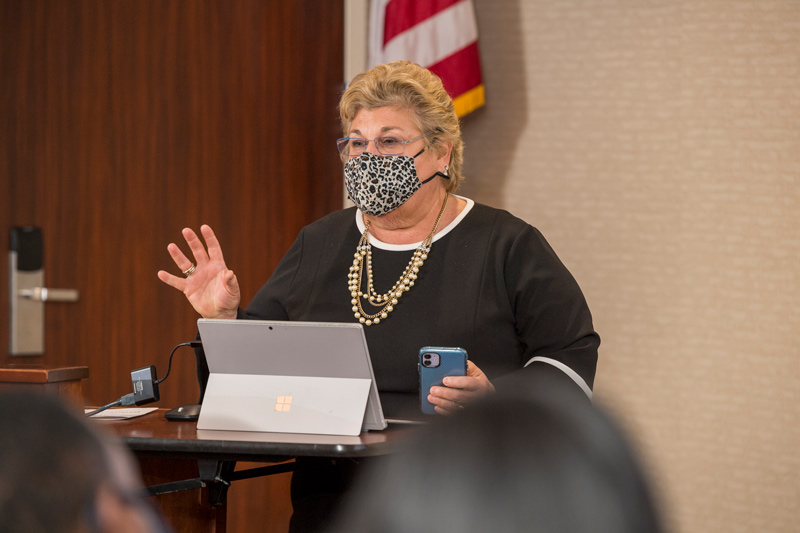 After Wilson and her team laid the groundwork for GISL, Lauren Bailes and Bryan VanGronigen, assistant professors in the SOE who specialize in educational leadership, designed the curriculum guides and tailored them to the needs of current assistant principals. This work culminated in 11 weekend retreats for GISL fellows with sessions co-designed and co-taught by UD faculty members and DASL team members.
Bailes, for example, taught a weekend session on professional ethics in school leadership alongside Mark Holodick, who previously served as a senior leadership specialist within DASL before his appointment as Delaware's Secretary of Education in January 2022.
 "If we think about ethics as moral values in action and the activities of disentangling challenging and competing outcomes, that's what school leaders do every day, perhaps now more than ever as we think about the current pandemic," Bailes said. "That work is largely about identifying your personal values within a school's context. For example, what are my morals in the role of school leadership, and then how do I enact them within the very real constraints of things like facilities, budgets, laws and space? How do I make the best decisions available to me, maximize learning among my students and also enact the highest moral good for the people within this organization?"
Other session topics include using research and data to inform decision-making, applying the practices of equity-centered leaders, promoting the personal and professional wellbeing of faculty and staff and learning about one's leadership style. The program consists of five modules of instruction, each aligned to the Professional Standards for Educational Leaders.
The program also includes coaching by DASL leadership experts and a practice-based mentorship with a successful building principal.
"These assistant principals are doing the heavy-lifting each day, completing their required classroom observations, supervising in the cafeterias, keeping a watch on the hallways, and managing an array of school climate matters," Holodick said. "That's often what stymies their preparation to be a principal. They just don't have the time to sit down with a leader of a school and have conversations about their style of leadership, their non-negotiables as a leader, or their morals and values. Through GISL, each assistant principal is assigned a principal mentor who is typically in their district. The fellows can take what they are learning, apply it to their work and also have what we call 'high-leverage' conversations with their mentors."
A valuable network of educators
In addition to the program's co-facilitation and mentorship element, VanGronigen emphasized the importance of the social and professional network that GISL provides.
"The job of being a principal is difficult enough," VanGronigen said. "These are highly specialized educators, and we know that there is a higher risk of turnover among administrators, particularly in schools in underserved communities that need good leadership the most. Focusing on the early career supports of experienced assistant principals is incredibly important because it can enhance their socialization to the role, which can make the loneliness of the job dissipate. One of GISL's numerous advantages is its cohort-based approach. Participants in this first cohort have 11 other colleagues working in different contexts around the state who can use one another as a network to consult on issues."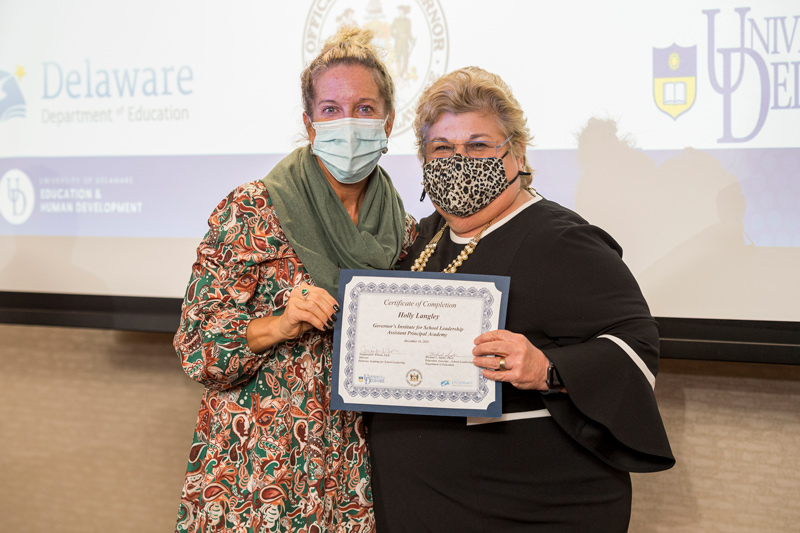 Many of the graduating fellows in GISL's first cohort echoed VanGronigen's sentiment, including Holly Langley, assistant principal at Sussex Technical High School.
"New administrators often come from a large network of teacher colleagues, but once they enter the world of administration they no longer have similar connections," Langley said. "Networking can be an avenue to exchange ideas, a resource library, a support system, a door to opportunities and a way to build friendships. Through GISL, not only did I create a professional network of 11 other aspiring principals, I also made connections with the DASL staff, researchers and practitioners from the University of Delaware."
The first cohort of GISL fellows included assistant principals from Appoquinimink, Brandywine, Capital, Christina, Indian River, Laurel, New Castle County Vocational and Sussex school districts.
"Through GISL, we wanted to make sure that we were really focusing on giving these future principals the skills needed to be highly effective leaders and to improve the outcomes of our Delaware students, knowing that about 41% of Delaware's assistant principals and principals are eligible for retirement in the next five years and we're going to have a lot of open positions," Saylor said.
In addition to the Assistant Principal Academy, GISL offers a Superintendent Study Council, which also launched in January 2021. The council is a collaborative effort among districts, DDOE and DASL that meets monthly for discussion and professional learning about topics related to school improvement, equity and improving outcomes for all students.
To learn more about GISL or to participate in one of the programs, visit DASL's website.