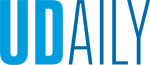 Exploring new tools for the health care industry
Article by Beth Miller Photos courtesy of Sarah Levine and Max Dolinsky | Photo illustration by Jeffrey C. Chase September 08, 2021
UD student Sarah Levine looks at ways artificial intelligence might expedite health care 'triple aim'
Editor's note: This Q&A is one of a series of articles exploring the research University of Delaware students have been pursuing. Though COVID-19 continues to shape some plans, students still can participate in hundreds of remarkable projects, in-person and remotely. Follow our "Frontiers of Discovery" series as UDaily highlights some of these scholars.
Advances in technology have provided powerful new tools for data analysis. Sarah Levine, a junior majoring in finance and management information systems at the University of Delaware's Lerner College of Business and Economics, was interested in how the health care industry might make use of artificial intelligence (AI).
Her research during the summer of 2021 was done remotely, from her home in Ardsley, New York, with guidance from Max Dolinsky, assistant professor of finance. She reviewed literature examining both the potential and the limitations of algorithm-based analysis for the health care industry. In her summary presentation, Levine said researchers found that AI holds great potential for health care, but also found that many patients and health care systems are not ready to use the powerful technology.
Q: What draws you to research?
Levine: I believe research can better my knowledge and experience in the topic of health care and that is the field I want to pursue. I believe the discipline, respect and organization helps me become a better student and improve my work ethic. While at times it can feel overwhelming and open-ended in keeping on track with my schedule, it helps me prioritize my work and improve my time management as well.
Q: What motivated you to study this topic?
Levine: This topic was a way to jumpstart my career in this industry. Given its ever-changing environment, I was motivated to research the advancements for the future of health care.
Q: What have you found most surprising about this work so far?
Levine: I was definitely most surprised by the complexities of improving processes and methods in the health care industry. I have discovered that while AI is present in health care — through helping schedule appointments for patients, for example — the complexity of integrating it into advanced medical practice may be a far-fetched goal, given the current state of the industry.
Q: What are the possible real-world applications for your study?
Levine: Because AI involves data and analytics, this topic has helped me tie some of my in-class experience with software and data responsibility to a real-world application. In addition, the research context of clinical health care is applicable because it involves an ever-changing industry that is constantly evolving to improve patient care and experience, the health of populations and the per capita cost of health care.
Q: How would you explain your work to a non-scientist or a fifth-grader?
Levine: Within health care there are many goals for improvement. A well-known set of goals is called the Triple Aim. The Triple Aim has three determinants: 1) improving patient experience/care; 2) improving the health of populations in general; and 3) lowering the cost of health care per person (per capita). These aspects are crucial to the health care industry's improvement and with these goals comes the need for efficiency. What I focused on was the patient experience piece of the Triple Aim. A way of improving patient care has been integrating artificial intelligence. Artificial intelligence (AI) links computer programs with specific data to accomplish tasks. There are varying levels of complexity in AI and it can be useful in improving the patient experience aspect of the Triple Aim. Examples include newly designed wearable devices that help track a patient's vitals in a hospital to the complex technology that is designed to track cancer cells in a patient's radiology reports. My research explores AI's potential, purpose and the feasibility of it growing in prominence in clinical care.
Q: How does this experience align with your broader professional goals?
Levine: Although I'm a finance and MIS major, I am motivated to study outside the mainstream path. After countless conversations with my brother, who just entered graduate school for hospital administration, I was inspired to strive to make a difference in other individuals' lives. I want to be a part of an industry that has a positive impact on society. I was inspired by the health care industry's constant focus on process improvement and the positivity it sheds on individuals' lives. The topic of AI in clinical health care helped me gain knowledge and better prepared me to have conversations with professionals in the field as well.
Q: What do you enjoy when you are not doing research?
Levine: While I love math, finance and data analytics within my school life, I have a knack for the arts. I have a passion for painting and creating pieces on canvases with paint markers. I have a creative side that I don't always express through my schoolwork of numbers and problem solving and in my free time I try to prioritize that.
Q: What advice would you give to your fellow students who may be considering or are planning to pursue undergraduate research?
Levine: My advice would be to pair yourself with a professor that has knowledge and experience/resources to help push forward your thinking about your topic. I picked a professor who was amazing in helping me stay organized and thorough in my research.
For Future Researchers
Blue Hens with big ideas will find ample opportunity to explore them with the help of the Undergraduate Research Program (URP).
A hallmark of any college experience, research is the process that leads to the creation of knowledge. It begins with a question and ends with a new understanding of the world around us.
Those who participate directly benefit from an enriched learning experience. They enjoy meaningful mentorship and develop critical leadership and communication skills. In addition, undergraduate researchers often earn higher GPAs and have greater success after graduation.
To explore more, visit the URP website and schedule a consultation with staff.
Questions? Contact undergradresearch@udel.edu.