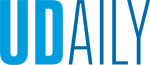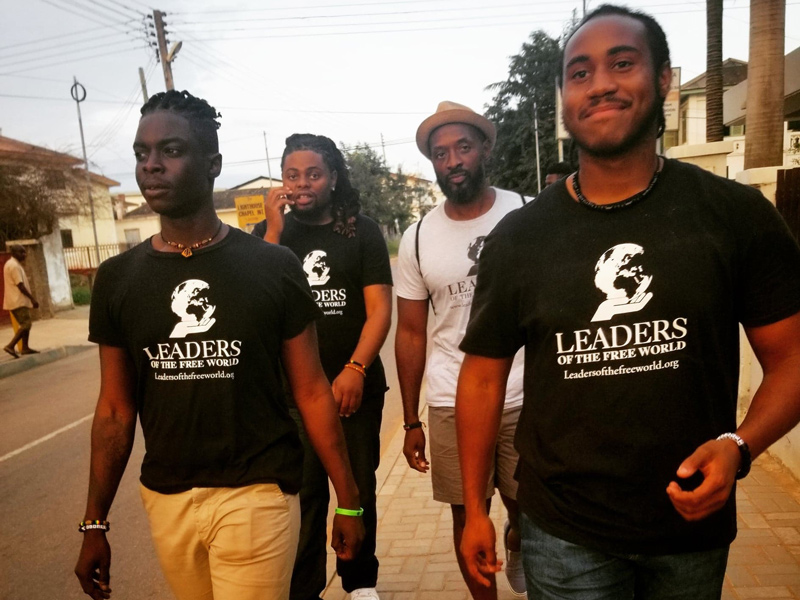 Global growth
Article by Peter Bothum Photo courtesy of Leaders of Free World November 11, 2021
Leadership program for young Black men comes to UD
It took a little bit of both to bring Leaders of The Free World (LFW), a leadership program for young Black men, into existence and, eventually, to the University of Delaware.
Co-founders Ruby Maddox and Lavar Thomas each had put in work and gained experience that formed the building blocks for such a program. Then chance stepped in when someone tagged Maddox and Thomas in the comments section of a Facebook post. The two connected and began sharing their ideas for a program that centered around an international experience for a demographic that did not have access to those opportunities.
"I thought, 'Wow, you're doing the idea,' " Thomas said. "We had a similar vision."
They finally met in person at the Kotoka International Airport in Ghana, where Maddox would be arriving with a group of students and Thomas would be landing after his time in the Peace Corps in Rwanda had come to an end.
A world-changing idea was officially hatched amid a swarm of travellers and overpriced duty-free airport shops.
The LFW program will begin this year at UD by opening three slots to qualifying UD students. The application process began Nov. 8 and information can be found here.
LFW combines tactics proven to assist in the academic success and retention of Black men (mentorship, positive peer group affiliation, focus on self-efficacy and college/career advising) with an international experience that incorporates an identity specific curriculum and addresses the lived experiences of Black men. It works to address the lack of diversity in the social, philanthropic, public and for-profit sectors (particularly in advanced leadership positions) and to overcome the social and psychological barriers to academic and professional success perpetuated by systems of inequality. Mentorship, intercultural learning and leadership training are critical components to the program's goal of shaping the next generation of leaders and social change-makers, who grow into involved alumni.
Thomas said he was happy to see UD step forward to make a lasting change.
"They're putting money behind their intentions," Thomas said. "The support that we're receiving from leadership and the institution shows that they're really serious about creating long-term impact and not just checking boxes off. I think the global leadership pipeline is so important, because we're more than just a trip."
But why Ghana?
Maddox said the country's connection to Black history helps participants unpack their own identities. In America, Black men grow up with a set of cultural norms that dictate who gets a seat at the proverbial table and who does not. In Ghana, that is not the case.
"When you're able to step outside of that paradigm, that context, both geographically and mentally, then you realize that's just a construct of one particular country," said Maddox, who co-founded a Black-led food security and environmental justice organization called Gardening the Community in Springfield, Mass. "That changes everything – you realize the world is bigger than America, and that you yourself are bigger than the construct that has been made for you. It changes the game on what you feel is possible for your life, including the career paths you might take and the opportunities you might take advantage of."
LFW did not go abroad the past two years due to the pandemic, but the LFW In-Person Model will return in 2022 with a cohort of about 12-14 participants. The nine-month program works in three phases: a 10-week virtual pre-departure program that includes group discussions, guest speakers, lectures and assignments; a two-week international experience in Ghana where the cohort explores themes in leadership through lectures, workshops and site visits; and an eight-week re-entry
program that links the experience to academic goals and campus resources through group discussions and goal-mapping.
For Thomas, it's a concept that comes from personal experience through his trips abroad. He originally came to UD through the Coverdell Fellowship, a graduate school program for returning Peace Corps volunteers. Thomas saw an opportunity for LFW to make a change at UD, so he planted the seed with his adviser, Professor Jennifer Gregan, and began making connections around campus.
"We wanted to look at ways that LFW could support the institution and its efforts to target an underserved population," said Thomas, an environmental justice coordinator at the U.S. Environmental Protection Agency who is pursuing his master's degree in International Business at UD.
Gregan said she immediately connected with Lavar and Ruby's vision of transformation through international travel.
"As a UD study abroad faculty director, I've had the privilege of seeing firsthand the power of immersive cultural experiences. It is truly life changing," she said. "By forging a partnership between LFW and UD, Lavar and Ruby are opening a door to the world for a segment of our student population who might otherwise think that study abroad isn't for them; they're breaking through barriers that might keep these students from realizing their leadership potential."
"This was a perfect partnership for the University to cultivate," said Michael Vaughan, vice provost for diversity and inclusion. "Our new Office of Institutional Equity, Diversity and Inclusion is providing seed money to this effort to support student participants. This support provides tangible evidence of our core campus belief in promoting an environment in which all people are inspired to learn while encouraging intellectual curiosity, critical thinking, free inquiry, and respect for the views and values of an increasingly diverse global community. We look forward to our continued relationship with the Leaders of the Free World organization."
There are numerous success stories that have come out of LFW, ranging from individuals who have simply emerged as better, more engaged leaders to others who have started their own businesses. Thomas recalls one graduate who was apprehensive and quiet before the program who eventually launched a local cooperative called New Movement that supported artists, musicians and poets back in Connecticut, while raising money for a school in Ghana.
"We watched him go from a young person unclear about his desired impact, to this leader in his community," Thomas said. "Going to Ghana was life changing for him, because he was not only able to be part of a brotherhood that was going through a similar experience, but it got him thinking about how he could lead on a larger level, beyond his campus and beyond his community."
Maddox and Thomas said they plan to explore expansion of the program, with LFW potentially taking multiple trips each year as well as adding experiences in Rwanda and other African countries.
Already on the schedule is the Global Leadership Summit: A Career Conference for Black Male College Students that takes place Feb. 25, 2022.