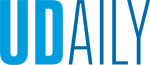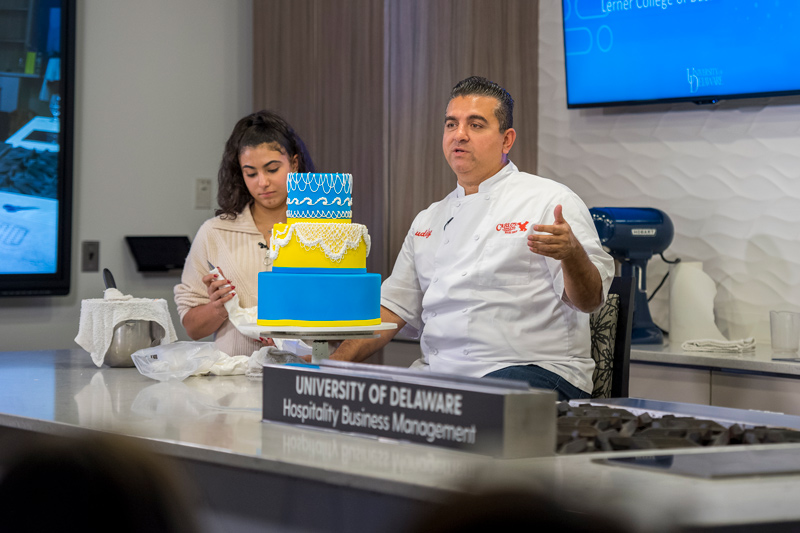 The Cake Boss gives advice
Article by Dena Hillison Photo by Kathy F. Atkinson November 23, 2021
Baker and TV star Buddy Valastro spoke to UD students during Paul Wise Speaker Series
Bartolo "Buddy" Valastro is a fourth generation baker who has spent the past 20 plus years expanding his family's business, Carlo's Bakery, into a franchise with 12 locations nationwide and robust online sales. He has also made a name for himself in the entertainment business as "The Cake Boss" with several successful television shows, including nine seasons of "The Cake Boss" filmed at the original Carlo's Bakery in New Jersey.
The first in the fifth generation of Valastro bakers, Buddy's eldest daughter Sofia Valastro, is entering the family industry by pursuing her bachelor's degree in hospitality business management at the University of Delaware's Alfred Lerner College of Business and Economics.
Buddy Valastro visited UD's campus in Newark on Tuesday, Nov. 2, to speak to students in the Hospitality and Sport Business Management Department as part of the Paul Wise Executive in Residence Speaker Series. After this presentation, Buddy and Sofia Valastro, who is a first-year student, led a private cake decorating demonstration in one of UD's unique learning spaces, Vita Nova.
During his presentation, Buddy Valastro shared the story of his family's business and how he was able to take over at only 17 years old and bring the company to new heights. He gave the students, primarily aspiring hospitality professionals or entrepreneurs, several pieces of advice from his own experience in the industry.
1. Lead by example
Buddy Valastro began his lecture by explaining why he was wearing his white baker's outfit instead of a suit to the presentation. His day had started at 6 a.m., setting up the lines at the Carlo's Bakery factory.
"This morning, instead of sleeping in at my house, I was there, I was on the line," Buddy Valastro said. "I was showing my employees that, no matter what, I make the sacrifices. I always tell my employees when they come to work for me that, 'I'll never ask you to make more sacrifices than me, I'll never ask you to work harder, I'll never ask you to stay later than me and I'll never ask you to do something that I wouldn't do.'
"I wanted to lead with that," he continued, "because I think that's a big part of the success of the business. What I want you guys to get out of this conversation is to learn about yourself, about what you've got inside you. Turn that switch on so that you can be successful because I think that's the secret sauce or the perfect recipe."
2. Find your niche
It was around the year 1990 when Buddy Valastro first started cake decorating. At the start, it was just the classic buttercream roses and piping that his family's bakery had always done. Soon, he began to approach decorating like an artist approaches a canvas, sharing that he gets into "the zone" where it is just him and the cake and he can feel like a carefree kid again. Once the cake is finished, he feels a deep sense of pride and satisfaction. Now, his creations have been featured in magazines, on television programs and have won countless awards.
"There are two cakes that I ever made in my life that made me cry," Buddy Valastro said as a photo of a massive cake shaped like a dinosaur was projected behind him. "So I made this cake and then I stepped back, and we worked for three days on it. It was 22 feet long, weighing 2000 pounds, and we had engineered the lights to work through this blown sugar. I cried and I said, 'Wow, if my dad could see this.' When I started cake decorating, I couldn't even dream of making anything like this."
He then encouraged the audience to find their own version of cake decorating, saying, "Because I love what I do, I am successful and I want to be there and do it every day. You guys have to find your niche, find what you love, or it ain't gonna work."
3. Stay true to yourself
The hospitality industry is not for the faint of heart, Buddy Valastro said, especially family businesses. Often the second generation is unable to maintain the success of the first and their businesses close. Buddy Valastro shared that what changes this dynamic and makes for a successful business is the person at the helm.
"Everybody's got a local deli or pizzeria or restaurant where you go in there and the same guy is always behind the counter, watching the business and making sure everything is right," he said. "Before Cake Boss, that was me, I was there and every crumb, every little detail I knew.
"You cannot forget where you come from, you don't forget how you got there. When you see me on TV, this is what you get. If you see me off of TV, this is what you get. If any of you saw me in the hallway, had a conversation or wanted to take a picture, this is who I am."
Buddy Valastro approaches his business and life outside of the bakery as both a problem-solver and a people person. This combination has allowed him to expand both his personal brand as "The Cake Boss" and his business's brand beyond what he could ever have imagined when he took over the bakery at such a young age.
At the end of the presentation, he answered questions from the live and virtual audiences about his business, his work in entertainment, his favorite baked goods and more. He even hinted at the possibility of bringing Carlo's Bakery products to UD in the future.
Buddy Valastro's parting words addressed the audience directly, saying, "I look at this room and you guys are the future. One of you could be the next me, the next guy who invents this or the next woman who makes a discovery in our field or industry. You can do anything, but it's going to take determination, will and hard work. You can change the world, and I know that's what you're going to do."