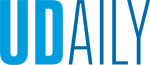 I Heart UD video: youtube.com/watch?v=GyBl4tMjfHM
Showing love for UD
Article by Kelly Graf and Megan Maccherone Photo by Evan Krape | Video by Paul Puglisi May 12, 2021
Faculty, staff, alumni, students, parents and friends came together on I Heart UD Giving Day
Blue Hens and friends came together in impressive numbers to support the University of Delaware's 4th annual I Heart UD Giving Day on Wednesday, May 5. Featuring 116 fundraising projects led by students, faculty, staff and alumni, the day raised more than $1 million from 6,258 donors (and counting), shattering donor and dollar records for I Heart UD Giving Day.
"We are beyond grateful for the generosity from the UD community," said Jim Dicker, vice president of Development and Alumni Relations. "In a year when so much has been uncertain, we are grateful that their love and support for UD is evergreen. Through these gifts, student groups are better resourced for research and community outreach, UD has an increased ability to support emerging needs of students through funding such as the Student Crisis Fund, and so much more. The impact of these donations will be felt by many for a long time."
To encourage donations to projects, students shared a video message that was included in an email to UD alumni, donors, parents, faculty and staff, emphasizing the readiness of the UD community to move forward with plans and goals as it emerges from the pandemic.
The range of projects represented a variety of categories, such as Athletics, Business Driven Innovation, Creative Arts and Humanities, Education and Human Development, the Future of Healthcare, Public Policy, Transforming Medicine and Inclusion, Diversity and Equity. Forty three of 116 projects addressed issues of inclusion, diversity and equity, with 3,218 donors giving $332,107 toward those endeavors. Throughout the day, each project had the opportunity to take advantage of hourly challenges or matches. Below are a few highlights to demonstrate the impact of I Heart UD Giving Day on projects:
"The Golden Blues started this year with negative $1,000 and I absolutely can't believe that we just raised almost $4,000 in one hour. We did not expect to win the hourly challenge at all, but I want you to know that the money is going to a group that really needs it and is very grateful for it." – Emma Gogal, political science major in the Class of 2022, about The Golden Blues project



The project Support Jewish Blue Hens at Hillel! surpassed its fundraising goal by more than $20,000 after it won both the 10 a.m. and 2 p.m. "Power Hour" challenges for having the most donors during those hours
"This extra money will help us fund a third team, and we are so grateful for that." – Henna Castle, nursing major in the Class of 2022, about the project Mock Trial at UD



"This was so educational for me. While we had the plan to sprint at 9 p.m., I wasn't sure what to expect. The students absolutely loved the competition side of it and just took over in leading the campaign, texting everyone they know. I'm stunned by the level of engagement it inspired in students." – Max Dolinsky, assistant professor of finance, about the project Transformational Experiences in Finance at Lerner
Check out the results for all I Heart UD Giving Day projects here.
Did you miss I Heart UD Giving Day but still want to support UD programs? You can make a gift here. Next year's I Heart UD Giving Day is scheduled for May 4, 2022.