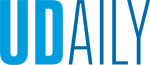 Brewing up a partnership
Article by Peter Bothum Photos courtesy of Olivia Brinton March 17, 2021
Local coffee company selling at new kiosk in UD's Trabant University Center
Brandon Jones isn't just arriving at work when he enters the building at 16 Haines Street in Newark, just steps away from the campus of the University of Delaware.
He's walking into a time warp.
Jones, a senior majoring in history, bought his first skateboard there at the age of 8 when it was home to Switch Skateboards, a landmark of sorts that occupied the building from 1994 to 2010.
Today, it's his place of employment, Little Goat Coffee Roasting Co., and he says working there feeds his dreams of one day owning his own small business.
A recent partnership between Little Goat and UD adds another layer of significance for Jones: Little Goat will now be supplying the coffee for a new kiosk in the Trabant University Center's food court called Stomping Grounds.
"I think it's a huge deal. I'm very proud to be from Delaware, especially to be from Newark. My mom went to UD. I feel like, for me, it was important to see that kind of growth happen," Jones said. "So to not only work for a Newark small business, but to work for a small business that is now intertwined with the University of Delaware is just really awesome."
Co-owner Olivia Brinton's connection to UD and Newark isn't as direct, but she did grow up just over the line in Pennsylvania and cruised down Main Street regularly as a teen.
The new partnership between Little Goat and UD Dining Services, which is managed by Aramark, was a year in the making — but not by design. The pandemic delayed an initiative that will be beneficial not just to the major players involved, but also to the city of Newark, Brinton said.
"UD is such a large part of the Newark community, so we were really excited to extend our reach to UD students on campus," Brinton said. "I think that the University bringing in Little Goat Coffee is also a really great development for Newark — the University working with a local business that is unique and not just working with national chains. It makes the University and the town more interesting to have these partnerships with local businesses."
Amanda Steiner, vice president of operations for UD Dining Services, said the University decided to partner with Little Goat because it is among the local eateries that serve as cornerstones of the Newark community.
"Little Goat Coffee Roasting Co. fits perfectly into our coffee program not only because they are a favorite in town but because they also ethically source their product and roast it daily in-house," Steiner said. "We hope our partnership with Little Goat will help to bring that local coffee shop feel to the Trabant Food Court."
Dining Services' strategy of partnering with locally-owned eateries isn't confined to Newark or Trabant. Steiner said she is also seeking additional partners for the new Local Restaurant Row station that will be opening in Perkins Student Center. Interested Wilmington or Newark restaurants can reach out directly to Dining Services by email at diningservices@udel.edu.
"Part of our strategic vision is to partner with restaurants and area chefs to bring authentic, local favorites and global flavors to campus," Steiner said.
Since its launch, Little Goat has formed wholesale partnerships with several independently owned grocery stores — including Jansen's Market and Newark Natural Foods — as well as restaurants such as Grain Craft Bar + Kitchen and The Blue Crab Seafood Restaurant & Grill, which serve its coffee.
But the connection between UD and Little Goat goes back to the store's opening two weeks after the fall semester started in 2017. The University provided an instant customer base for the shop, which serves fair-trade, organic coffee that it roasts on site.
"We had a ton of students right out the gate. We didn't need to go find them. They'll come and get coffee any time of day," Brinton said. "It's also the graduate students, faculty and staff that are year-round customers. It's everyone from the chair of the engineering department to a groundskeeper. And we're still seeing them come through our takeout window now to support our business."
UD and Little Goat are also connected through The Newark Partnership, a non-profit group that aims to bring businesses, community institutions, city residents and students together to strengthen the bond between the city and Uiversity and maintain the vitality of the downtown area.
Brinton is on the board, as is Dan Rich, University Professor of Public Policy in the Biden School of Public Policy and Administration. Rich said the success of a relatively new locally-owned independent business near Main Street is an indication that Newark is poised to come back strong once the pandemic winds down.
"That is a particularly good sign given the challenges that the COVID-19 crisis has posed for so many businesses," Rich said. "Maintaining the vitality of Main Street is important to both the University and the Newark community."
Brinton said the community — including the smaller-than-usual population of UD students and staff — has been crucial in helping Little Goat through the coronavirus pandemic. Little Goat has been forced to sell its coffee through a take-out window.
Jones, regularly stationed at that window in a building that has held such meaning in his life, is happy to report Little Goat is still seeing steady business.
"When we had to close down for COVID everyone was nervous," he said. "But the way the community stuck by us and picked us up helped us stay strong throughout everything."