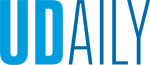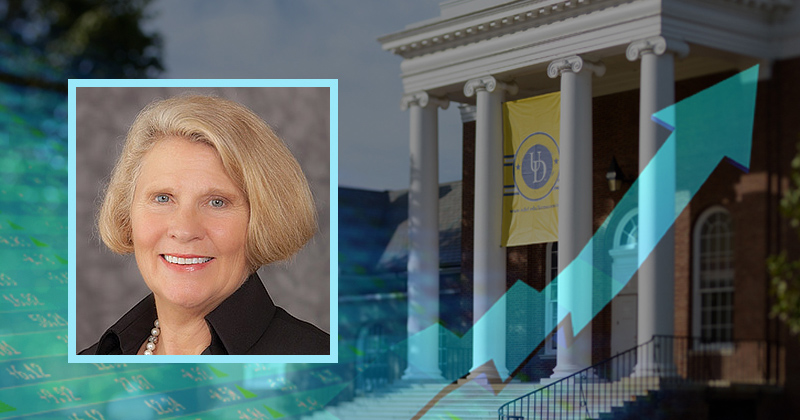 Learn for learning's sake
Article by Adam S. Kamras Photo courtesy of Karen Gowen | Illustration by Cindy Dolan March 08, 2021
Accomplished financial adviser thrives in master of arts in liberal studies program
After completing a 42-year career as a financial adviser with Merrill Lynch that included multiple accolades from Barron's and other reputable publications and organizations, it would have been completely understandable for Cynthia Hewitt to kick back, relax and engage in the various leisure activities she enjoys, including golf, boating and traveling.
However, as Hewitt was preparing for her spring 2018 retirement, she had a greater concern than lowering her handicap and planning her next trip to the beaches of Anguilla.
"I kept thinking what in the world am I going to do with my time," said Hewitt.
She heard about the University of Delaware's Master of Arts in Liberal Studies (MALS) program from several people, including an enrolled student, and was intrigued by the possibility of pursuing the part-time degree designed for adults and centered in the humanities and social sciences. As an added bonus, the longtime Wilmington-area resident was pleased to find out about UD's Over-60 Tuition-Free Degree program, which allows Delaware citizens age 60 and older the opportunity to receive undergraduate or graduate tuition on a space-available basis provided they are admitted to the University.
Joy of learning
"I always liked school and I thought this would be an opportunity to 100% learn for learning's sake, not for anything specific, just for the joy of learning," said Hewitt.
UD's director of Master of Arts in Liberal Studies, Tara Kee, was pleased to hear about Hewitt's interest in the program and admired her desire to take on the challenge.
"We were very impressed by Cynthia's career and how she was looking to gracefully transition from a really demanding, high-powered job into retirement," said Kee. "A lot of people see retirement as a time to hang up their hat and take it easy for a while, but she wanted to continue to grow, learn and develop herself."
While Hewitt's story may seem atypical for a university student, it made her a perfect candidate for the MALS degree, which many mid-to-late-career professionals pursue for the joy of learning.
"I always describe our ideal MALS student as 'interested and interesting,' '' said Kee. "Cynthia fits the profile perfectly — curious about the world and our human society, eager to learn, but also full of information gleaned from a storehouse of personal and professional life experiences. Many of our students use the program to look for that next passion they are going to explore in retirement."
Supporting adult students
Hewitt was accepted and in the fall of 2017 found herself sitting in a classroom on the University of Delaware's Newark campus for the first session of Introduction to Graduate Liberal Studies, a seminar that provides a review of graduate-level academic writing and research as well as the nature of interdisciplinary study. Although she had taken some job-related courses over the years at Harvard University, University of Pennsylvania, University of Chicago and UD, she had not pursued a degree since earning a bachelor's in English literature from Vanderbilt University in 1973.
"I am glad I took the intro course since I was sort of rusty with writing papers, doing research and participating in class," said Hewitt. "It was kind of like learning how to be a student again."
Hewitt made it through Introduction to Graduate Liberal Studies and has completed five more courses, leaving her two classes and a thesis shy of her master's degree. She has enjoyed the camaraderie among the students and the knowledge of the professors, and has recruited some friends who are now her classmates.
"I have had a really positive experience at the University of Delaware, and the course offerings have been great," said Hewitt. "I have learned a lot in each class that I never would have learned if I had not taken the course. The MALS program provides a wonderful opportunity that I tell lots and lots of people about."
Change in plans
Little did she know that one of her courses, "How to Read an Election," would derail her retirement plans. Though the class focuses on elections, much of the emphasis is on how people make important decisions of any kind and respond to biases of confidence. When it was time to discuss the section of Daniel Kahneman's book, Thinking, Fast and Slow, about the stock market, Hewitt was invited to serve as a guest lecturer and share her firsthand knowledge and insights on investing. The experience prompted her to think about a return to the workforce, which she made in January as a senior partner and managing director with Snowden Lane Partners, an independent wealth advisory firm.
"The MALS program convinced me that I wasn't ready to leave the financial business," said Hewitt. "It was exciting to talk to the class and see how they appreciated what I had to say."
Applicable lessons
Although Hewitt initially enrolled at UD to "learn for learning's sake," she now sees herself applying some of the lessons to her new position. Along with her sharpened writing skills, the psychological analysis of decision making resonated with her.
"While I knew a little bit about behavioral investing, I definitely learned more," said Hewitt. "Studying how people make decisions and the various biases they have is something I can use."
Hewitt gives much of the credit for her improved writing to the University's Writing Center, which offers free assistance to all UD students. She has found it very helpful to have another set of eyes review her work and provide a second opinion and advice. In addition to taking advantage of the Writing Center, Hewitt encourages students to get a jump on their courses, by ordering the books ahead of time and beginning the readings in advance, and not to be shy about participating in class. Because the MALS program has plenty of people who have spent many years working, numerous experiences are shared in the class discussions.
Flexible program
The program also attracts students who need to earn master's degrees for their jobs and are drawn to the opportunity of not having to focus on one specific discipline. The current roster includes a mix of retired and employed psychiatrists, lawyers, teachers and engineers, as well as people from a variety of other occupations.
"One of the joys of the MALS program is that it is very flexible," said Kee. "We have very few required courses and beyond those students really get to choose what they want to take."
Three years after being concerned about what she would do with her time, Hewitt is now balancing the demands of a new job and her schoolwork. While she admits there is going to be an adjustment period, Kee is confident that she will continue to excel as a both a student and a professional.
"I am not worried at all because the MALS program is set up for people to do it part time, and the Graduate College has been very understanding of our students' needs," said Kee. "With returning adult students, things happen; they have responsibilities with their kids, parents and jobs, so we have been able to be flexible."