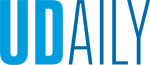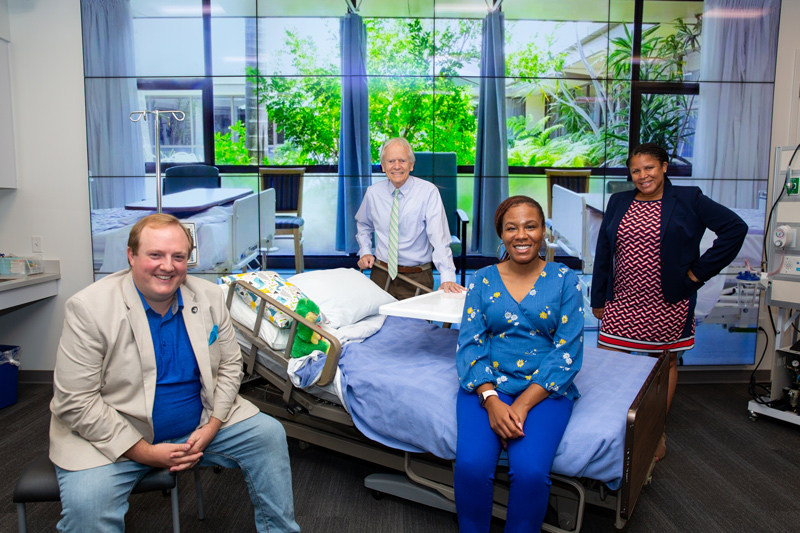 Social justice training
Article by Kelly Bothum Photo by Ashley Barnas June 25, 2021
Healthcare Theatre adds realism to College of Health Sciences diversity education program
When Brittany Smith logged into the University of Delaware College of Health Sciences social justice training series, the rising senior figured she would listen, nod her head a few times and then fade into the virtual background with the other viewers.
But Smith was hooked as she watched actors from Healthcare Theatre perform a scenario on a Zoom call where a faculty member makes inappropriate comments about Asian students in front of peers and graduate students. When it came time for participants to speak, Smith didn't stay silent — she offered her perspective as a Black woman from Jamaica trying to navigate higher education.
"I didn't expect this diversity program to be like this at all, honestly," said Smith, who is majoring in medical diagnostics. "I felt like I had to speak up because those are actually problems that we're having in society now."
Diversity training initiatives often use scripted scenarios to educate and engage participants, said Regina Wright, associate dean for diversity in the College of Health Sciences and a professor in the School of Nursing. But the Healthcare Theatre scenarios add an extra twist — freezing the actors in their roles and asking participants to jump in and respond to what's going on. This pause gives participants a chance to practice how they might respond to a similar situation in real life.
"I think it's just a really powerful learning tool. It gets people a little bit uncomfortable, but not as uncomfortable as they would be if this scenario were real," said Wright. "The practice without the risk is really important to get people to speak up in those kinds of situations. I think we could really improve the climate if people are comfortable speaking up and speaking out."
The social justice series is the first project of the CHS student and employee training subcommittee — under the college's diversity, equity and inclusion committee — and is led by Alyssa Benjamin, coordinator of the CHS Pipeline programs. Work on the series began after the murder of George Floyd by former Minneapolis police officer Derek Chauvin.
Although well-acted and skillfully scripted, the scenarios can be emotionally challenging to watch, even on Zoom. The gallery view during the May Healthcare Theatre session showed grimaces, raised eyebrows and rolled eyes from those watching on their devices.
The realism of the scenarios also allows for needed dialogue and education on topics that can be challenging in a group setting, said Allan Carlsen, co-founder of Healthcare Theatre. It's what the innovative program does best — allow people to learn in a controlled and safe environment.
"Healthcare Theatre is a training mechanism to help people to improve," said Carlsen, also an assistant professor in the theatre department.
Learning to speak out
Zachary Jackson, an actor with Healthcare Theatre since 2009, wrote the two scenarios for the social justice series. Jackson worked with Adam Foley, director for diversity education in the Office of Institutional Equity, Diversity, and Inclusion, to create hypothetical situations that could occur among coworkers.
Foley said the workplace can be more challenging terrain for many people because of prior relationships and power dynamics that can exist on campus. For example, it can be harder for someone to respond to another person's microaggression if they also work in the cubicle next to them or expect to get a course grade from them. While they might get involved as a bystander witnessing an altercation with a stranger, they may stay silent when they hear a superior undermine institutional messaging on topics like racism and sexism.
Jackson said he hopes the scenarios help participants develop effective ways to call out injustice, even when it involves people they like and care about.
"How do we deal with these situations in a way that's constructive — rather than deconstructive — to our relationships with each other? Because we're still going to be coworkers right afterwards," said Jackson, who also works as an academic adviser in the School of Nursing. "How do we get into these dialogues in a way that's not adversarial?"
As Smith watched the scenario with the professor making sweeping generalizations about Asian students and listened to the accompanying reaction from colleagues and students, she said she was struck by how intense it felt, even as a witness. In the scene, the professor refuses to acknowledge there is a problem with her comments, challenging those who take issue with her stereotyping.
"It made me realize like, wow, this is what's needed to bring the diversity — people need to own up to it and people need to see what actually goes on," said Smith, who serves as an undergraduate student ambassador at the Science, Technology and Advanced Research (STAR) Campus. "We're beginning to get diverse and inclusive, but we still have a long way to go, so the more people we have to speak up, it will make that much of a difference."
For Cole Galloway, a professor in the physical therapy department and director of the Pediatric Mobility Lab and Design Studio, the scenarios offered a non-threatening way to play out responses he might use if the situation arises.
"This gives someone the chance to play it out and not feel so personally focused on. You can play out the privilege, and once it's out, you're liable to have a conversation," he said. "I need my university and college and department and colleagues to challenge me as I come to grips with my own diversity, equity and inclusion issues that I carry into the classroom, labs and faculty meetings."
Potential for expansion
About 80 faculty, staff and students participated in the CHS social justice training series and the responses to the series have been overwhelmingly positive, Wright said. There are plans to resume the series both online and in person during the fall semester.
Foley said the success of the CHS social justice program offers an opportunity to expand it across the University. Healthcare Theatre already works with five of the UD colleges and some have already expressed interest in a similar program, Carlsen said.
These cross-college collaborations are valuable because they share important University resources to help bring lasting change to the campus, Foley said.
"I think this collaboration that we had over the course of this semester was a perfect example of that because it wasn't asking anyone to do more necessarily, just to do things a little bit differently," Foley said. "If we can help facilitate that and be that little extra push to make it happen, we're going to get a lot further in making it a more equitable campus."
It's also a reminder of the power of the arts.
"Artists — and particularly theatre writers — have always been at the forefront of advocating and pushing for social change," Jackson said. "If Healthcare Theatre can make a small contribution by putting these scenarios together for training, that's awesome."