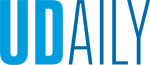 Workshop for teachers
Article by College of Arts and Sciences communications staff July 14, 2021
4-D printing activities demonstrate mathematical, engineering concepts
Teachers and students from six Delaware high schools recently attended a professional development workshop led by University of Delaware faculty members, who used advanced manufacturing via 4-D printing to conduct self-folding and self-assembling activities.
The June 23 workshop, held in the UD MakerGym, introduced participants to mathematical and engineering concepts through five activities, including using origami to investigate design principles of self-folding. It was co-hosted by John Jungck, professor of biological sciences and of mathematical sciences, and Jon Manon, assistant professor of mathematical sciences and associate director of UD's Professional Development Center for Educators.
Keynote presentations were given by Chrystalla Mouza, director of the School of Education, who discussed her maker space, and Martha Hall, director of innovation in the College of Health Sciences, who spoke about empathic design of assistive technologies. UD students Ethan Bishop, a senior in the College of Engineering, and Metehan Cebeci, a senior in the College of Arts and Sciences, gave a tour of the MakerGym, a space where students, faculty and staff can develop creative projects.
Jungck led the teachers in an exercise where they learned about 4-D printing via self-assembly by playing with self-assembling dodecahedra, icosahedra and decahedra produced by his senior UD engineering students and five students from Brandywine High School.
Jungck was the principal investigator for a grant from the Sigma Xi national scientific honor society that funded the workshop, titled "Learning with All Your Senses." Participating were teachers from Brandywine, Concord, Middletown and Newark high schools, Charter School of Wilmington and Padua Academy.