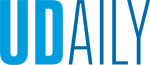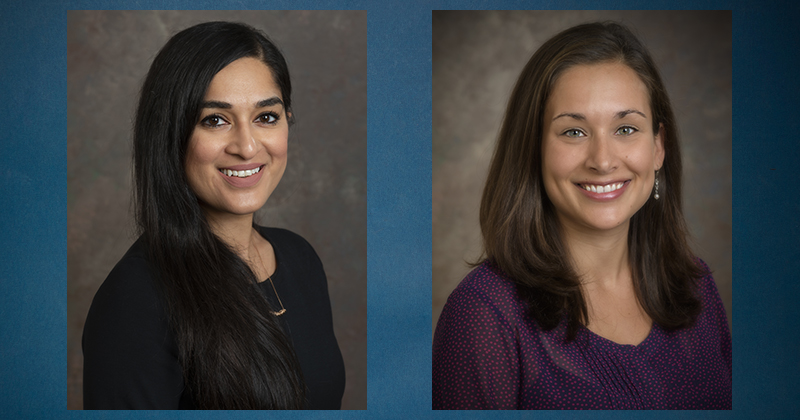 Young scholars honored
Article by Ann Manser January 22, 2021
Early career faculty in history, psychology receive Mangone Award
The University of Delaware's Francis Alison Society has selected Naomi Samimi-Sadeh, assistant professor of psychological and brain sciences, and Jaipreet Virdi, assistant professor of history, as the recipients of the 2020 Gerard J. Mangone Young Scholar Award.
The award recognizes promising and accomplished young faculty. Samimi-Sadeh was honored in the Natural Sciences and Engineering category, while Virdi was honored in the Arts, Humanities and Social Sciences category.
The recipients are chosen by fellow faculty members who have received the Francis Alison Award, the University's highest competitive faculty honor.
Naomi Samimi-Sadeh
Samimi-Sadeh is a clinical psychologist whose research seeks to understand why people engage in risky, impulsive and self-destructive behavior and how sensitivity and resilience to life stress contribute to such harmful behaviors.
She is especially interested in severe self-regulation disorders and their related public health problems such as suicidal behavior, substance use, violence and criminal behavior.
In nominating Samimi-Sadeh for the Mangone Award, Prof. Tania Roth called her research "original, creative and cutting-edge" and pointed out that her approach and methodologies bridge clinical psychology, behavioral epigenetics and neuroscience. Her work is "innovative, timely and meaningful," with direct relevance to critical health and social issues, Roth said.
The nomination letter also cited Samimi-Sadeh's valuable work as a teacher and mentor, noting that her students report finding her classroom exercises engaging and instructive and that her graduate students have published multiple journal articles and have received training grants from the National Institute of Mental Health (NIMH).
Roth praised Samimi-Sadeh's service to the professional, University and wider communities as well. As an example of public service, she described her work with a new partnership between the psychology department and the U.S. Probation Office in which Samimi-Sadeh is teaching skills-based therapy to a group of participants in an effort to help individuals who are leaving prison re-enter the community successfully.
In summary, Roth wrote, "Her innovative research program, her excellence in classroom teaching and mentoring of the next generation of scientists, and her commitment to community engagement and affecting the well-being of people she serves makes her the type of nominee this award is designed to recognize and encourage."
Samimi-Sadeh, who earned her doctorate at the University of Illinois at Urbana-Champaign, has published some 60 papers and has received internal and external funding for her research, including an NIMH grant. She has received a number of prestigious early career awards, including the Rising Star Award from the Association for Psychological Science, the Early Career Achievement Award from the American Psychological Association and the Career Development Leadership Award from the Anxiety and Depression Association. In 2019, one of her articles was selected as Editor's Choice for a curated collection of articles in the journal Psychiatric Services.
Jaipreet Virdi
Virdi is a historian of medicine, technology and disability. Her research and teaching interests include the history of medicine, the history of science, disability history, disability technologies and material/visual culture studies.
In her nomination letter for the Mangone Award, Alison M. Parker, who is the history department chair and Richards Professor of American History, cited some of the professional acclaim that Virdi has received for her scholarship and for her first book, Hearing Happiness: Deafness Cures in History, published in 2020 by the University of Chicago Press.
Calling the book "an extraordinary work" that is "engaging [and] well-written," she noted that it has received numerous excellent reviews.
"One remarkable and unique aspect of Virdi's book is that she weaves into her historical analysis her own childhood experience of hearing loss and the wide range of folk, religious, and medical 'cures' she was subjected to," Parker said. "This insertion of the author as a deaf child and now a deaf adult is engaging, fascinating, and deftly handled."
In addition to her writing, Virdi uses her scholarship for public engagement in innovative projects that forge community collaborations, Parker said. She also has been highly engaged in the Department of History, including her service to the Hagley Graduate Program in the History of Capitalism, Technology and Culture.
Parker also praised Virdi's work in the classroom, where she "has proven to be an excellent and popular teacher" whose courses attract a large number of STEM students, including many in the Medical/Dental Scholars Program.
Virdi received her doctorate in the history of science, technology and medicine from the Institute for the History and Philosophy of Science and Technology at the University of Toronto.
She has published numerous articles and is co-editor of the 2020 book Disability and the Victorians: Attitudes, Interventions, Legacies. She serves as contributing editor of the journal Pharmacy in History and associate editor of the Historical Journal of the Natural Sciences.
Her honors include the 2019 John C. Burnham Early Career Award from the Forum for History of Human Science and UD's Women's Studies Faculty Research Award, funded by the Mae and Robert Carter Endowment in Women's Studies.