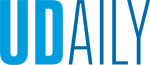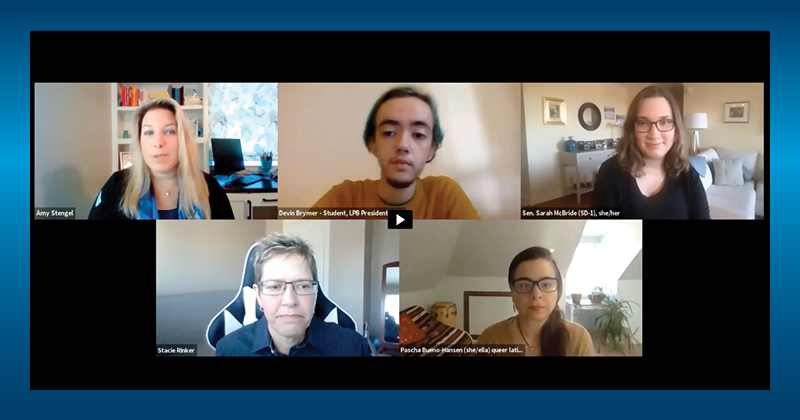 Advocating for LGBTQ rights
Article by Sunny Rosen February 11, 2021
UD WLI webinar explores how to be an ally to LGBTQ people
According to the Postsecondary National Policy Institute, approximately one in 10 college students identifies as lesbian, gay, bisexual, transgender, queer or questioning (LGBTQ). For Blue Hens who want to build their understanding of and support for these individuals, the recent "Advocating for LGBTQ Rights" webinar hosted by the Women's Leadership Initiative (WLI) at the University of Delaware's Alfred Lerner College of Business and Economics offered meaningful discussion and valuable insights.
One of the webinar's panelists, Delaware State Senator-elect Sarah McBride, made history this year when she was elected the first transgender state senator in the United States. During the webinar, McBride discussed her journey to this moment.
"When I began to see that there wasn't really space for someone like me in our society growing up, I got involved because politics and advocacy and government felt like the place where I could make the most amount of change for the most number of people in the most number of ways possible," she said.
Upon coming out as transgender in 2012, she continued: "One of the most incredible things about that experience was that every message that came in was a message of love and support and celebration in the beauty of our diversity."
While coming out was, at that point, the hardest thing she'd ever done, McBride said, a number of factors helped to make it easier. These included her family support, race, economic background and educational opportunities, which, she said, "created a safety net that shielded me from some of the worst discrimination, rejection and even violence that the trans community faces."
In this, McBride spoke to the intersectionality inherent to the issues that the panelists discussed. As panelist Pascha Bueno-Hansen, associate professor in UD's Department of Women and Gender Studies, said: "This work is not a single issue."
Bueno-Hansen went on to discuss the incredible range of experiences that LGBTQ people have. The goal, she said, should be that "we can find a way of connecting our survival and our thriving with each other across differences, because we're all in it together and there's no separate survival."
Bueno-Hansen also read from Audre Lorde's book Sister Outsider, reading: "Difference must not be merely tolerated, but seen as a fund of necessary polarities between which our creativity can spark like a dialectic. Only then does the necessity for interdependency become unthreatening. Only within that interdependency of different strengths, acknowledged and equal, can the power to see new ways of being in the world generate, as well as the courage and sustenance to act where there are no charters."
"The LGBTQ community is as diverse as the fabric of humanity," agreed McBride. This means, she said, that fighting for LGBTQ rights and fighting for other types of equality — those related to race, religion, economic opportunity, nationality and more — are "inextricably linked."
"That means putting our money where our mouth is," she said. "It means investing in programs that lift people out of poverty: increasing the minimum wage, passing paid family and medical leave. Policies that people outside of the LGBTQ community need, but policies that are of particular and heightened need for the LGBTQ community."
Panelist Devin Brymer, a UD student and president of UD's Lavender Programming Board, provided an intergenerational perspective, discussing what it means to be a member of Generation Z who identifies as queer.
"I would definitely say that my experience [as a queer person] is much different than older generations," Brymer said. "Going into a friendship or getting to know someone, I talk about my gender and my sexuality, not necessarily because it's a 100% core point of my personality… but because going into all these friendships, I have the privilege of someone who's of this generation to go straight in and say, 'Are you going to be accepting?' And generally, I've formed really great bonds that way."
Brymer also discussed terminology's evolution with the generations. While he stressed the importance of having patience in working across generations, he also said, "Overall, it's important to refer to future generations by the terminology that they would like to have used."
"You raise a great point there," replied Amy Stengel, the panel's moderator and WLI special events director. "A lot of times it's about asking the question. So, maybe instead of making assumptions, you ask the question and don't be afraid of the question, which I think a lot of people are. In the interest of not insulting somebody or saying the wrong thing, they say nothing, but maybe asking the question is really the right thing."
While this discussion certainly spoke to a world that is growing and improving in terms of equality and fairness, the panelists agreed that there's still lots of work to be done. Panelist Stacie Rinker, who serves as diversity and inclusion program manager for M&T Bank, shared a number of eye-opening facts from the Harvard Gazette about LGBTQ people in the workplace:
46% of LGBTQ people hide who they are at work.

36% do so because they are afraid of being stereotyped.

36% think that they make others uncomfortable.

31% worry about losing relationships with coworkers.

27% are concerned that a coworker may think that they're attracted to them just because they are LGBTQ.
Rinker also discussed how she's seen these feelings play out in her own workplace experiences.
"I created two different lives, my work-life persona and my personal one," Rinker said. "It took over 20 years for me to come out at work, but that didn't mean that people didn't make assumptions along the way."
Fortunately, she continued, "Over the years, I have certainly seen the evolution of both myself and the industry. As our society moves forward in embracing diversity and inclusion, so does the industry. We strive to change with the times and become a leader in this area, which is a giant leap from where we were 50 years ago."
Rinker went on to say that she's personally benefited from this change by feeling empowered to be her authentic self at work. Now, she will continue to work to build a culture of inclusion for those coming behind her.
Readers are invited to watch the full video of this webinar and to explore the other webinars in the WLI's Allyship, Advocacy and Accompliceship Webinar Series.