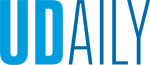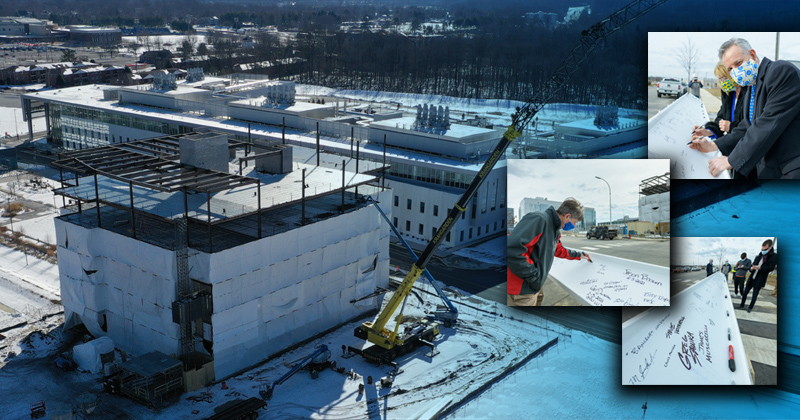 Final beam raised in FinTech building
Article by Beth Miller Photos by Evan Krape February 16, 2021
Financial innovation hub emerges on UD's STAR Campus
Contractors raised a 30-foot stretch of carbon steel 92 feet into the air on the University of Delaware's Science, Technology and Advanced Research (STAR) Campus on Wednesday, Feb. 10, putting the final beam in place and reaching the halfway point in construction of the six-story FinTech Innovation Hub.
Such milestones often are celebrated with ceremonies and speeches. Not this year, not with the coronavirus (COVID-19) pandemic still spreading around the globe.
But the 1,500-pound beam, bearing the signatures of many involved in the project, carries much hope for the future — for UD students, researchers, experts in business, finance, policy and just about anyone who uses money in everyday life.
The building is owned by Delaware Technology Park (DTP), not the University. But it has a central place on STAR Campus and a pivotal role to play in UD's work.
"The placement of the final beam on the FinTech Innovation Hub represents a significant and exciting milestone in this project and in our ongoing mission to advance the economic development of our state," said UD President Dennis Assanis. "As our economy recovers from the effects of the pandemic, our investments and partnerships in fintech, biopharmaceuticals and the entire University will play critical roles in creating opportunities for education, collaborative research, entrepreneurship, job growth and community engagement."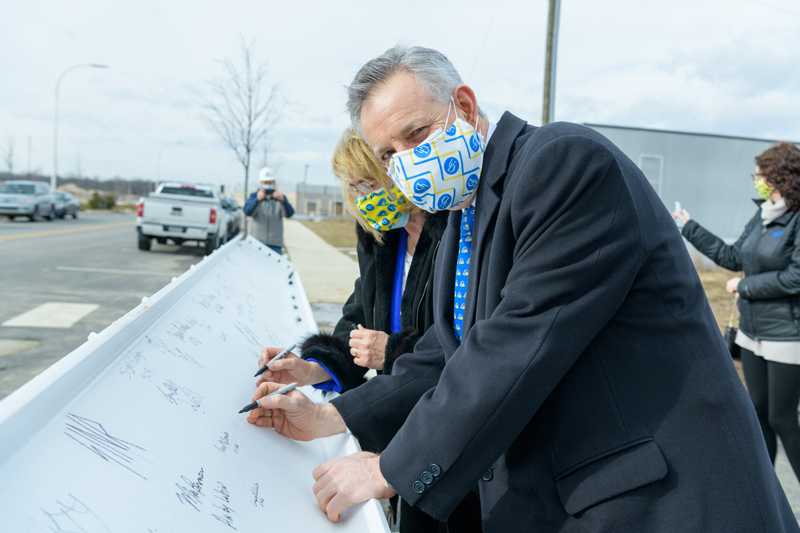 The FinTech building — "fintech" is short for financial technology — represents a public-private partnership, a convergence of academic rigor, business savvy and technical expertise with the intention of pooling those resources to make financial systems work better, more securely and more equitably for all.
It will add important new elements of inquiry to the STAR Campus, which already is home to impact-driven research related to health sciences, biopharmaceuticals, entrepreneurship and innovative manufacturing.
"This project is further evidence of UD's strong commitment to providing students and faculty with world-class resources and opportunities," said Provost Robin Morgan. "We're excited to see how they will make use of this new hub and how their skills and knowledge, in turn, will help to improve our financial systems and the effectiveness and security of our technology."
Construction of the $38 million FinTech building is on schedule, said DTP President Mike Bowman, with completion expected in November.
Among its tenants will be financial institutions, academic centers, small businesses, nonprofits, data and technology experts and the Small Business Development Center. Nearby are buildings full of other expertise. UD's Data Science Institute, for example, with many projects in data analytics, is housed in the STAR Tower, just across the green from the FinTech building.
"Aspirationally, we hope it's going to be a center of excellence for the digital sciences, fintech and data management of many things, private and public," Bowman said. "The University's skill sets, students, professors and researchers are in great demand for the tools of fintech, big data and machine learning. There's a definite need and purpose to this building. It's about serving the community, at the individual and small-business level."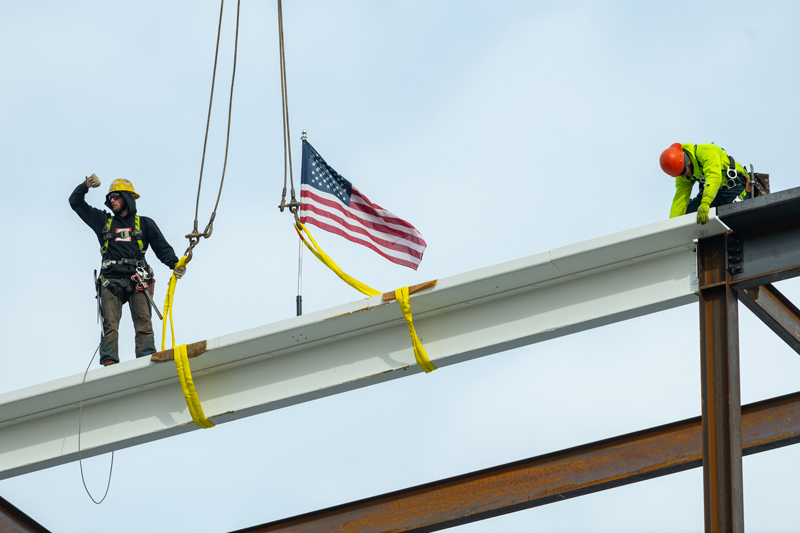 Consumers, too, will be in focus.
"Access to financial credit is a severe problem in this country and banks want that problem solved," Bowman said. "They're supportive of this. Equity of access to money is a big need.
"It's a natural for Delaware because of its expertise in financial services and the Court of Chancery."
Plans include a full-service restaurant on the first floor, which will bring long-awaited culinary relief to UD's South Campus population, but move-in specifics are not yet finalized.
Two UD colleges will have dedicated space in the FinTech building, including the Lerner College of Business and Economics and the College of Engineering.
"The FinTech landscape is evolving rapidly with technologies like blockchain and artificial intelligence leading to reimagined financial services for households and firms," said Bruce Weber, Lerner College dean. "At Lerner, we take pride in our faculty scholarship being able to inform practitioners about risks and management blind spots, but also pointing to innovation opportunities and new strategies to lift performance.
"The FinTech ecosystem is still developing, so there is enormous value in bringing finance specialists and technologists together in computer labs, demonstration and teaching rooms and executive conference space — exactly what the FinTech building will provide."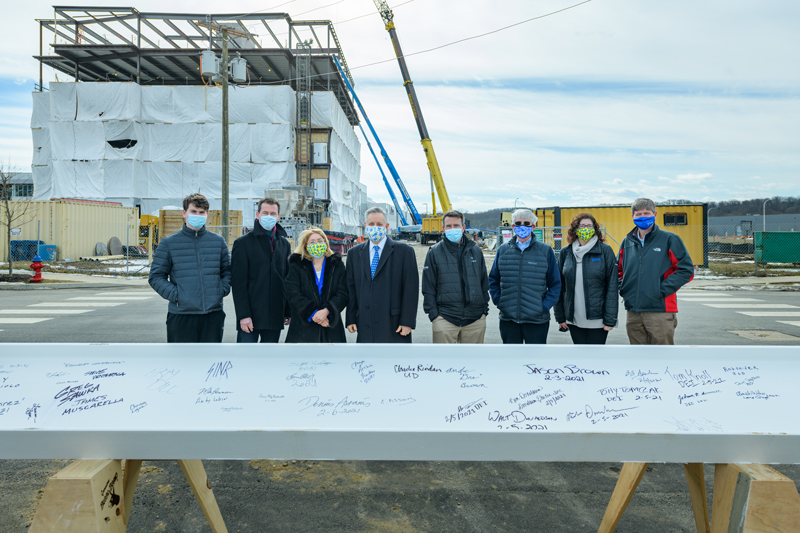 Levi Thompson, dean of the College of Engineering, agreed.
"We all benefit when great, creative minds work together," he said "The FinTech building presents physical space as well as a tremendous opportunity for engineering and computer science students, faculty and staff to collaborate with the Lerner College of Business and Economics, Discover Bank and its affiliates in the ever-evolving and increasingly complex areas of finance, technology and entrepreneurship. These relationships will propel UD to the forefront in education, research and economic development in the fintech space."
Discover Bank will be in the building, Bowman said, along with other financial institutions. A big part of Discover's focus will be on improving consumers' financial health, said Amy Walls, a principal in community investment.
"What we're particularly interested in is how can we grow products, services, technologies and research to help people improve their savings, access their credit scores more easily, learn how to improve them if necessary, as well as tools that might be available to help them do all of that efficiently, easily and securely," she said.
"Our overarching goal is financial health," she said, "and we're particularly interested in services that help low- and moderate-income people. We want to serve the everyday person, the people in our communities. Through this center, we're hopeful we can incubate fintechs with similar missions."
Walls said a partnership with a national nonprofit with similar goals is under development. Discover Bank is excited to see what will happen when all the pieces are in place, she said, from small businesses and nonprofits to UD's Office of Economic Innovation and Partnerships.
"Having the University there with engineering and business brings lots of opportunity for cross-collaboration," she said. "Being there with students and grad students brings a wealth of talent and ideas. We're excited to fit into the STAR Campus the way it was designed — for innovation and collaboration."