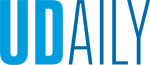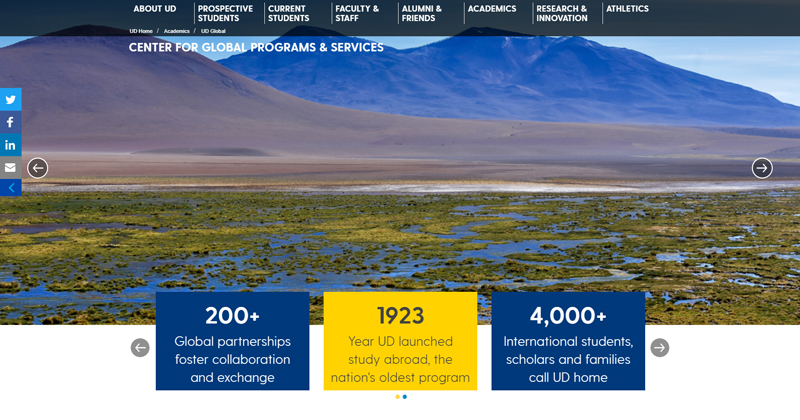 New Center for Global Programs and Services
Article by Amy Greenwald Foley Photo on new CGPS website courtesy of Jenna Tomovich February 15, 2021
UD Institute for Global Studies and Office for International Students and Scholars merge
A longtime leader in international education, the University of Delaware is streamlining its approach by bringing two key units together within a new Center for Global Programs and Services (CGPS).
Joining the former Institute for Global Studies (IGS) and the Office for International Students and Scholars (OISS), the new center now includes:
Study Abroad

International Student and Scholar Services

UD World Scholars Program

Global Outreach and Partnerships
UD's distinguished record in international education includes the founding of the nation's first study abroad program nearly 100 years ago and supporting the success of international community members from more than 100 countries. With this merger, the University will strengthen campus internationalization efforts by bringing together staff, resources and expertise focused on shared goals. Overseeing the new center is Ravi Ammigan, associate deputy provost for international programs.
"The University of Delaware has a proud legacy of innovation in international education," Provost Robin Morgan said. "With the formation of this new center, we affirm the University's commitment to internationalizing our campus. I am confident that we have the right foundation for strengthening our interdisciplinary and global programs, developing new opportunities for our community and extending our impact across the world."
While the center is new, it builds on UD's tradition of providing strong and multifaceted support services and inclusive programming to the University community and institutional partners. The CGPS spring 2021 calendar includes popular Signature Programs such as the Weekly International Coffee Hour, Fulbright Lecture Series and Study Abroad and Global Studies Fair.
International Student and Scholar Services staff within CGPS will continue to serve as a critical resource for UD's international community. In addition to providing information and support for the challenges of living, studying and working in a different culture, staff members work to celebrate the presence of international students and scholars on campus and their important contributions to the University's research and teaching missions. CGPS will continue to advise UD's international students, scholars, dependents and departments on compliance with U.S. immigration laws and regulations. Members of UD's international community will continue to benefit from orientations and other programs conducted by CGPS to assist international visitors with their adjustment to the U.S. culture and academic success at UD.
CGPS will also inspire exploration among all members of the community by continuing to lead the nation's first study abroad program, the first-of-its-kind UD World Scholars Program and the Delaware Diplomats Scholarship Program. In partnership with campus stakeholders, CGPS staff will support student success through pre-departure workshops and advising, global engagement and experiential learning opportunities, including sponsorship of the International House (iHouse) Living Learning Community, and guided acquisition of skills needed for global careers. And CGPS will foster a spirit of international collaboration through management of the University's global partnerships and agreements process.
For More Information
For more information, visit www.udel.edu/global and follow @UDGlobal on Instagram and Twitter. Although all CGPS programs, services and staff are currently operating virtually, staff are available Monday through Friday between 8 a.m. and 5 p.m. at 302-831-2115 and go-global@udel.edu. For an emergency during non-business hours, please call 302-831-2222.