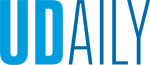 New solar array
Article by Beth Miller Photos by Evan Krape December 16, 2021
State-of-the-art solar array and energy hub at UD's Institute of Energy Conversion
The University of Delaware's Institute of Energy Conversion has been a leader in solar energy research for almost a half-century. Now, for the first time, it has a working photovoltaic array on its premises — a state-of-the-art installation managed with the advanced technology of an energy hub.
The project, led by Steven Hegedus, professor of electrical and computer engineering and senior scientist at IEC, drew on donations from alumni, grants from state agencies, partnerships with solar firms and the effort of students.
The array has 12 solar panels, each with 72 state-of-the-art "bifacial" solar cells. Bifacial cells capture sunlight from above, as well as any light reflected up from the ground. The array has two sensors facing the sun, three facing the ground. Each of the 12 modules has its own power optimizer, which allows for peak performance even if the module next to it is in the shade.
And though the array has a relatively small footprint outside IEC's headquarters in Newark, Delaware — its dimensions are roughly 12-by-20 feet — it brings significant new opportunities for researchers and students alike.
"The solar array and energy hub are exciting and valuable additions to IEC's research and educational missions," said William Shafarman, director of IEC and professor of materials science and engineering. "They are allowing students under Steve's guidance to learn about solar energy systems using cutting-edge photovoltaic technologies while generating important data to energy providers about the response of these technologies right here in Delaware."
Already, in just its fifth month of existence, it has some impressive credits, including a job for a recent UD graduate and a growing body of data on the performance of bifacial solar cells and how an energy hub manages the electricity produced.
That energy management hub makes the system supersmart. It captures not only the solar power, but also the readings from light meters and temperature sensors, all of which are valuable to researchers. And depending on the priorities set by the owner/operator, the hub steers the captured energy to the electric grid, to a home energy battery and/or to an electric vehicle charger.
"It's like a conductor deciding who makes music when and how loudly," Hegedus said. "And it requires a more interactive relationship between the system owner and the utility."
Because bifacial cells capture reflected light from the ground, they are not meant for rooftop installations. But they are becoming the next big wave in the solar industry, Hegedus said, and that means much more research is warranted.
For example, although these cells have been manufactured for a couple of years, rating standards have not yet been established for them, at least not in the same way they have been for monofacial cells, Hegedus said. The research already underway at IEC will provide copious data on how much energy is captured on the back of the cells, how that changes as conditions change and which kinds of reflective ground surfaces are most efficient for capturing the reflected light.
"This type of bifacial module will be more than 30% of the modules installed over the next three or four years," he said. "Having this early access to the technology will allow us to provide information to local installers, investors, grid operators and policy makers."
The project got its spark from the Class of 2009, which exceeded its fundraising goal for a project that helped to install solar panels at the UD Field House. About $30,000 remained from that project and Heather Barron, director of development in UD's College of Engineering, helped to make the connection between the Class of 2009's solar focus and Hegedus' hopes for a solar array on the IEC premises.
The funds were enough to cover the cost-sharing requirement to access additional support from the Delaware Department of Natural Resources and Environmental Control.
The installation started in June. Among those assisting over the summer were two engineering students — Kunal Vohra, who completed his master's degree this summer, and Ryan Purnell, a senior majoring in electrical engineering with a minor in sustainable energy technology.
Vohra went from this project directly into a job with CMI Solar and Electric, which installed the array and energy hub. Vohra is working as CMI's renewable design and permitting manager.
"My interest in this comes from Professor Hegedus, to be honest," Vohra said. "I took one class with him on microgrids and another on solar energy itself. He is so passionate about it. He really believes it could solve our energy problems and is good for the average person. I bought into it and as I learned more it became obvious to me that it is a really good thing."
Purnell, who hopes to graduate with a master's degree in 2023, worked with Vohra to create the PVC structure underneath the array, where different kinds of ground covers can be tested.
"I am extremely interested in renewable energy and the American electric grid in general, so the project was very oriented with my career goals," he said. "Post-college, I intend to go into the energy sector as there are several challenges related to meeting the growing electrical demand in the U.S. and reducing the carbon footprint of our energy sector.
"My goal is to be part of the solution to these challenges and I believe that distributed renewable energy generation and microgrids are key components of the solution to these problems. So it was amazing to be part of the project."
Doctoral student Thunchanok "Tasha" Kaewnukultorn of Bangkok, Thailand, will incorporate the array into her research, which focuses on the integration of renewable energy and grid-supporting functions using smart inverters.
"My research experiments have usually been done in a lab with solar and grid simulations," she said. "Having a real energy hub and solar array is really beneficial for studying microgrid performance and developing control strategies for smart inverters using real field data."
About the researcher
Steven Hegedus, professor of electrical and computer engineering at UD and senior scientist at IEC, has been involved in solar photovoltaic research and applications for more than 35 years. He earned his doctorate at UD, his master's degree at Cornell and his bachelor's degree at Case Western Reserve University. He was co-editor of the "Handbook of Photovoltaic Science and Engineering" (Wiley and Sons 2003, 2011). In addition, he serves on the Delaware State Renewable Energy Task Force and is a senior member of the Institute of Electrical and Electronics Engineers (IEEE).
About the Institute of Energy Conversion
Founded in 1972, the University of Delaware's Institute of Energy Conversion is believed to be the oldest continuously operating solar research institute in the world.