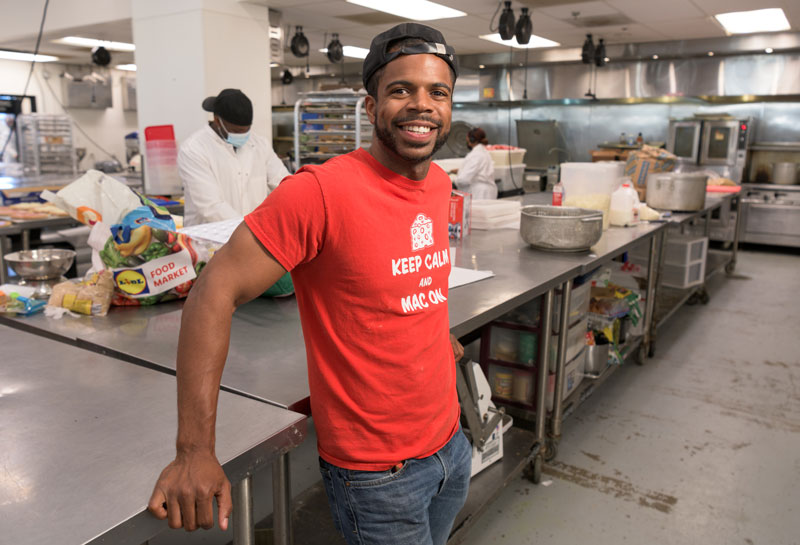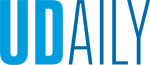 A knack for mac
Article by Artika Casini, AS05 August 20, 2021
The recipe for success relies on crucial ingredients: talent, tenacity, and copious amounts of hard work. Perhaps that's what makes Myles Powell so successful.
Engineer by day, chef by night, and founder and CEO of 8 Myles comfort food, Powell, EG12, has had a wildly successful year. This spring, his line of gourmet, frozen mac-n-cheese meals debuted in more than 200 Target stores across the Northeast—a "mylstone" projected to increase revenue by 567% and an achievement that is, in many ways, a natural progression of the determined character Powell first cultivated at UD.
Delaware is where Powell would study until 4 a.m. —and still fail his exams. "I had to work twice as hard to meet the status quo." He briefly considered dropping out, but that didn't align with his internal compass. Instead, he enrolled in support programs, retook calculus and enhanced his study skills with help from friends and classmates.
"Engineering taught me to love a good challenge," he says. That lesson would serve him well in the culinary world.
When Powell began his (now-defunct) cooking blog—OMG, you can cook—it was mostly to compensate for a joy he lacked at work. Fresh out of college and working for a utility company, Powell recalls his first day on the job. "I sat at my desk and thought, 'Wait, I have to do this for the next 40 years? There's no way.'"
So he began cooking more. He appeared on the Food Network show, America's Best Cook. Booted after the first episode, he emerged unfazed. He knew: "Food is where I belong."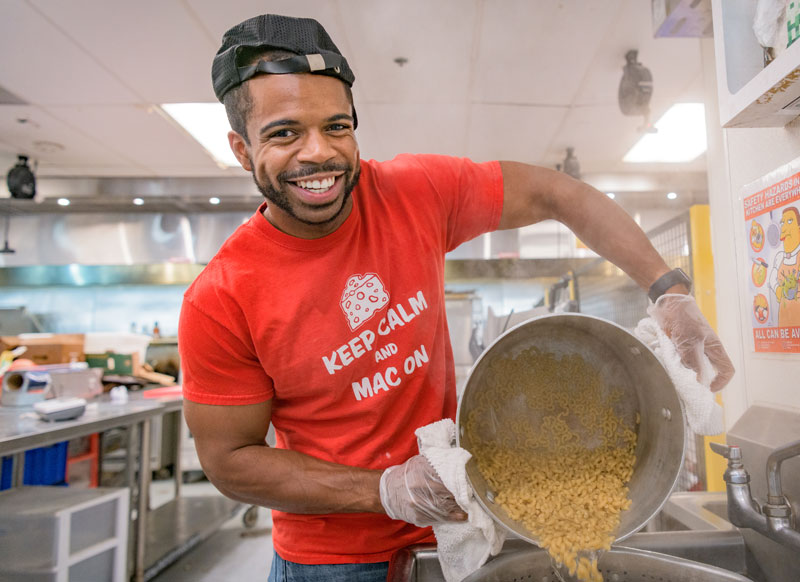 Powell continued to work as a project engineer, but gradually earned his MBA, all while cooking on the side. He began specializing in BBQ sauces—Pineapple Buffalo, Raspberry BBQ, Mango Magic—which he made in bulk at a Pennsylvania culinary school and sold to two local businesses. In 2015, he launched 8 Myles, a nod to both his name and the Eminem music biopic, which Powell views as a "motivational movie about bouncing back when life knocks you down."
The following year, he started a new job in Washington, D.C., still trekking five hours, round-trip, to cook his sauce in Pennsylvania. Three months into the new engineering gig, he quit.
"I had some savings, zero income and no plan," Powell admits. He picked up three part-time jobs, including overnight hotel work, before returning to engineering in 2017. All the while, he kept cooking. By then, 10 area businesses were selling his sauce. Around the same time, Powell began prowling Farmer's Markets, where the endless demand for his mac-n-cheese—tossed, of course, in his famous sauce—caused the engineering chef to rethink his product.
By 2018, Powell joined Union Kitchen, a D.C.-based accelerator program. Pretty soon, his food was in select Whole Foods stores and the New Jersey-based chain, Kings Food Market and Balducci's. But Target was a whole new world.
To prepare for his May 2021 Target launch, Powell took off a whopping four days from work. In that time, he and three other cooks made 12,000 boxes of mac-n-cheese. (In comparison, he made 10,000 boxes in all of 2020.) He worried something would go wrong, and of course it did. At one point, the elevator broke, and Powell had to remove boxes from the storage pallet, carry them by hand down to the garage, and then re-load them onto the pallets to get them into the company truck.
Even now, his days are long. He works at his engineering job from 7 a.m. to 4 p.m., then races to the D.C. kitchen, where he cooks from 5-9 p.m., making around 120 boxes a night.
"It's a lot of driving, a lot of late nights, a lot of coffee," he says, with no plans of stopping soon.
His immediate goals are to expand distribution into the Southeast, find angel investors and collaborate with UD's Horn Entrepreneurship program ("I'm so jealous this didn't exist when I was a student," Powell laments).
Until then, he'll do what he has always done: work hard and keep cooking.