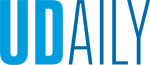 Autonomous field robot provides pest protection
Article by Karen B. Roberts Photos by Kathy F. Atkinson April 07, 2021
Startup with roots at UD provides chemical-free pest control for strawberry farmers
Editor's note: This article appears in the new, all-digital issue of the University of Delaware Research magazine. This issue spotlights UD's graduate students, an essential group of researchers who come from around the world, bringing fresh energy and new perspectives to their studies. It includes a special section on UD's growing muscle in robotics and also reports on COVID-19 research with impact in Delaware, the nation and the world.
Entrepreneur Adam Stager, a former University of Delaware post-doctoral fellow and the founder of TRIC Robotics, is working on chemical-free ways to help strawberry farmers improve yield using an autonomous field robot.
Predicting when in the growing cycle pests will appear is difficult, making regular treatment necessary and costly for farmers. The TRIC Robotics team, led by Stager and involving several UD undergraduate students, has developed an autonomous field robot with the ability to travel up and down the rows in a strawberry field, delivering nonchemical pest protection right to the strawberries themselves. The field robot leverages UVC light technology, developed by USDA scientists.
Learn more: https://research.udel.edu/2020/12/01/ud-robotics-startup-with-roots/