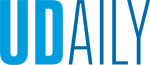 Where the art meets the road
Article by Diana Milburn Photo by Aaron Terry April 29, 2021
UD students design health-themed posters for Delaware transit hubs
Aaron Terry's printmaking classes at the University of Delaware are where the Department of Art and Design's conceptually focused fine arts majors and its commercially focused visual communications majors come together to learn how to create for a purpose.
In his own work, Terry's interest is in the history of printmaking and its potential as a visual and socio-political tool. The assistant professor of art and design creates multicultural public art with a current message, and his printmaking class at UD teaches students the creative processes and practical skills needed for the 21st century applications of this work.
Part of the process is finding the path to the work. Terry learned that DelDOT/DART (the Delaware Department of Transportation and its bus service) were partnering with UD's Science, Technology and Advanced Research (STAR) Campus and viewed it as a learning opportunity perfect for his class objectives.
He set up the "Inform, Inspire, Empower!" initiative "to create and install public poster artwork aimed at a unified dialog focused on public health and wellness." The goal: to enhance public pandemic education and support cultural change, with Terry describing it as drawing inspiration in these pandemic times from the 1940s posters of the Works Progress Administration implemented as a practical relief project during the Great Depression.
Terry's 20 printmaking students were given a class assignment to choose themes around public health and wellness and create visually engaging, inspiring and colorfully informative posters. The students initially presented their designs using their individual strengths in paint, sculpture and even woodblocking to carry out their theme. Ten posters were ultimately chosen, based on the strength of their visual and thematic message, by a committee that included Terry as the instructor, members of DelDOT/DART and UD Director of Economic Development Tracy Shickel. The class went on to produce the posters in the studio.
The students were initially surprised to think that their "young adult" perspective and input would be of interest to the public.
Mathea Madsen, a senior fine arts student with a focus on printmaking, shared her thoughts: "As someone who suffers with anxiety, being bombarded by information and infographics all the time really opens the door for worrying you aren't well enough, aren't doing enough or improving enough. My goal in these physical works was to create a visual break from all that."
Two of MaryBeth O'Hanlon's designs were chosen. As a visual communications major, she initially considered the project from a client perspective, then relished the opportunity to be more open to employ creative agency, "… to come up with a solution, but there was still a solution we were working toward, and in giving more meaning to my work and what I decide to create, the illustration becomes more than simply the illustration," she said.
And why so analog in this now-so-digital world?
DelDOT/DART and STAR realized that posters are a practical way to communicate ideas and to shape a wide swath of public sentiment, and an opportunity to engage an audience at their transit locations on the STAR Campus and throughout the state.
Media and digital information can seem overwhelming and have been shown to instill feelings of loneliness. With posters, you don't have to find them, they find you; no tiresome pluck and search for a URL is necessary. Seeing that poster in real time and place has an immediate and visceral effect, and artists and designers can provide those thought-provoking messages.
These attention-grabbing, timely posters will appear all around Delaware transit hubs and kiosks later this spring. Take a break from that little screen in your hand and look up when you're waiting for that next bus.