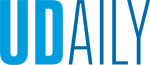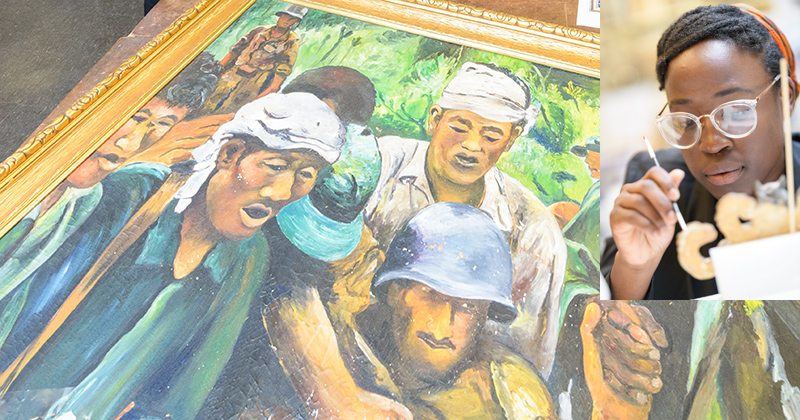 Preserving tributes, history
Article by Ann Manser Photos by Evan Krape October 27, 2020
Intern helps care for objects left at site of George Floyd Memorial
In the hours after George Floyd was killed in Minneapolis, Minnesota, while being arrested by city police in May, a community memorial almost immediately began to take shape on the street where he died.
Those mourning Floyd's death and supporting the Black Lives Matter movement were drawn to the intersection of 38th Street and Chicago Avenue, where they left thousands of tributes and mementoes. Now, with plans for a permanent memorial under discussion by the community, the need to preserve and care for these items — from children's crayon drawings to sympathy cards to protest signs — has become clear.
"The main objective is that nothing gets thrown away," said Kiera Hammond, an aspiring art conservator who recently spent two weeks working with the memorial objects as an intern supported by the University of Delaware and the Midwest Art Conservation Center in Minneapolis. "The specific plans going forward are up to the community. But the goal is to maintain all the artifacts so that they can be used in the future for whatever purpose is decided on."
Hammond, who earned a bachelor's degree and a master of fine arts degree from Howard University, discovered her passion for conservation in 2018, when she participated in a summer program at UD offered by the Department of Art Conservation in collaboration with the Alliance for HBCU Museums and Galleries. The program brings students from historically Black colleges and universities (HBCUs) to the UD campus and to the Winterthur Museum to learn about the field of art conservation with a goal of helping to add needed diversity to the profession.
"UD and Winterthur really kick-started my career," Hammond said. "When I first learned about art conservation [in the summer program], I just immediately wanted to learn more and do more. I saw people at Winterthur working in the conservation labs, and I realized how important those skills are in caring for collections and materials and even family treasures."
She returned to UD periodically, continuing to work on some items that were being conserved and then serving as a teaching assistant for a new group of HBCU students in the 2020 summer program, which was offered online. When this year's program ended, another opportunity arose, and Hammond was selected for the two-week internship in Minneapolis.
Nicole Grabow, a 2003 alumna of the Winterthur/UD Program in Art Conservation who has been working on preservation with Jeanelle Austin, the lead caretaker of the George Floyd Memorial, contacted UD's Department of Art Conservation about a Racial Justice and Conservation Internship they were piloting in Minneapolis.
"Kiera was available, having finished her work with us," said Debra Hess Norris, the Unidel Henry Francis du Pont Chair in Fine Arts and chairperson of the Department of Art Conservation at UD. "The department provided funding to help with the costs of this two-week internship given the vital importance and impact of this work."
The internship benefited the memorial items, which will be preserved and protected as the community's plans continue to take shape, said Grabow, who is director of preventive conservation at the Midwest Art Conservation Center.
It also, she said, was designed to provide Hammond with "valuable first-hand conservation experience that will help advance her career and to explore ways in which preservation can play a role in community healing, identity and social reform."
For Hammond, who has studied and worked on numerous conservation projects while preparing for the next step in her academic career, the experience in Minneapolis was unique because of its connection to today's social issues and its emotional impact. As she works in her current position as one of three interns selected nationally for an inaugural Getty Post-Baccalaureate Internship in Art Conservation, she said she sometimes looks at an object in a museum collection and thinks about the materials she handled at the Floyd Memorial.
"It was very emotional for me, and I was inspired by the memorial," she said. "The work in Minneapolis was so alive, so current. Working on the memorial was life-changing for me, and I was so grateful to be a part of it."