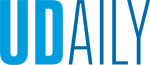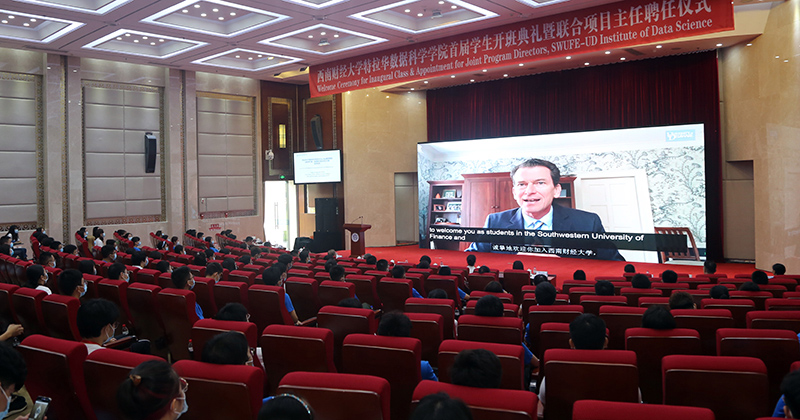 An East-West collaboration
Article by Dena Hillison Photo courtesy of the Southwestern University of Finance and Economics October 08, 2020
SWUFE-UD Joint Educational Institute of Data Science welcomes first class in Chengdu, China
In December of 2018, the University of Delaware celebrated a historic first when UD President Dennis Assanis and the Southwestern University of Finance and Economics (SWUFE) President Zhuo Zhi officially created the SWUFE-UD Joint Educational Institute of Data Science. On Sept. 10, 2020, SWUFE welcomed the inaugural class of 174 students and their families at the official welcome ceremony for the fall 2020 program start in Chengdu, China.
UD will be responsible for the curriculum, teaching bachelor of science courses in management information systems, finance and operations management at the SWUFE campus. Students may choose to come to the UD campus during the fourth year or even earlier to finish their degrees at UD's Alfred Lerner College of Business and Economics.
"Like all of you, I began my academic journey with a global focus," Assanis said in his video greeting at the welcome ceremony. "I grew up in Greece, but as a young man, I left to study in England and the United States because I valued the incredible opportunities of studying abroad and developing a perspective on global cultures. I can assure you from personal experience that the next few years will help you develop unique perspectives on the world, perspectives that will help you and serve you very well in your career and throughout your life."
Zhi, who is SWUFE president, professor and chairman of the Joint Management Board of the SWUFE-UD Joint Educational Institute of Data Science, began his remarks by stating, "Today, with immense joy, we are here to welcome the inaugural class, 174 new students at SWUFE-UD Institute of Data Science.
"On behalf of SWUFE faculty and staff, I'd like to extend a warm welcome to all of our new students," Zhi said. "I must thank all of the students' parents for what you have given to the students. I must thank the SWUFE and UD teams for all of their hard work, making this institute happen and making this ceremony happen."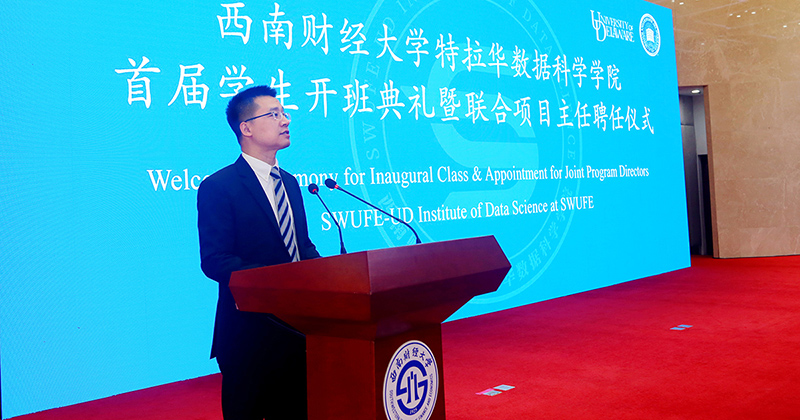 Located in Chengdu, the southwestern economic center of China, SWUFE is a top-ranked business and economics university, ranked among the top three of such universities in all of China. It is best known for its finance education and has been consistently ranked first in that field in China by the country's Ministry of Education.
"Our world is constantly changing, and we are facing unprecedented challenges in the business community today," Lerner College Dean Bruce Weber said in his video greeting at the welcome ceremony. "Innovative partnerships like this help both our institutions stay relevant and enable our students to solve problems with creativity, flexibility and a global mindset. Like SWUFE, the Lerner College is committed to delivering an inspirational education and pioneering scholarship to transform business and society worldwide."
Rick Andrews, senior associate dean of faculty at the Lerner College, joined the welcome ceremony live via video conference to introduce students and their families to academic aspects of the program. He explained that "the curriculum will consist of a data science component, which will prepare students to be able to think analytically and solve real-world problems.
"Students will learn how to collect data," Andrews continued. "They will learn how to build models that will explain and predict events of interest to managers. And they will be able to communicate these results to managers so that they can make better decisions. Businesses value these skills, so students' placement in industry jobs will be very good."
"Our partner UD is a university with great renown in the U.S. and in the international academic world," Zhi said. "For a very long time, we have had a close partnership and deep friendship, and founding this institute is the result of the wisdom and hard work of our institutions as a strong result of the educational exchanges between China and U.S. We must thank UD for their support and we will carry on with our spirit, that is 'like minds for great things' to promote the development of this institute.