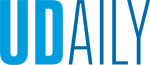 UD helping Delaware families
Article by Jordan Howell Photo by Kathy F. Atkinson June 10, 2020
Diapers, wipes delivered to hundreds during stay-at-home orders
Kaylah Dessausure likes to say that it takes a village to raise a child, and for herself and two young boys, ages three years and two months, that village has been New Directions Early Head Start (NDEHS) at the University of Delaware.
Housed in UD's College of Education and Human Development, NDEHS is a federally funded program that provides quality care and support services for nearly 200 pregnant women, infants and toddlers in New Castle and Kent counties. During normal times, the program operates in three childcare centers — one at UD in Newark and two in Wilmington — while also conducting weekly home visits and programs for new or expectant mothers. The program has been a vital support system for the Dessausures as their family has grown.
"As a first-time mom, this program made my journey so much easier, in spite of all the challenges," said Dessausure. "For individuals like me, who don't really have a solid support system in your family, this program is your support system, your family. It's whatever you need it to be."
However, ever since the coronavirus (COVID-19) pandemic prompted nation-wide stay-at-home orders, that support system has become a lifeline for many NDEHS families. The diapers, wipes and formula that had once been provided at no extra charge by NDEHS childcare facilities would have cost families hundreds of extra dollars each month, even as jobs were evaporating by the millions.
Determined to provide families with adequate support to sustain themselves during this global health crisis, NDEHS scrambled to bring their programs online while also shipping hundreds of boxes of diapers and baby wipes to families in need.
"What's changed with COVID is that we're trying to stay connected with families and children, and support them, without being able to be with them directly in their homes or in childcare centers," said Heidi Beck, director of NDEHS. "In addition to material support, like diapers and wipes, we're also providing educational support for parents who are now responsible schooling their children."
Due to social-distancing guidelines, NDEHS prefers to ship diapers and wipes directly from online retailers. The staff of family/child specialists who would usually be conducting home visits are meeting with families online to discuss child development, nutrition and setting goals for both children and parents to accomplish. For the necessities that NDEHS is unable to provide via mail or video conference, specialists help to connect families to public assistance.
"Early Head Start is more important than ever because more families are living in unstable social and financial situations," said Leah Leader, a teaching mentor with NDEHS. During normal times, Leader travels among the NDEHS childcare centers, helping teachers to adapt lesson plans and curriculum to federal guidelines. "Early Head Start provides a certain amount of structure and stability for children and their families. Right now, we just want our families to know that we support them and will help them to get those basic needs met in whatever way we can."
For Kaylah Dessausure, who was reluctant to venture out to the grocery store with two young children during a global pandemic, that meant help accessing food for the family. NDEHS staff connected Dessausure with the Food Bank of Delaware and even delivered the food to her front door.
"They have really gone above and beyond," said Dessausure.
Although NDEHS prefers to have assistance delivered via an online retailer, there have been instances when this has proven impossible. Some NDEHS families that were already experiencing housing instability prior to the pandemic are even more vulnerable now. Some lack an address. NDEHS staff has worked tirelessly to stay in contact with these families and deliver assistance to wherever they may be.
The next challenge, Beck suggested, is to ensure that NDEHS is prepared for the increase in demand for assistance that is likely to arise because of the economic collapse. To better help families meet their basic needs, NDEHS is crowdsourcing donations through Henfunder. So far, they have raised nearly $5,000.
"We are so grateful for our community," said Beck. "It has been inspiring to see everyone come together to help our most vulnerable neighbors."