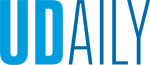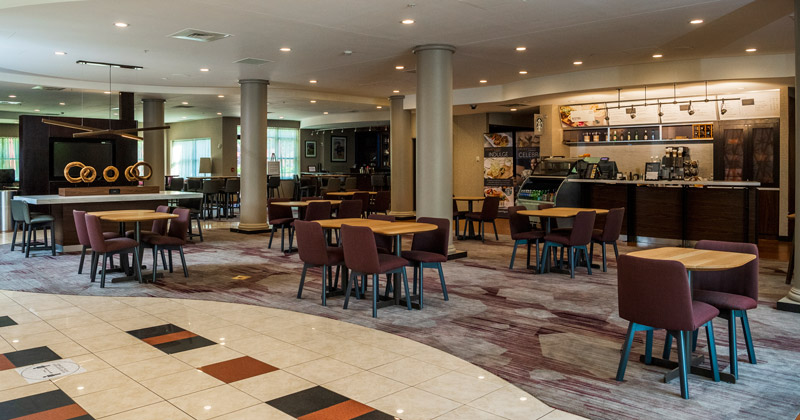 Courtyard hotel reopens after renovation
Article by UDaily staff Photos by Kathy F. Atkinson July 23, 2020
UD hotel implements safety practices to protect guests, staff
The Courtyard by Marriott hotel on the University of Delaware's Laird Campus in Newark reopened in June after an extensive renovation and implementation of extensive safety protocols in light of the coronavirus pandemic.
"We are pleased to be able to showcase our newly renovated hotel, while keeping the health and safety of our guests and staff as our top priority," said William Sullivan, managing director of the hotel and an adjunct faculty member in the UD's Department of Hospitality and Sport Business Management.
The 126-room Courtyard by Marriott Newark – University of Delaware just completed its 15th year of operation, and the renovation process included all guest rooms and public areas, including the restaurant, bar, banquet space and lobbies. The hotel's Bistro and Bar are open both for hotel guests and members of the community, and safely spaced seating is also available on the patio area. (Those planning to dine at the hotel should call in advance to check hours of operation.)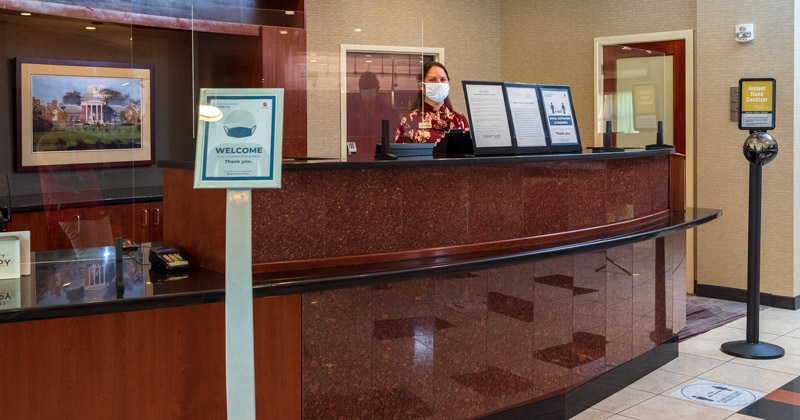 The hotel's administrative team has taken the lead in developing and implementating safety practices for hotels and restaurants to protect guests, students and associates from the spread of COVID-19. Guests will notice required use of face masks, physical distancing, safety signage, extensive and frequent cleaning, sanitizing and disinfection. The hotel team is in continuous communication with state and campus safety and health officials to ensure a safe hotel and dining experience.
"The hotel provides unique real-time learning opportunities for our hospitality business management students," said Sheryl Kline, Aramark Professor of Hospitality Management and deputy dean of UD's Alfred Lerner College of Business and Economics. "This year our students gained invaluable experience on how to manage through the challenges of COVID-19."
Courtyard by Marriott Newark, which is owned by the University and operated by Shaner Hotel Group, has been frequently recognized locally, by Marriott and nationally for superior service, food and decor. Recently the hotel was honored for the "Best Crab Cakes" by Delaware Today magazine for the 10th consecutive year.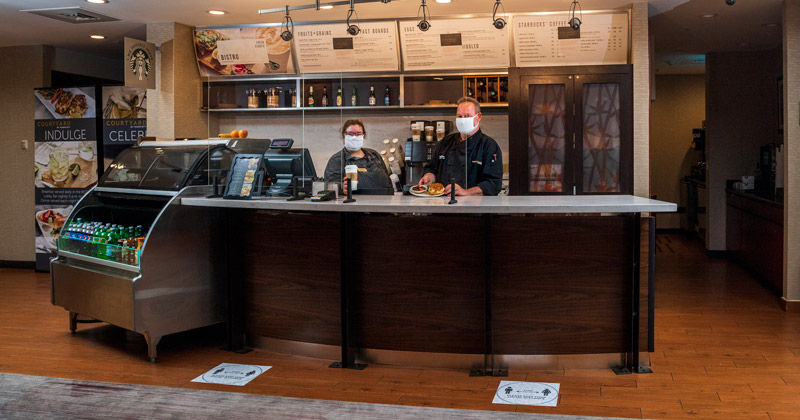 Its location is convenient to the University's main campus and residence halls, as well as near Newark's Main Street, nationally recognized as a Best Main Street for its selection of restaurants and shops and adjacent parking. 
The hotel also partners with the University of Delaware Conferences Services team to provide full service large and small meetings and conferences with excellent and convenient overnight lodging. 
In addition, the Courtyard by Marriott Newark is the teaching hotel for the Department of Hospitality and Sport Business Management in the Lerner College. Students participate in experiential learning, working with hotel associates, faculty and direct customer contact. A state-of-the-art classroom, donated by the J. Willard and Alice S. Marriott Foundation, provides an educational area for learning on site.