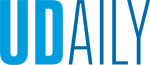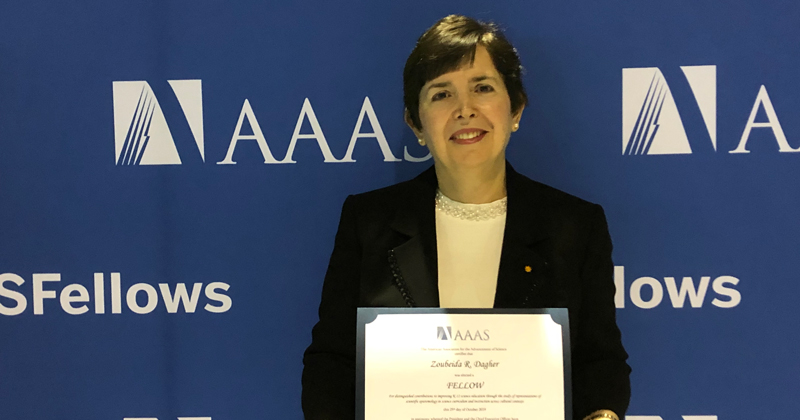 Building trust in science
Article by Jordan Howell Photo courtesy of the American Association for the Advancement of Science February 28, 2020
UD professor honored for contributions to K-12 science education
While the public generally tends to hold favorable views of scientists, according to the nonpartisan PEW Research Center and the American Association for the Advancement of Science (AAAS), that trust gets a little shaky in the context of hot-button political issues. For example, whereas 98 percent of AAAS scientists believe in human evolution, only 65 percent of adults feel the same. Similarly, 87 percent of AAAS scientists believe that human activity is contributing to climate change compared to only 50 percent of the general public.
According to Zoubeida Dagher, professor in the School of Education at the University of Delaware, the public trust crisis facing the sciences can be addressed as early as elementary school. The root of the problem, she suggests, comes down to the extent to which science is being taught in schools, kindergarten through 12th grade (K-12), and how it gets taught.
"Younger students are not getting enough hours of instruction time in the sciences," said Dagher. "This is a really big concern. When students are regularly engaged in exploring science questions that are set in personally and socially interesting contexts at an early age, they are more likely to develop readiness to handle more complex investigations, engage in more sophisticated reasoning, and appreciate the positive things that scientific knowledge and practices enable us to do. If you don't start quality science learning early on, then students are not likely to reap these benefits."
On Feb. 15, 2020, Dagher was elected to the rank of Fellow during the AAAS annual conference in recognition of her "distinguished contributions to improving K-12 science education through the study of representations of scientific epistemology in science curriculum and instruction across cultural contexts." The AAAS is the world's leading scientific society and publisher of the highly-influential journal Science. Dagher was one of just 16 education scholars elected as a 2019 AAAS Fellow.
Over the years, Dagher's collaborative research projects have shed light on how students understand the nature of science and scientific inquiry. She has studied the use of analogies to support student learning as well as how college majors in biology view the theory of evolution in light of their personal religious beliefs.
"Dagher's research has provided the field with a detailed vision and practical tools that promote a more inclusive approach to teaching and learning science," said Angela Calabrese Barton, professor in the Educational Studies Department at the University of Michigan, who nominated Dagher for the award. "Importantly, her scholarship demonstrates the value of teaching science for social justice, and for helping students negotiate tensions between scientific understanding and their religious beliefs. This work profoundly advances the area of work on nature of science, and given our increasingly global society is important."
Dagher joined the School of Education in 1989 and is the coauthor of two books and numerous peer-reviewed journal articles that examine science instruction in classroom settings. She serves as faculty fellow at UD's Center for Science, Ethics and Public Policy and received the School of Education's Distinguished Faculty Award in 2018.
"Science doesn't happen in a vacuum," said Dagher. "Students are taught that Galileo discovered this and Einstein discovered that, but they don't see science as happening within communities of practice. Scientific knowledge is determined by scientists, and when we place our confidence in science, we're not placing it in one person but rather in communities of experts who go through a systematic and rigorous process of gathering, analyzing, and discussing evidence."
Dagher's current scholarship aims to support teacher and student understanding of the nature of scientific knowledge and practices and to appreciate how this knowledge interfaces with societal issues for the purpose of improving participation and engagement in STEM.
"I feel very honored to be elected to this rank," said Dagher. "It fuels my passion to continue to explore ways to make my work more effective and relevant to science educators and broader audiences."