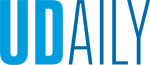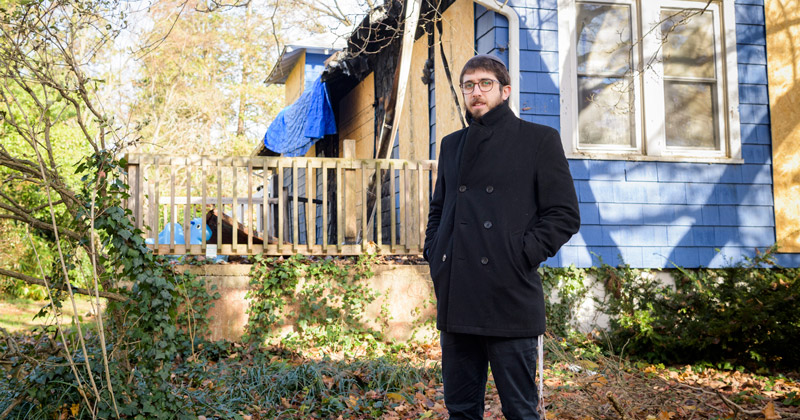 Reaffirmed: The Blue Hen spirit
Article by Eric Ruth Photo by Kathy F. Atkinson December 01, 2020
Donations in hand, Chabad UD sets it sights on a new home
Rabbi Avremel Vogel has always sensed there was something special about the University of Delaware, and something admirable about Delaware's people. Today, he has indisputable proof of that intangible spirit.
He knows this in his heart now: Blue Hens truly care for one another. The people of Delaware stand together in troubling times. And because these things are true, the Chabad House will rise again.
As the spiritual leader of the "Little Blue House" on College Avenue, Vogel has been praying for just that outcome since an arsonist destroyed UD's home-away-from-home for Jewish students last August. He's certain of it now that donations from around the world have overflowed expectations, putting reconstruction on a far faster track.
Lifted by a philanthropic surge surpassing half a million dollars, Chabad UD and its dozens of student "family" will be getting a bigger, better Blue House—one that's probably going to be more brick than blue, but will still stand on the same sliver of South College Avenue where it stood for 20 years. Even from isolation, designs are being drawn, fundraising efforts are feeling a boost, and Vogel is getting hopeful that he will unlock the doors of a three-story replacement by the end of 2021.
"People cared about this, and people came together," Vogel said. "I think it shows an incredible amount of Delaware pride. It's comforting to me, and it reaffirms what Delaware is: If someone comes for you, you will have everybody behind you."
While there is no indication Chabad was targeted because of its faith, its destruction by fire was traumatic nonetheless to thousands of Blue Hens here and around the world, no matter their belief. The house is unaffiliated with UD, and survives on supporters' generosity, even in the best of times. October's news that an arsonist also struck a Chabad in North Wilmington—one led by Vogel's father—only stoked fretful thoughts.
To fight that feeling, people chose action. Faced with evil, they countered with good. Student supporters of meager means gave what they could to Chabad's GoFundMe page, and soon a wave of retweets spanned the globe, sparking decidedly high-profile indignation.
From the Pacific Coast, even the glitterati sent a wave of good vibes: Kevin Bright, former executive producer of the Friends television sitcom, donated $18,000, and an anonymous Silicon Valley billionaire chipped in $10,000. "Random $1,800 checks are arriving from random foundations that have heard our story," Vogel said with a touch of disbelief.
Such generosity certainly brightened the happy Friday night meals now being served (with a side of COVID precautions) in the Vogels' back yard, newly festooned with tent tops and folding chairs, and already infused with the homey warmth of well-used spaces.
"It wasn't all on me anymore—it was on all of us, and that was very powerful," Vogel said recently from the backyard dining room, steps from where he and wife, Shulie, now serve up those big pots of soup.
Tucking up to a bowl at the Little Blue House had always been a snug endeavor, thanks to the 130 students who would wedge into the single-story home's modest rooms. "We've been out of space for four years already," Rabbi Vogel said. The new design doubles interior space to 4,000 square feet, but will include a remembrance of the old house: A display made of blue shingles salvaged from the debris.
The new space also will add versatility and accessibility, thanks to a security setup that will let students buzz in. In the past, student access had been limited to scheduled events, or times when the Vogels were available to unlock the doors. In the new space, he sees room for students to have their own café hangout, and enjoy more of the study sessions and familial gatherings that fulfill them.
For that vision to reach reality, Vogel anticipates needing up to $3 million in total donations, a sum that seems more plausible since he has seen how far and how high generosity can reach.
"We're hoping that we can rally some alumni, maybe those who aren't giving now, but feel that they are not OK for this to happen at our school," he said.
The impact of that support has already been plain on students' faces.
"At first, they were very rattled. They lost their place—this was like their grandmother's home for them," he said. "Now, they're doing pretty well, mostly because of the response from around here—in Newark and throughout Delaware. They didn't have time to focus on the tragedy, because they were positively overwhelmed by the response to that tragedy.
"It was like a complete 180. Now, they're like, 'We can do anything.'"
To help support Chabad, go to www.udfirerelief.com.