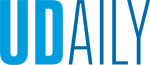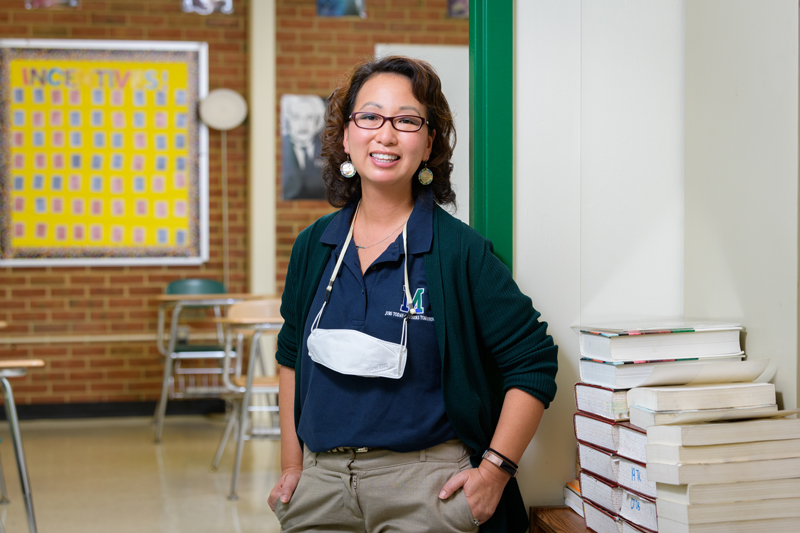 Teacher of the year
Article by Jordan Howell Photo by Evan Krape December 03, 2020
UD alum named Delaware's 2021 Teacher of the Year
Teacher Kimberly Stock usually starts the school year by asking students to write a set of rules for the class. Stock has her own rules as well, the most important being "Respect," but the students work together to submit their own rules and negotiate on which ones are brought to the floor for a vote.
The rules are slightly different now that classes are being conducted virtually — students have been more vocal about "brain breaks" away from the computer screen. Regardless of which rules are ultimately chosen, exercises like this, Stock said, create a cohesive learning environment that encourages all students to engage in class discussion and hopefully thrive.
"Regardless if I'm teaching English Learners or AP Literature, I want them to be engaged," said Stock, and since the onset of the pandemic, "we've had to find creative ways to make that virtual world feel like interacting in a physical classroom."
For being a relentlessly positive force in the classroom and outspoken advocate for students learning English, University of Delaware alumna Kimberly Stock has been named Delaware's 2021 State Teacher of the Year. The award was announced in October by Secretary of Education Susan Bunting in a virtual celebration that honored all 20 district and charter teachers of the year who, due to COVID-19 precautions, watched the event at sites across the state.
Stock is an English Learner teacher at McKean High School in the Red Clay Consolidated School District, where she manages the language acquisition plans of more than 160 students with a small team while also teaching Advanced Placement Literature and Composition and 11th grade English language arts.
A graduate of the College of Education and Human Development graduate program in Teaching English as a Second Language, Stock credits her time at UD for helping to shape her practice as an English Learner teacher.
When Stock was first hired at McKean to teach English Learners, it was required that she earn a state certificate. She never intended to get another degree, certainly not so soon after completing a master of science in education from the University of Pennsylvania, where she researched the recruitment and retention of teachers and administrators of color. But after starting the 15-hour certification program at UD, Stock was convinced that there was more she needed to learn to better serve her English Learner students at McKean.
"I already had experience teaching and running programs for adult English learners, but children in K-12 are different, so I could apply some of my knowledge but not everything," said Stock. "As a professional educator who had already earned one masters degree, I really believe that the classes that I took from the University of Delaware were just as challenging, if not more, than those I had taken elsewhere. It was extremely rigorous work and honestly the professors that I took classes from had real world experience teaching English Learners."
Any educator will tell you that it is not easy getting another degree while still teaching in the classroom five days a week. Staying up late on weekdays to attend night classes and devoting weekends to school work, all so she could better serve her students.
During the next year, Stock will use her position as Delaware's top teacher to advocate for English Learners and continue the public dialogue about the ways in which schools can adapt to ensure equitable access and opportunities for all students. The first part of her platform is for lawmakers to increase funding for English Learners, of which studies estimate that 25% lack a certified teacher.
The second part of her platform is to work with educators to develop a statewide social justice curriculum that teaches anti-bias and anti-racism.
"We need to examine our schools in terms of curriculum as well as what our schools look like," she said. "How are we decorating our schools? Are we being inclusive of all of our students? And I don't just mean that in terms of race but also students who practice different religions, or no religion, students from different sexual identities and gender identifications, or non-binary identifications. It's definitely something that I think that districts in Delaware, including Red Clay, are getting better at."
Stock added, "We have got to have teachers who want to be part of the solution. Our schools must immediately communicate that it's a safe space for our students of color, our LGBTQ students and for our students of diverse faiths. At different points in my education and life, certain teachers let me know that I mattered. They taught me — sometimes through words but more often by example — that a teacher can not only impart knowledge but also be a champion for her students."
This marks the second year in a row that a graduate of CEHD has been selected as the state's top teacher. Outgoing Teacher of the Year Rebecca Vitelli is a pre-K and special education teacher at the Colonial Early Education Program in New Castle. Stock will go on to represent Delaware in the National Teacher of the Year competition, presented by the Council of Chief State School Officers.