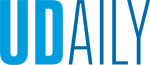 Protect the flock: youtube.com/watch?v=7S_wkWvEStI
Protect the Flock
Article by Mike Chalmers Photos by Kathy F. Atkinson | Video by Ally Quinn August 17, 2020
UD research guides creation of coronavirus (COVID-19) health campaign
A new health campaign — developed by University of Delaware students, faculty and staff — will launch this week to help prevent the spread of the coronavirus (COVID-19) both on and off the UD campus.
The "Protect the Flock" campaign will include campus signage, social media, promotional items and other programming throughout the fall semester. The campaign name plays on UD's Blue Hen mascot and reflects the importance of shared responsibility. The campaign is also part of UD's broader comprehensive efforts to keep the campus and Newark community safe, including a program of frequent testing and screening, health protocols for programs and facilities, and significant investments to improve online learning to help reduce the number of people coming to campus.
"Throughout the pandemic, we have been intensely focused on keeping our community as safe and healthy as possible," said UD President Dennis Assanis. "I applaud this important effort to elevate our culture of caring to a new level, promoting the positive benefits of collaborative respect and trust to help protect everyone — from UD students, faculty and staff, to all of our visitors and neighbors. The Protect the Flock campaign is about putting our values into action."
As the fall semester gets underway nationwide, universities must meet state and local public health mandates for face coverings, social distancing and other behaviors. Some institutions are focusing most of their efforts on enforcement, but health experts say voluntary compliance is far more effective and sustainable, especially in ensuring that the behaviors continue when people are not on campus.
"At UD, we trust our students to do the right thing and take the steps necessary to protect themselves and each other," said Vice President for Student Life José-Luis Riera. "At the same time, we all need occasional reminders and encouragement to adhere to these new guidelines. The Protect the Flock campaign is about strengthening UD's culture of healthy and responsible behaviors, not wagging our finger and scolding people to comply."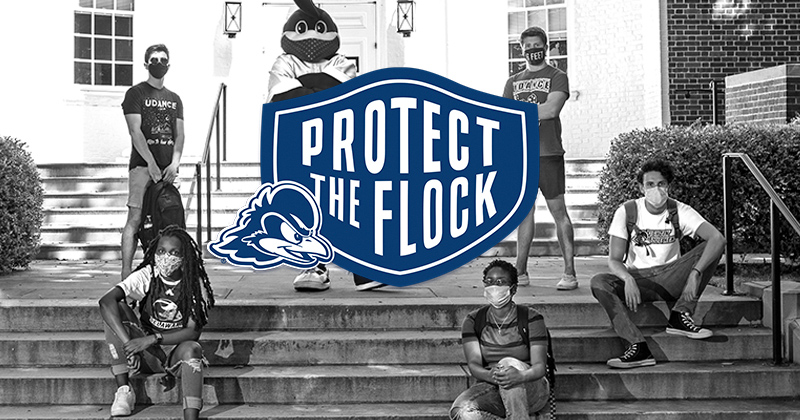 Creation of the campaign began in May and June, when faculty in UD's Department of Communication surveyed students about their attitudes and beliefs about face coverings, physical distancing and other requirements in response to the pandemic. The faculty then worked with UD's Student Wellness and Health Promotion, Employee Health and Wellbeing, and the Office of Communications and Marketing throughout the summer to conduct student focus groups and develop messages that would resonate with students, faculty and staff.
"To create a really effective campaign, it's essential that we understand what drives people's decisions and behaviors," said Kami Silk, chair of the Department of Communication.
The survey and focus groups found that most students already hold positive attitudes about preventive pandemic-related behaviors, such as face coverings. More than 90% of students think those behaviors are the responsible thing to do, according to the survey. That meant the campaign did not have to focus on persuading most students that those behaviors were a good idea, Silk said.
"Face coverings and physical distancing are really important to prevent the spread of the virus, so it's on all of us to keep each other healthy," said Kasiyah Tatem, a junior political science major who participated in one of the student focus groups over the summer.
The research showed that there are two significant drivers of students' behaviors. First, students take their cues from important people in their lives — primarily peers, family members and respected professors. What are those people doing? And what do those people want the students to do? Second, students consider how much control they believe they have over their behavior. Will I have access to a face covering? Will I be able to keep at least 6 feet of distance from other people?
"With this knowledge, we can tailor messages for the campaign to leverage those behavioral drivers," Silk said.
So, for example, the campaign will inform students of the survey results showing that their peers overwhelmingly support face coverings and similar behaviors. Other messages will remind students to bring their face coverings and let them know where they can get one if needed.
The campaign will also engage faculty and staff, with messages that appeal to their sense of responsibility to their families and co-workers.
While many of the campaign materials will be seen on campus, the University will work with the city of Newark and off-campus landlords and businesses to reinforce the messages in the community. Also, the campaign will have a strong online element so that students, faculty and staff who are studying and working remotely will receive the same encouragement to stay healthy.
"We care deeply about the safety of every member of the UD community, so the Protect the Flock campaign is a great reminder of that shared commitment to each other," said Interim Vice President of Human Resources Jared Aupperle.
Note: Members of the UD community can download a Protect the Flock poster that can be printed and a Protect the Flock virtual Zoom background.