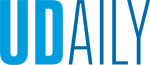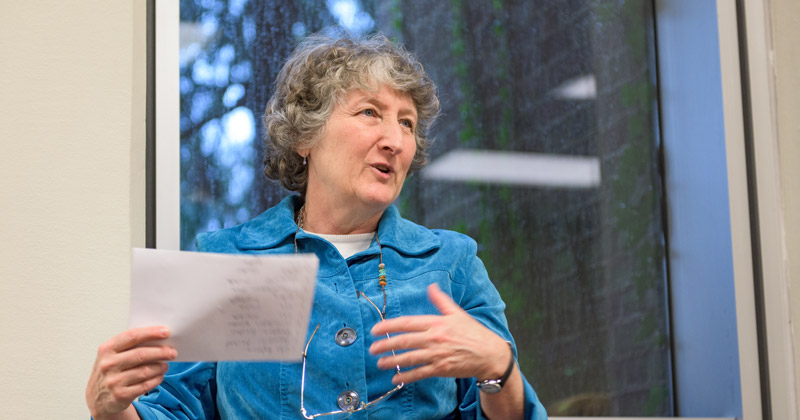 In Memoriam: Vicki Cassman
Article by College of Arts and Sciences Communications staff Photos by Evan Krape and Kathy F. Atkinson August 17, 2020
Friends and colleagues remember a professor devoted to her students
Vicki Cassman, 63, a professor of art conservation at the University of Delaware who was widely known professionally for her expertise in textile conservation and even better known by friends and colleagues for her dedication to her students and their professional and personal success, died Aug. 6 in Santa Cruz, California.
Dr. Cassman, who earned a master's degree from the Winterthur/University of Delaware Program in Art Conservation and a doctorate in archaeology, joined the UD faculty in 2006. She left the University in 2018 when, she said, her diagnosis of metastatic breast cancer meant she could no longer work to the standards she had set for herself.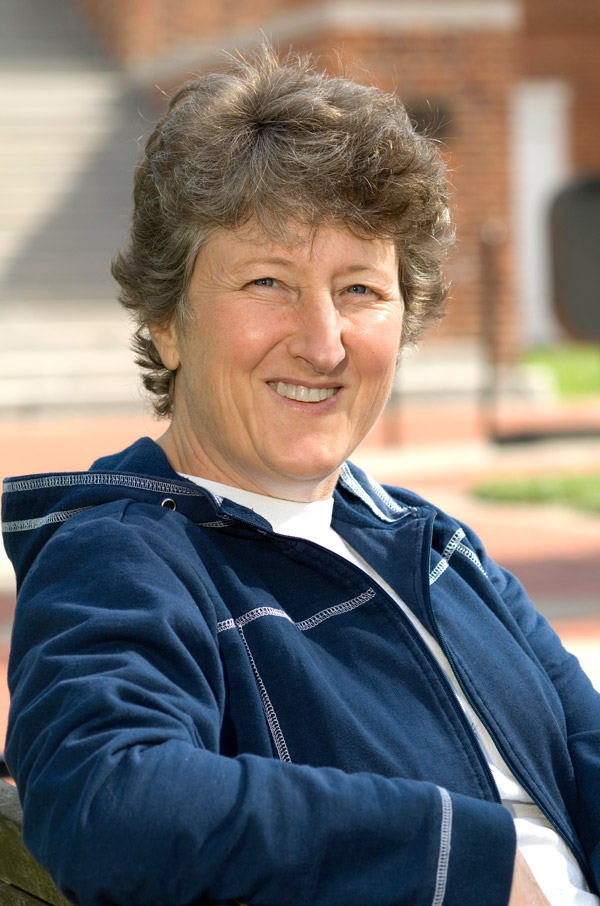 "The passing of Vick Cassman is a heavy loss for our college, John Pelesko, dean of UD's College of Arts and Sciences, said. "She leaves behind an inspiring legacy through her dedicated mentoring of many art conservation students during her career at UD. My deepest condolences go out to her family, and to all of her friends on our campus and throughout the entire art conservation community."
In an outpouring of affection for Dr. Cassman, colleagues and current and former students have shared their memories of her, universally praising her kindness and devotion to her students. She was always available to listen and advise, they said, and ready with creative and practical ideas for better ways to learn, think and prepare for academic and career success.
Debra Hess Norris, Unidel Henry Francis du Pont Chair of Fine Arts and chair of the art conservation department, called Dr. Cassman "a radiant light in our lives [who] lives on in our hearts forever."
"She was a remarkable and beloved teacher, mentor, scholar, advocate and friend, and a trailblazer in the effective use of e-portfolios, self-assessments, peer mentoring, problem-based learning and community engagement in her teaching at UD and beyond, [as well as] a leader in our work in diversity, inclusion and global outreach," Norris said.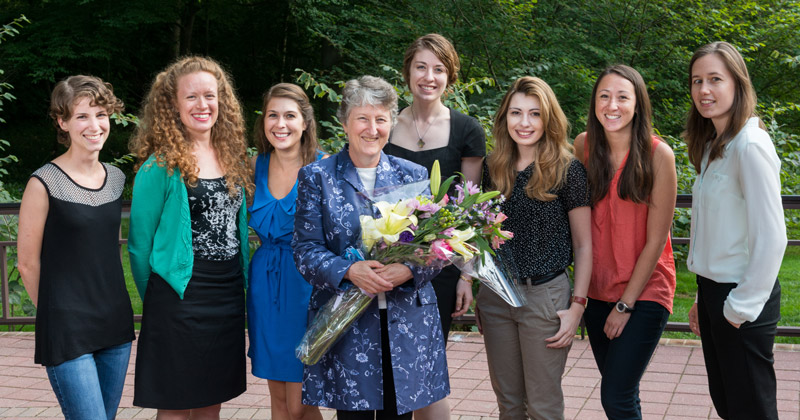 Former international student Mariana Di Giacomo recalled the late Sunday night when Dr. Cassman drove to the Wilmington train station to pick up a stranded Di Giacomo, just arrived from overseas to enroll in graduate school at UD, and her husband—and brought along the ingredients (even including knives) needed for a late dinner of sandwiches. Di Giacomo is now a natural history conservator at the Yale Peabody Museum.
Graduate student Annabelle Camp met Dr. Cassman as an undergraduate in art conservation. They rode to a conference together, she said, and Dr. Cassman asked her about internship opportunities that might interest her. When Camp mentioned a site, Dr. Cassman told her the head conservator would be at the conference, where she introduced them and arranged a summer internship on the spot.
Karen Rosenberg, professor of anthropology, shared her memories of Dr. Cassman's work in 2007 when she was asked to help prepare the famous Lucy skeleton, a 3 million-year-old human ancestor, to go on tour from its home in Ethiopia. Dr. Cassman brought students to the anthropology lab, where Rosenberg had an accurate replica of Lucy, and they spent many hours designing custom packaging that would enable the skeleton to be protected during its travels to host museums. "It was impressive to see her work," Rosenberg said of the high-profile effort, "but it was most impressive to see how she used the project as a teaching tool for her students; she was always committed to giving them every opportunity available."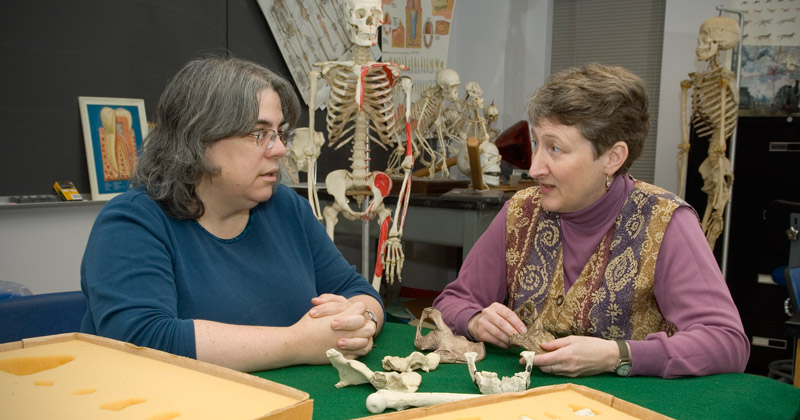 Dr. Cassman was born in Berkeley, California, to Vic and Barbro Cassman, and earned her undergraduate degree in art history at the University of California Davis before coming to UD to pursue a master's degree in textile conservation. During an internship in 1983 at a museum in Arica, Chile, she helped improve practices to preserve ancient textiles and also met her future husband.
In 1997, she earned her doctorate in archaeology on the topic of ethnicity and archaeological textiles in Arica. She worked as a private conservator and taught at the University of Nevada Las Vegas.
Dr. Cassman and her husband divorced amicably in 2004, and in 2006, she and their son, Victor, came to Delaware, where she joined the UD faculty, where she spent 12 years working with devoted colleagues and teaching and mentoring students from all over the world, keeping in touch with many long after graduation.
At UD, she oversaw the Department of Art Conservation's undergraduate program as well as international studies and internship programs. She worked with what Norris called "unfailing energy" on initiatives addressing diversity and inclusion and on a wide range of other projects, including helping to develop the Iraqi Institute for the Conservation of Antiquities and Heritage, organizing earthquake relief to Orurillo, Peru, and establishing a partnership with students at UD and in China to focus on deteriorated 12th century murals in a Buddhist temple near Beijing.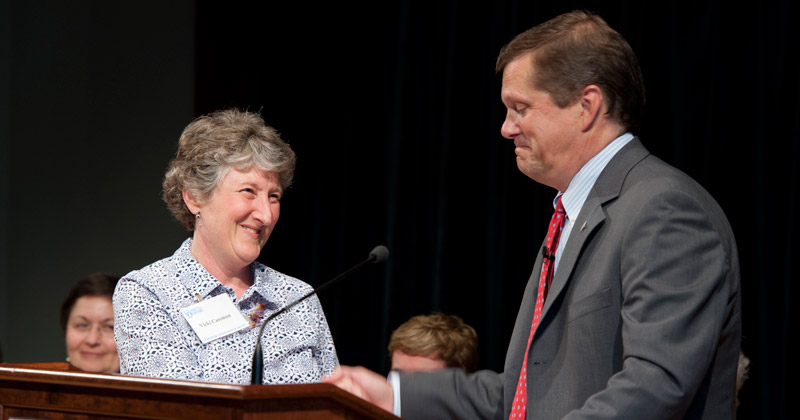 She was especially grateful and proud to have her name engraved in a brick on UD's Mentors' Circle, saying it represented the great interactions she experienced with her students. In 2019, she was awarded the American Institute for Conservation's Textile Specialty Group Achievement Award as an indication of the impact she has had on the field.
Dr. Cassman is survived by her son, Victor Arriaza of Oregon, whom she described as a kind, caring and thoughtful young man who was a continued source of pride and love; he 98-year-old mother, Barbro Cassman; brother, Peter Cassman and his family in El Sobrante, California; and "borrowed kids" Kervin Zamora of the Netherlands, Manuel Perez and Mariana Di Giacomo of Connecticut, and many aunts, cousins, nieces and nephews, as well as beloved friends, former colleagues and students living in all parts of the world.
At a later date, a simple memorial and placement of ashes will take place at Redwood tree #124 (lovingly referred to as the Charlie Brown Redwood) in the Better Place Forest in the Santa Cruz Mountains.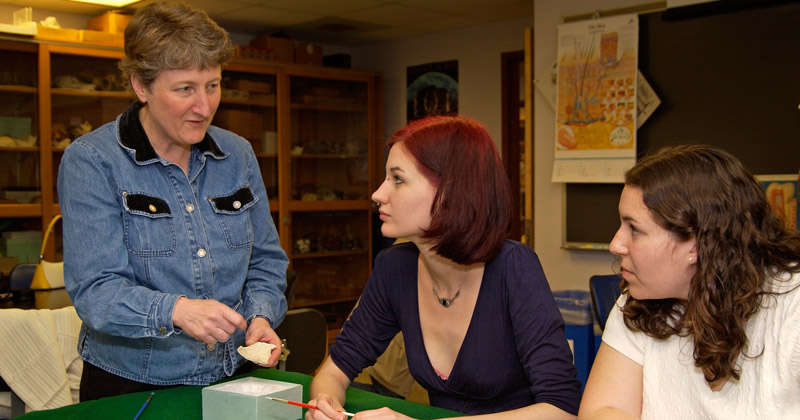 A group of UD students who were advised by Dr. Cassman as undergraduates and then went on the graduate program in art conservation are working to establish a professional development award in her honor, recognizing the strong support they received from her.
As a final tribute, on Dr. Cassman's Facebook page, she wrote that she would be eternally grateful if you would vote and inspire others to as well, to ensure a new administration is in place next January. In lieu of flowers, she said, she would be honored if you would please donate to a climate change fighting organization or health care charity like Partners in Health, gifts that would keep giving in very meaningful ways.
Colleagues, students, alumni share tributes
Numerous tributes to Dr. Cassman have come from her colleagues, current and former students and friends from around the world. Here is just a small sampling of thoughts shared by those in the broader UD community. Comments have been edited for length.
Lauren Petersen, College of Arts and Sciences interim associate dean for the humanities:
"Vicki's passionate concern for her students and their success was deep and inspiring. She advised many, many students and always with a profound sense of dedication and joy. Her office was just down the hall from mine in Old College, and there was not a week when students were not lined up waiting to meet with her for advising. She was beloved by students, and it is no wonder—she spent the time necessary to work through students' questions and issues with a positive attitude, encouraging words, and high academic expectations."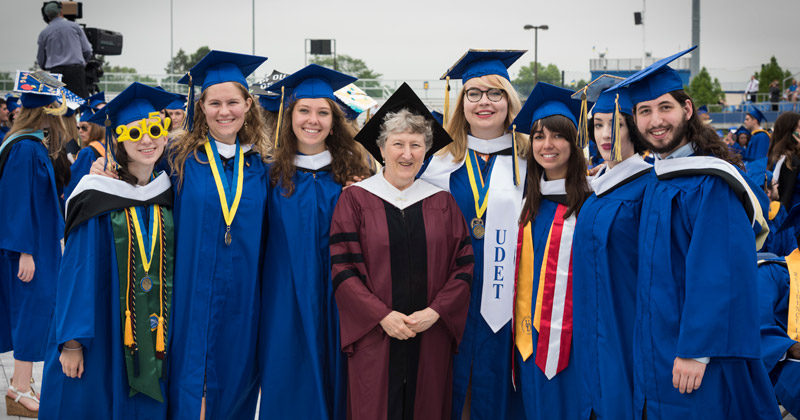 Ellen Nigro, undergraduate and graduate alumna of UD in art conservation, who says Dr. Cassman laid the groundwork for her career:
"The Art Conservation Department as a whole cares deeply about its students and closely mentors each one, not only while they are enrolled at UD, but also beyond into their lives and careers. Vicki was critical in cultivating this environment at the undergraduate level. She was an extremely kind person who took each student under her wing and fostered their talents. Her mentorship style didn't have so much to do with giving advice, but rather listening intently to her students' needs, and empowering them to explore, create and forge their own path ahead. She led by an example of generosity, humility, thoughtfulness, warmth and hard work."
Janet Broske, collections manager, UD Library, Museums and Press:
"My fondest memories were of the two exhibitions, in which we partnered, featuring garments from The UD Historic Costume and Textiles Collection. It was amazing to see how dresses, accessories and the like were brought back to life through the intervention of Art Conservation. The best part of the experience was how Vicki enabled both undergraduate and graduate students to be a part of this rejuvenating process. Those exhibitions became a learning laboratory where students breathed life into those garments."
Kelsey Wingel, art conservation alumna:
"Vicki is a deeply cherished and irreplaceable mentor in the lives of her many students. In a journey that she treasured, Vicki shared in the ever-evolving dreams and goals of her students—for many, beginning from their earliest days in conservation and continuing throughout their careers. I believe that Vicki loved every minute of her job, feeling pure joy in helping her students explore, succeed and discover themselves in the process." 
Joy Gardiner, Charles F. Hummel Director of Conservation, Winterthur Museum:
"With her amazing smile that included her eyes, Vicki had a can-do approach to most things. No matter what she was handed, she determined how to make it work. Just being around her lifted your spirits. She was a tireless champion of her students while still being realistic about their abilities."
Karissa Muratore, art conservation alumna:
"The first words that come to mind when I think of Vicki are uninhibited honesty, positivity and generosity of spirit. She was the first person to say yes to me when I was trying to break into the conservation field and has stayed a primary mentor since. She was a constant source of inspiration and strength for me."
Julianna Ly, art conservation alumna:
"Our field allows us to intimately connect with objects and artifacts that tell stories-- stories of the people who created them, interacted and utilized them, cherished them, interpreted them. Vicki challenged each of us to understand these often complex contexts. Vicki had an ability to recognize the unique potential in each of her students, allowing them to cultivate their strengths, and helped them find career paths that best suited them. She touched the lives of each of her students and could quickly transform a space with her warmth and passion."
Philip De Paola, art conservation alumnus:
"The first official meeting I had with Vicki was when I doubted my anthropology major and she helped me decide that conservation was, indeed, the right choice for me. I couldn't be happier in any other field of study, and I owe it to that first meeting with Vicki and her continued mentorship throughout the rest of my college career. She has been such an inspiration, not only to me, but to everyone in the major."
To read more about Dr. Cassman, visit the Department of Art Conservation website, where the full text of "Vicki Cassman's Amazing Life"—written with her input and posted on her Facebook page—is posted.