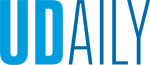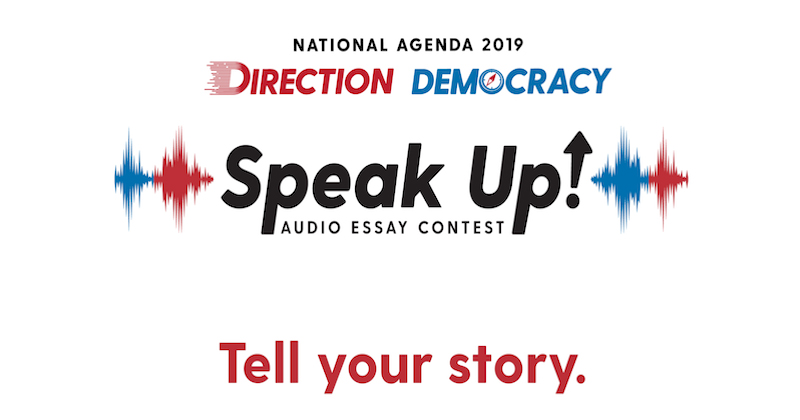 Students speak up
Article by Ann Manser Photo by Kevin Quinlan | Graphic by Center for Political Communication staff April 30, 2020
Audio essay contest winners reflect on meaning of democracy
University of Delaware senior Julia Mack has very clear memories of voting in the 2008 presidential election while surrounded by a loud chorus of arguments between supporters of John McCain and those of Barack Obama.
Of course, Mack was only 10 years old at the time, and the election was an educational exercise in her fifth-grade classroom. When McCain won the mock contest (and Obama, later, won the real one), Mack was impressed by her first tangible exposure to democracy.
"It made me feel like voting was the answer to having my opinion heard," she said recently, explaining that the lesson has stuck with her. "Even today, I continue to vote for what I think is right."
Mack, who is majoring in media communication with minors in advertising and journalism, made good use of that grade-school experience, recalling it in an audio essay she wrote and recorded for the "Speak Up" competition organized by UD's Center for Political Communication (CPC). Her essay won second-place honors in the contest, which is held every fall as part of the CPC's National Agenda series that brings prominent speakers to campus to explore some of the most important issues in American politics and society. The 2019 contest winners were announced last month.
The contest, which this year asked students to reflect on the meaning of democracy and its implications for their own roles as citizens, is designed to provide practical experience in writing essays that are strong and concise — there's a strict time limit of two to four minutes — and in public speaking, audio recording and editing.
For Rachel Sawicki, whose essay "Democracy for Minorities" was the first-place winner, recording and editing audio stories was nothing new. The junior communication and English major has been a sports reporter for campus radio station WVUD and held an internship and part-time position with Delaware Public Media.
Still, she said, "Being in the class COMM329, Broadcast News Writing, was helpful throughout the process" of creating her essay. She credited the instructor, Nancy Karibjanian, who is a veteran broadcast journalist and director of the CPC, with encouraging students to enter the contest and further develop the skills they were learning in the classroom.
Sawicki's essay traced her own journey from taking democratic values for granted in the United States to learning about how minority groups are treated in authoritarian countries. The realization, she said, made her aware of the importance of defending those values in America as well.
Other students whose essays were recognized by the Speak Up judges also called the contest a valuable learning experience.
"I was a little concerned about delivery and structure" as she began the project, said Chloe Tullman, whose essay questioning whether mass media technology is hurting our democracy won an honorable mention.
"Luckily, with giving myself plenty of time to revise, I was able to incorporate most of the elements that we learned to make a good audio essay. My classes with Professor Karibjanian absolutely helped me prepare for this, both from a writing/content standpoint, and a technical standpoint."
Both Tullman and Marin Imhoff, who also received an honorable mention, said the contest also helped them realize the importance of stepping outside their comfort zone to try something new. Overcoming a bit of stage fright as she started recording, Imhoff said she just focused on conveying her personal feelings about her role as a citizen on Election Day.
"I was already a journalism minor prior to entering this contest, and this experience only solidified my dream to work in journalism," she said.
More about the contest
Winners of the Speak Up contest, and their essay titles, were: First place, Rachel Sawicki, "Democracy for Minorities"; second place, Julia Mack, "2008"; third place, Tara Lennon, honors student, "Dinner Plate Democracy"; and honorable mentions, Marin Imhoff, "If I Could"; Emma Scholes, "Ripple Effect"; and Chloe Tullman, "Online Shopping Turns Evil."
Commendations were awarded to finalists Kristine Castoria, "Masked Oligarchy," Madeline Ehrlich, honors, "Democracy Matters," Holly Hutton, "Surfing Perspective," and Chloe La Motta, "Divided US."
To listen to any of the selected essays, visit this website.
The Speak Up program is supported by the University Writing Center; UD Library, Museums and Press; Delaware Public Media; College of Arts and Sciences journalism program; Department of Communication; WVUD Radio; and the University Provost.
10 years of leadership in political communication
The nonpartisan, interdisciplinary Center for Political Communication at UD, which is celebrating its 10-year anniversary this year, uses academic research to foster student learning and broad community engagement.
Its numerous initiatives include the annual National Agenda series, which brings prominent speakers to campus and offers students the opportunity to interact with them; televised Delaware Debates with statewide candidates during election years; and various projects in which students are encouraged to explore the value of civic engagement.
The center sponsors polls and affiliated faculty research projects, which are recognized nationally in academic journals and media publications.
Next: Voices of UD
On April 20, the CPC launched "Voices of UD: Connecting the UD Community," which invites everyone in the University community to submit brief audio or visual recordings reflecting on some of the ways in which the coronavirus (COVID-19) pandemic is affecting them. Details are available here.