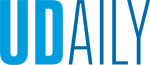 A Blue Hen Playbook
Article by UDaily Staff September 03, 2019
Meet UD's latest NFL star in the new UD Magazine, now online and in mailboxes
The latest issue of UD Magazine gives readers a chance to experience the unique journeys of some high-profile University of Delaware Blue Hens, explores the tech-challenged lives of "the loneliest generation," and tries to follow today's ever-shifting lines of communication.
Feature articles in the August issue include a cover story on Dave Raymond, son of coaching legend Tubby Raymond and an irreverent legend in his own right, along with a profile on Chicago Bears head coach Matt Nagy, whose Blue Hen networks followed him long past graduation.
Also inside:
A closer examination of how high-tech communication — touted as the tool that would bring us all together — might actually be pushing us apart.

The unlikely journey of two Double Dels, who quickly diverged from their chosen paths and now find themselves fully immersed in the great, grapey culture of Napa Valley.

A conversation with Newark's ever-amiable (and litter-picking) former mayor, Vance Funk III.

A look at What's New in Newark, from revived restaurants to high-rise hotels.
To submit a letter to the editor, please email Artika Rangan Casini at magazine@udel.edu.