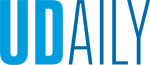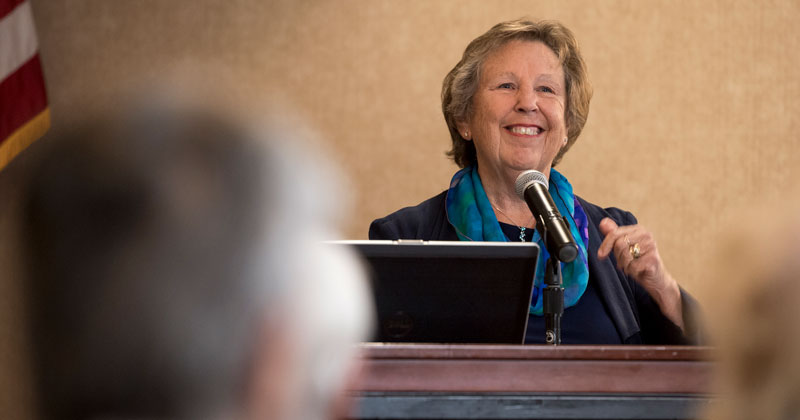 Studying race and gender
Article by Ann Manser Photo by Kathy F. Atkinson November 13, 2019
Margaret Andersen speaks about her life, career, new book
When Margaret L. Andersen thinks back on her life, especially her move at age 10 to the Jim Crow-era South, she sees some clues that may have led her to a career as a prominent scholar on issues of race, class and gender.
Andersen, now the Rosenberg Professor Emerita of Sociology at the University of Delaware, shared some insights into her life and career at a meeting of the UD Association of Retired Faculty (UDARF) on Nov. 7.
Her talk was part of the association's "My Intellectual Journey" series, which, Andersen noted, was started by the late Frank R. Scarpitti during his 2010-12 tenure as UDARF president. She dedicated her talk to Prof. Scarpitti, who was her colleague and friend—as well as her department chair when she joined the UD faculty in 1974—and who died earlier this year.
"My first interest has always been the study of race," with her studies of gender arising from that topic, Andersen said, adding that she now can identify some key moments from her childhood that helped shape her later academic pursuits.
One of those experiences occurred in the late 1950s, when she and her family moved from a working-class neighborhood of Oakland, California, to Georgia, where strict racial segregation was enforced by law and culture. From the separate public accommodations to the "whites only" drinking fountains, it was a different world, she said.
"It suddenly mattered where I sat on the bus," Andersen, who is white and whose favorite childhood seat had been at the back of the bus, said. "And I quickly learned that there were very strong social conventions about how you spoke to people."
Later, her family moved again, to Massachusetts, and she found that there were a few African American students in her school but the neighborhoods seemed as segregated as they had been in the South.
By the time the family moved back to Georgia, where Andersen finished high school, desegregation was only just beginning to occur, she said. It was 1966, and the Brown v. Board of Education court ruling that outlawed racially segregated schools was already 12 years old.
"I couldn't begin to understand all the ramifications of racism," Andersen told the audience, "but I remember thinking that something was really wrong."
Through scholarships and work-study secretarial jobs, she was the first in her family to attend college, where she became aware of racial and feminist activism. Focusing on business and computer science courses, she said, she enrolled in a sociology class only because it met at 8 a.m., allowing her time to get to work afterward.
But when a professor encouraged her to consider graduate school (Her reaction: "What's that?") she was hooked on the idea that she could study subjects such as race and gender and, with graduate assistantships, truly become a full-time student, she said.
Andersen went on to earn master's and doctoral degrees in sociology at the University of Massachusetts Amherst and was hired at UD specifically because of her research on race, she said. There were few women in graduate school with her and few faculty members, and at UD she became an advocate for women's issues.
She connected with other women on the faculty and with what was then known as the Black American Studies program, and in 1981 she became director of UD's Women's Studies program. Both those programs are now departments: Africana Studies and Women and Gender Studies.
"Race, class and gender have all influenced my life," she said. "I don't see racism as just individual acts. I see it as systemic. I also see gender as systemic."
In addition to her research and teaching in sociology and in women and gender studies, Andersen served numerous administrative roles at UD, including vice provost for academic affairs, interim dean of the College of Arts and Sciences, interim deputy provost, interim vice provost for faculty affairs and diversity, and executive director of the President's Diversity Initiative.
She is the author or coauthor of sociology textbooks, books on race and gender, a book about the Paul R. Jones Collection of African American Art at UD and a coffee table book on the Rosenfeld collection of historical photographs, On Land and On Sea: A Century of Women in the Rosenfeld Collection.
And she hasn't stopped writing in retirement. A new book, Getting Smart About Race: An American Conversation, will be published in February by Rowman and Littlefield.
Andersen is also active with the American Sociological Association's Minority Fellowship Program and recently led the successful first phase of the association's fundraising campaign to strengthen inclusion in the discipline.
"I've certainly worked hard [in my career], but it's not just individual effort that matters," she said.
She told the audience that she's benefited from a number of factors, including affordable college, affirmative action, a strong network of mentors, institutional support and the support of a diverse group of friends and colleagues.
In summary, she said, "The feminist movement, the civil rights movement and the Black Power movement changed my life."