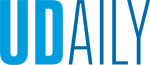 Building from the ground up
Article by Horn staff Photos courtesy of Bryce Fender and Joel Amin November 06, 2019
UD students and Wilminvest co-founders launch pilot program in supportive housing
The tenants in the newly renovated homes in Northeast Wilmington, Delaware, promise on their leases "to commit to nonviolence, to be health-conscious, to be environmentally conscious, to have emotional intelligence, to live with social responsibility and to commit toward growth and change." Their landlords will prosper by improving their tenants' lives while rebuilding troubled neighborhoods.
That's the bold business model of Wilminvest, a startup nurtured at University of Delaware Horn Entrepreneurship that was founded by three friends who met in middle school at Conrad Schools of Science, just outside of Wilmington: Bryce Fender, president; Joel Amin, chief executive officer, and Demetrius M. Thorn, chief financial officer.
Amin and Fender said lessons they learned at UD Horn Entrepreneurship and the imprimatur of being associated with Horn and UD are easing their progress in fixing a broken, sclerotic model of providing housing and services to the needy.
Fender and Amin are completing their degrees this fall from UD's Alfred Lerner College of Business and Economics. Fender will earn a bachelor of business administration, with a double major in marketing and management, plus minors in Spanish and social entrepreneurship. Amin will earn a bachelor's degree in entrepreneurship and technology innovation. Thorn graduated from the Wharton School at the University of Pennsylvania, with a bachelor of science in economics.
"This is the first time this model has been done in the entire country," Fender said.
"The model is very different from what we were originally trying to do," Amin added.
"We were pitching the supportive housing model," Fender continued. "Supportive housing is when the government gives funds to a nonprofit who then partners with a landlord to put individuals, families and veterans experiencing homelessness in homes. Our pilot has bypassed nonprofit and simply works with the state's internal case management and wraparound services. The state pays us directly, because many landlords are only interested in an economic return, while we saw an opportunity to realize a social return as well."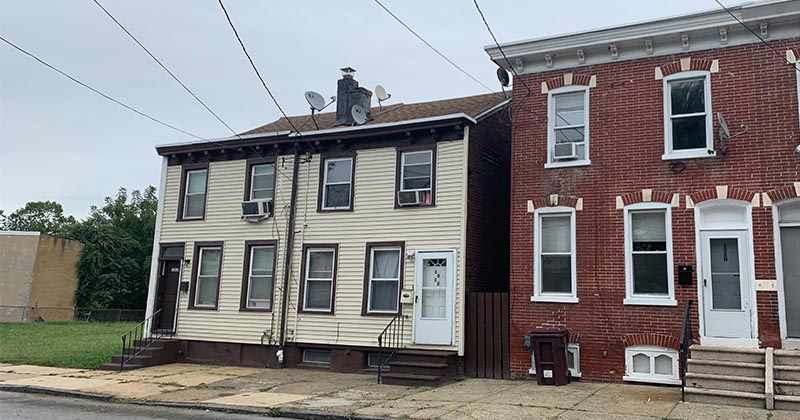 Wilminvest began with three adjacent homes on North Claymont Street in Wilmington, funded by an angel investor the team met pitching their idea onstage in the final round of the 2018 NexGen Summit in Philadelphia.
The first families moved in during June, following a community cleanup day that drew about 30 energetic Horn students as volunteers.
Wilminvest today employs Amin and Fender full-time and Thorn part-time. It contracts out for specialized help, with Amin's family background in plumbing providing key connections in the trades. Strong relationships with two nonprofits in Northeast Wilmington — the Kingswood Community Center and REACH Riverside — improve their community standing and access.
Fender and Amin are looking at Pathways to Apprenticeship for workers to handle demolition, clean-outs and cleanups of future homes. They hope to add to what the workers earn from Pathways so they get a livable $15 an hour.
Fender and Amin have discerned multiple flaws in providing housing and associated services to those experiencing homelessness. These flaws include expensive motel vouchers for emergency housing, subsidized housing provided without social services to help families build better lives, homeless families forced to split up in shelters and programs not delivering outcomes desired by Delaware Health and Social Services.
"We want to transform Section 8," Fender said, referring to a decades-old federal program that subsidizes households renting private property. "We really, truly hope that one day our model overtakes Section 8."
"By repurposing vacancies, we foster communal engagement, change lives and ultimately reshape the social image of Wilmington," Fender and Amin explain on Wilminvest's Twitter home page. They also post updates on Facebook. 
"Our business model at its core is to leverage public-private partnerships in order to acquire, renovate and rent out vacant properties as permanent supportive housing to individuals and families in need," they explain on LinkedIn.
By working directly with the state, they hope to align better with the state's missions, objectives and values. By piloting the effort with families, not individuals, they're keeping families together and strengthening family bonds.
By focusing on three adjacent houses, they are making concentrated improvements that could help turn around an entire block. "These homes are for the families, and they're also for the city," Fender said.
By being a single entity (in contrast to the usual nonprofit combo), they make sure services happen. Existing, inadequate programs "literally pull up in a white van," Amin said. "They drop the person off with a trash bag full of clothes, and that's it."
By being on site a lot, they see the big picture. "There's certain dynamics of the environment that's going on in the property that we see that the social workers and case managers won't be able to see," Fender said.
"We have to relay that back to them," Amin said. "We're very connected with them as far as what is happening with the home." Such observations, of course, become part of the details that the team uses to measure the success of Wilminvest.
"We focus on capturing data related to the progression of the families in our homes," Amin continued. "There are many institutions that find this data very valuable right now, the banks especially.... If we can produce data about families improving their wellbeing as a result of these subsidies," that makes Wilminvest's entrepreneurial concept all the more valuable as a model for others to copy and scale up.
"We're in an area in which we're trying essentially to assess social impact," he said, suggesting that how neighbors feel is an important factor to be measured. "That should be a new metric. The people in the neighborhood should have input on whether it's going well or not. I don't think that's happened [before]."
"Because of the renovation, our block is safer and has brought a sense of security knowing that good people reside in these homes," said North Claymont Street resident Michelle Powell. "I hope for [Fender and Amin] to find more houses in our city and continue this much-needed service. The gratitude that I noticed in the mother and children's faces on the day they moved in was overwhelming.... I just hope more families have the opportunity to receive the same gift that these lucky individuals have. I just want again to acknowledge two determined and selfless young men and make anyone aware of the lives that they have changed by the services they have provided."
Fender and Amin figure it costs about $50,000 to buy and renovate a house, and their goal is to raise $1.5 million in order to provide 30 homes by Jan. 1, 2023, in key clusters in Northeast Wilmington.
Wilminvest has an annual contract from the state for the first three houses, and Fender and Amin hope their houses can function as "a ramp" to help families move up and out, perhaps even in just a few months, allowing other families to move in and repeat the success. Or maybe the families will stay, buy the houses and improve neighborhood solidarity.
The Wilminvest team is meeting with banking officials to discuss this plan: Perhaps a bank would consider the Community Reinvestment Act — which encourages banks to pay special attention to low- and moderate-income neighborhoods — to buy Wilminvest out and "flip that right into a mortgage to the person living in the home," Fender said. "We'll reinvent supportive housing."
Wilminvest has won multiple awards. Amin and Fender were a successful team at Horn's Summer Founders program in 2017, and they tied for first place at Horn's Hen Hatch startup funding competition in 2018, winning $12,500. Overall, they have won $20,000 in entrepreneurial funding competitions. At the 2018 Next Gen Summit, a global conference for young entrepreneurs, they met an angel investor who committed $100,000 to buy their first three houses.  Bryce Fender was also honored with a 40 under 40 Delaware Business Times award In October. More recently they won $10,000 in Swim with the
Sharks sponsored by the Emerging Enterprise Center and New Castle County's Economic Development, Innovates program.
Their unique for-profit limited liability company was a finalist for this year's prestigious Reinventing Delaware award from the Pete du Pont Freedom Foundation, an honor that recognizes businesses for an "idea that creates jobs to make Delaware a better place to live, work and raise a family." The foundation also honored Charlie Horn with the Freedom Award for launching Horn Entrepreneurship and two Inc. 500 companies.
Social ventures like Wilminvest use "entrepreneurial insight into a repeatable and scalable business model that creates value while simultaneously solving a social problem," said Vincent L. Di Felice, senior instructor at Horn and faculty director of Venture Support, who has 30 years of experience as an entrepreneur and a social entrepreneur.
"Launching a social venture requires entrepreneurial insight not often seen," he said. "Bryce Fender, Joel Amin and Demetrius Thorn possess this entrepreneurial insight. People like these three young men accomplish greatness; they empower substantive, positive social change while also creating value."
About Horn Entrepreneurship
Horn Entrepreneurship serves as the University of Delaware's creative engine for entrepreneurship education and advancement. Built and actively supported by successful entrepreneurs and thought leaders, Horn Entrepreneurship empowers aspiring innovators and entrepreneurs as they pursue new ideas for a better world.