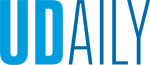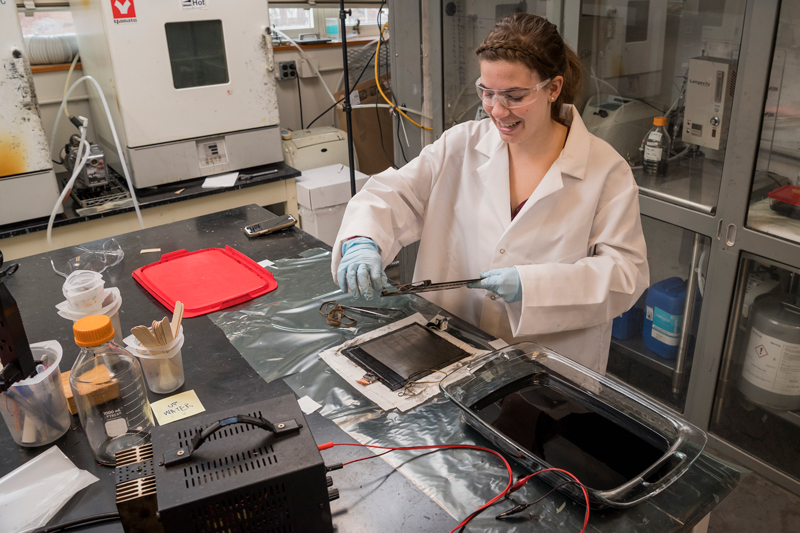 Building a stronger world
Article by Julie Stewart Photos by Kathy F. Atkinson November 22, 2019
After an early look at UD, Colleen Murray recognized for excellence in composite materials research
Many people spend years or even decades searching for their calling, but Colleen Murray was only 12 years old when she discovered her passion for materials engineering. She was fascinated by the surprisingly strong materials, such as fiberglass and carbon fiber laminates, that she was given to build a miniature bridge during a University of Delaware K-12 Engineering summer camp.
"I thought it was just so incredible that something so lightweight, when combined the right way, could end up creating such a stiff material that could be used for all different applications," said Murray.
A decade later, Murray is developing sensors to keep real bridges safe as a graduate student in materials science and engineering and a researcher at UD's renowned Center for Composite Materials.
"This is the real power of immersion experiences in STEM (Science, Technology, Engineering and Mathematics) for young people," according to Michael Vaughan, UD interim vice provost for diversity and inclusion and associate dean of engineering undergraduate education. "As Colleen had the opportunity to try engineering at an early age, she found her passion. Often the most difficult thing for young learners to find is the space where their passion, talent and creativity meets the very real contribution that they want to make in our world. It is clear that Colleen has found her passion and her broad contribution space so from this point on, her technical competency, talent and creativity will open up a world of possibilities."
For her work with composite materials, which are made from two or more materials with differing properties joined together to create a material with new properties, Murray is receiving recognition. She received the 2019 Harold Giles Memorial from the Society of Plastics Engineers (SPE) Composites Division. At the 2019 Society for the Advancement of Material and Process Engineering (SAMPE) University Research Symposium, which sponsors selected SAMPE student members to present the results of their technical research at the Composites and Advanced Materials Expo (CAMX) each year, Murray won first place in the MS category. At the CAMX 2019 Technical Paper Award and Poster Session, Murray was the second runner-up in the poster session.
After Murray's introduction to materials engineering as pre-teen, her interest only grew. Two years before graduating from high school, Murray — a native of Newark, Delaware, home of UD — started interning at the Center for Composite Materials (CCM) through the UD K-12 Engineering High School Internship Program. Later, as an undergraduate student in mechanical engineering at UD, she continued to study composites and has never looked back.
Over the years, Murray has studied materials with a variety of applications. With Shridhar Yarlagadda, assistant director of research at the Center for Composite Materials, Murray worked on an ankle-foot orthotic and an exoskeleton to help soldiers carry heavy bags. Now, with Erik Thostenson, associate professor of mechanical engineering, Murray studies carbon nanotube-based sensors that can be used for wearable sensors, gait analysis, and monitoring crack growth in infrastructure.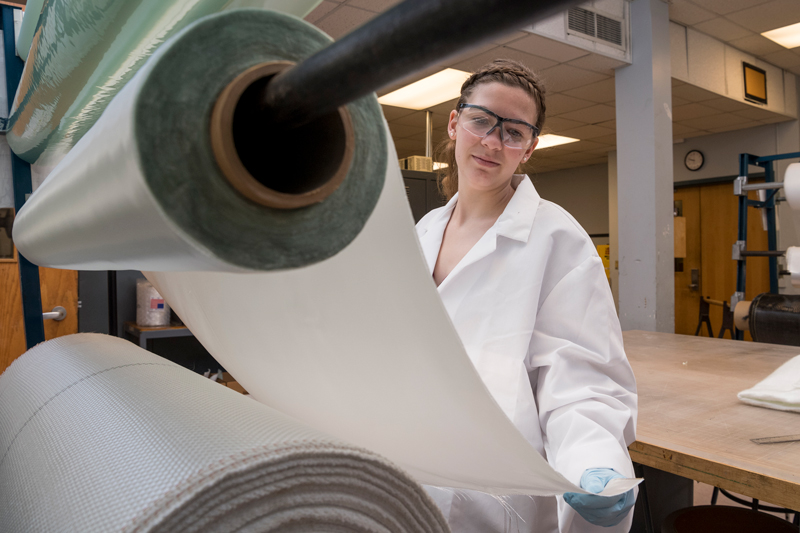 Murray is now working on a thesis around her work with carbon nanotube-based sensors. Her research suggests that carbon nanotubes can be used to track changes in the deformation of laminate materials and even suppress the growth of cracks. Both of these functions make these materials useful in the monitoring of bridges, which sustain cracks over time as a result of the great loads they bear.
"Colleen has really thrived in the interdisciplinary environment of CCM, which is unique in terms of both facilities and personnel," Thostenson said. "She has worked collaboratively with students in mechanical engineering, civil engineering, electrical engineering and materials science."
Murray has grown from a curious high school intern to an independent and creative researcher, said Sagar Doshi, a doctoral student in Thostenson's research group who mentored Murray when she joined the group. "She has been a hardworking and consistent researcher with very good attention to detail," he said.
For Murray, every day is a new adventure, and she appreciates working on materials with apparent real-world applications. "I want to know the purpose of what I'm doing and how it's going to affect the world around me," she said. "Being able to work on projects that have a real application in the world makes a world of a difference to me and keeps me motivated day to day."
Murray's passion for making the world a better place extends beyond engineering. She was part of a team of students that established Blue Hen Bounty, UD's food pantry for food-insecure students, in 2016. She is now inspiring the next generation of engineers through outreach programs at CCM, helping UD's Formula SAE student team incorporating more lightweight composite materials into their racecar, and more.
"Colleen continues to give back to young, future engineers by working in UD K-12 Engineering programs and spreading her enthusiasm and skills to other future engineers," said Melissa Jurist, academic program manager of UD K-12 Engineering Outreach.
After graduating with a master's degree in materials science and engineering in 2020, Murray plans to pursue a doctoral degree in composites.