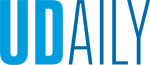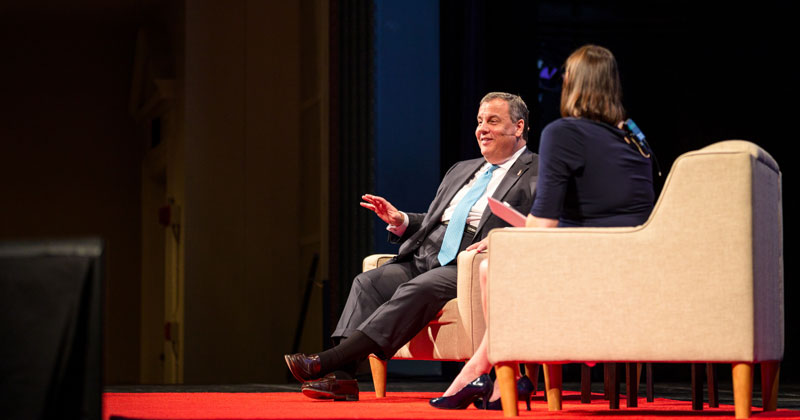 The candor of Chris Christie
Article by Artika Casini Photos by Kevin Quinlan November 07, 2019
Alumnus and straight-shooter discusses political power at National Agenda series
Donald Trump will be impeached by the Democratic-controlled House of Representatives, Chris Christie told a packed Mitchell Hall audience on Wednesday night, Nov. 7. But he won't be removed by the Senate, he added.
"The Democrats didn't start this not to finish it," Christie said of the House-led impeachment inquiry, which would require a Senate trial to convict and remove the president from office. "But [the] 20 Republican [senators needed for that to happen] are not taking off a red jersey and putting on a blue one 10 months before the election. It's just not going to happen."
With trademark candor, sharp humor and a palpable pride for his alma mater, the former New Jersey governor and presidential hopeful spoke at the ninth annual National Agenda Speaker Series on "Deciphering Political Power."
That power, he alluded, resides in the collective will of the American people, whose allegiances seem as polarized as ever.
"The people who hate [Trump] will watch [the proceedings] nonstop and eat it up, like, 'Yeah! Hit him again!'," Christie said. "The people who support him will go, 'Waste of time. What's on Fox News?' where Sean Hannity will be having some other show, on something else that won't mention impeachment."
Meanwhile, compromise and the ability to reach beyond party lines will further erode, he said.
"I am hopeful this will exhaust people," said Christie, who believes that the volume of political combat and lack of progress will lead to a different kind of election in 2024—but not next year, which he views as "a perpetual spring break [for politicians] who aren't going to do any work anyway; they're just going to go out and campaign and posture and wait for November 2020."
How it will play out is anybody's guess. Even 2016 was a surprise for Christie, who reflects now on an anecdote from the campaign trail that reveals the larger political landscape of our recent history: Christie's wife (and fellow Blue Hen) Mary Pat was campaigning door-to-door in New Hampshire when a woman invited her into her home, poured her a cup of tea, gushed over her husband's record and kindly reminded her that her family would be voting for Trump. When asked why, the answer was simple. "Oh, dear," she said, "we don't need another politician."
"He was destined to win," Christie says now. "It was beyond reason—it was emotion."
And it's that emotion that propels both politics and politicians, he believes. Conservatism, like liberalism, is about being true to the things you believe in your heart, he said. And when asked what advice he would give students and future public servants, he echoed those sentiments, telling them to "put into action what's in your heart."
"Keep your ears open. Get as many points of view as you can. Listen to as many points of view as you can. Show up. Help people," he advised. "The cream rises to the top."
It was advice he once received at UD from professors like the late Jim Soles, who "cared about his students in class and out." In fact, when Christie first ran for governor in 2009, one of the campaign phone line volunteers was none other than Dr. Soles, talking to constituents in his deep Southern accent and asking them, "Who ya'll votin' for?"
Then there was Prof. Jim Oliver, Emma Smith Morris Professor Emeritus of Political Science, an "incredibly serious dude who taught me a lot about listening because he was a good listener, and you wanted to listen to him." There was also Prof. Jim Magee, Judge Hugh M. Morris Professor Emeritus of Political Science, "who encouraged you to think, to really think," and whose civil liberties class was Christie's "first law school class years before I ever went to law school."
"At UD, you make friends for life," the former governor said, speaking to both the audience and to Magee, who was sitting in the front of the auditorium. "And it's not just the other students, it's the faculty, too."
Of course, one student would forever change Christie's life. Mary Pat Foster, who ran as secretary on Christie's successful UD class presidency ticket, would re-emerge from a study abroad trip to London and Paris at the Deer Park, sporting a new bob haircut and stirring new feelings in her old friend. They went on their first date the next night, in February 1984, and have been together ever since.
On his trip back to campus, Christie paused on the steps of Memorial Hall and texted his wife a photo of The Green at sunset, accompanied by an endearing caption: "Where it all began."
About the National Agenda series
The National Agenda series, presented by the University's Center for Political Communication (CPC), is exploring the theme of "Direction Democracy" this fall. The next program in the series on Wednesday, Nov. 20, will be John Della Volpe, director of polling at the Harvard Kennedy School Institute of Politics. He will speak on "Measuring Millennials."

A video of the Nov. 7 program with Christie is available online, as are all the programs in the series.