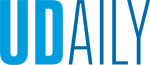 Alumni Circle unveiling: youtube.com/watch?v=su_r04Int78
Forever inscribed
Article by Megan Maccherone Photo by Kathy F. Atkinson | Video by Joe Whelan November 08, 2019
Alumni, family and friends gathered to honor Blue Hens with unveiling of Alumni Circle
For decades, alumni have been recognized by the University of Delaware Alumni Association (UDAA) for their achievements and dedication to the University, and now there is a permanent and physical representation of these achievements on campus.
The new campus structure, called the Alumni Circle, graces the green space between Alumni Hall and the Carpenter Sports Building (or Little Bob), near Old College.
The shape of the Alumni Circle is meaningful and purposeful, representing the lifelong, never-ending relationship the association hopes all Blue Hens have with their alma mater. The stone walls of the Alumni Circle are engraved with names of past UDAA presidents and recipients of the Outstanding Alumni Award, Alumni Wall of Fame award, Emalea Pusey Warner Award for Outstanding Senior Student and the Alexander J. Taylor Sr. Award for Outstanding Senior Student.
On Saturday, Oct. 26, the morning of the Homecoming 2019 game, more than 200 alumni, volunteers, friends and family, along with President Dennis Assanis and Eleni Assanis, gathered for a dedication and ribbon cutting. Honorees and award recipients from the 1950s to present day attended the event, celebrating their accomplishments and contributions to the University throughout the years.
At the event, the first recipient of the Taylor Award, Reed Pyeritz, AS68, met this year's recipient, Nick Konzelman, BE19, AS19, AS19M and a graduate of the Honors Program.
Pyeritz, who received the Taylor Award in 1968 and the Alumni Wall of Fame Award in 1994, said, "The best thing is meeting Nick. It's interesting to see how spanning the decades has made a difference. I think education today is much more multifaceted and intense."
Konzelman was humbled by the experience and by his name being inscribed on a wall of the Alumni Circle, leaving a legacy for future generations of Blue Hens to see.
"To be recognized in such a way with so many successful and distinguished people and to have my name a part of UD's history is an honor," Konzelman said. Today, more than 550 names are engraved — the remaining panels of the walls are blank, representing the stories and accomplishments yet to happen.
"Our alumni are key to UD's success and legacy," said Lauren Murray Simione, BE95, associate vice president, Alumni Engagement and Annual Giving. "It is only fitting that we honor the impact these alumni have made at the University by displaying their names on this meaningful piece of campus for many generations to come, and I am grateful to the UD Alumni Association for the generous gift that made this possible."