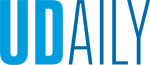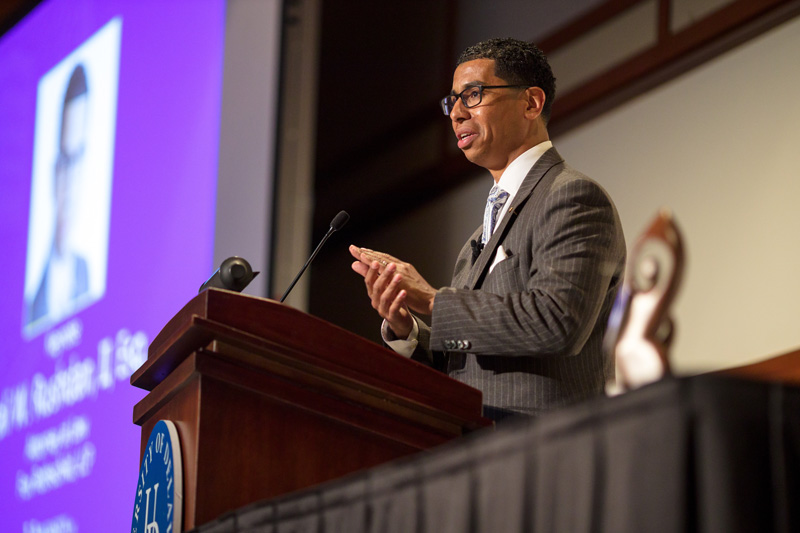 2019 Students of Distinction
Article by Carlett Spike Photos by Kevin Quinlan May 09, 2019
Dinner celebrates high-achieving students of color and their mentors
The University of Delaware was a transformative part of life for Wali Rushdan II. There was a lot of mixed emotions, he said.
"It was a time at which I was brimming with excitement about achieving my major goals in life," Rushdan said. "At the same time, it was filled with anxiety and uncertainty about whether or not those ambitions would come to pass."
Rushdan's message to the 2019 Students of Distinction was to be proud of the honor and not to underestimate their individual potential. Rushdan was the keynote speaker at the May 1 event in Clayton Hall, organized by the Vice Provost for Diversity Carol Henderson. The event celebrates the achievements of students of color and their relationship with their mentors.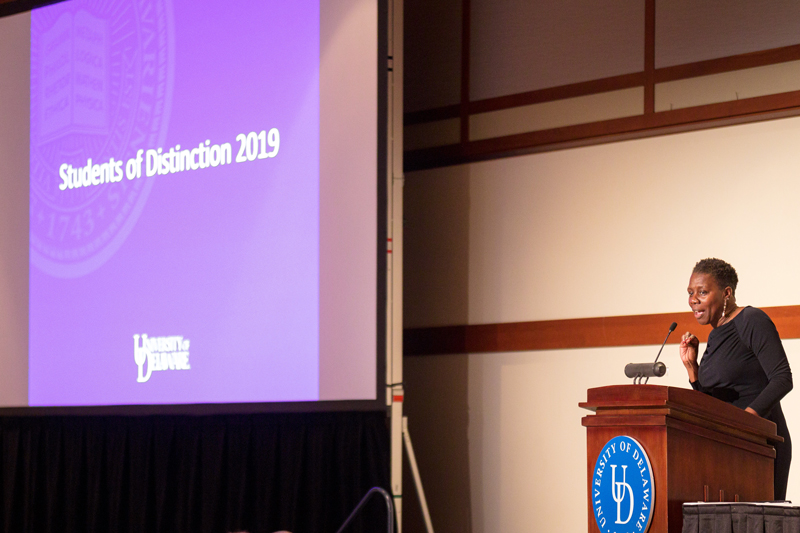 More than a decade ago, Rushdan was in their place when he was recognized for the same honor. He is now an associate at the law firm Fox Rothschild. He challenged the students to think carefully about what this honor means, including the obstacles, power and obligations that come with the distinction.
"What makes you a student of distinction, a key characteristic is that it's not qualified. It's a full stop," Rushdan said. "These are things that you are committed to irrespective of the challenges that are in your way. These are your foundational principles. It's a no-excuses mentality that you have."
While the potential and drive are within the individual, Rushdan said he would not be where he is today without the many mentors that believed in him. He specifically recognized a few of those whole helped him at UD including Henderson, Center for Black Culture Director Kasandra Moye and former Director of Financial Aid Johnie Burton. He also recognized Gregory Williams, a partner in his law firm, who impacted Rushdan's career.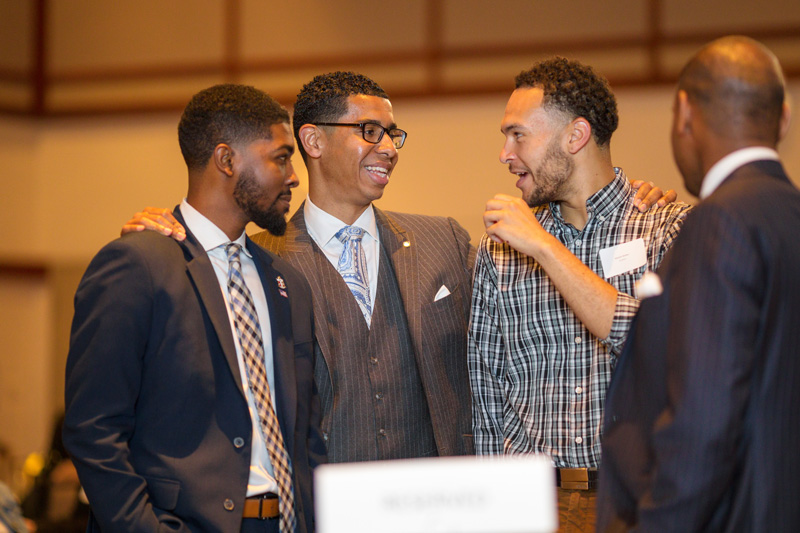 "At every stage in my life, I've been the beneficiary of mentors," Rushdan said. "Some of which happened organically. Many of which did not look like me. Many of which had different cultural experiences than I did. So I want to make sure we're clear that mentors can take many different forms in your life and sometimes you have to be proactive about seeking them out."
He closed by asking the audience to participate in a call and response of an affirmation he repeats regularly:
Now I am the voice. I will lead not follow. I will believe not doubt. I will create not destroy. I am a force for good. I am a leader. Defy the odds. Set a new standard. Step up. Step up. Step up.
Power of Mentorship
UD Provost Robin Morgan congratulated the full room of award winners on this special honor. Faculty and staff members can nominate any undergraduate or graduate students of color they believe are deserving of this award. Nominees are then celebrated at the annual dinner with their faculty and staff nominators.
"You're here tonight, because someone noticed you," Morgan said. "You caught their eye and you caught their attention. A faculty member or a staff member has looked at you and seen potential."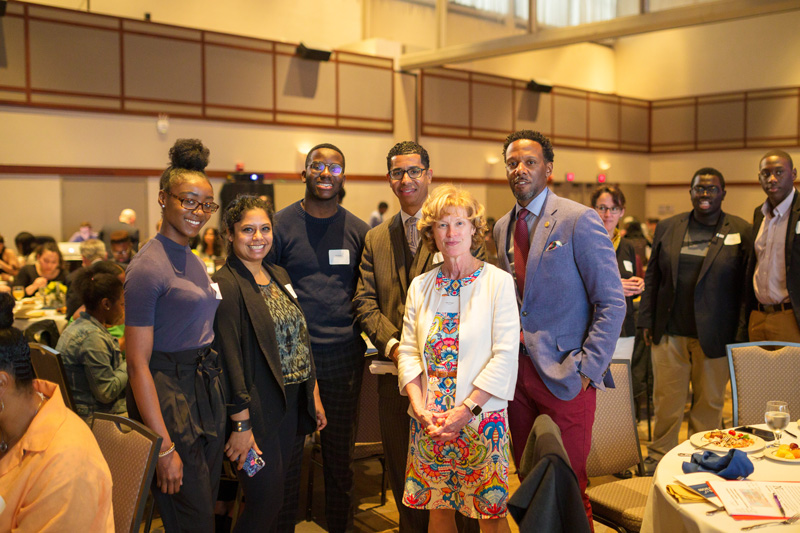 Similar to Rushdan, Morgan said mentorship completely changed the direction of her life. Her mentor introduced her to new avenues, like the idea of going to graduate school. She warned them not to take the power of mentorship for granted.
"You are students of distinction and we are very, very proud of every one of you," Morgan said. "We are also proud of the faculty and the staff members who identified you and taken their evening to come and spend time with us, too."
Henderson congratulated the 2019 winners and emphasized the impact of mentorship on the larger UD community.
"You earned the right to be here," Henderson said. "In this fashion, this distinction is by extension a community effort that owes much of its synergies to the African principle of Ubuntu: I am because we are."
She thanked all of those who helped put the event together. She also recognized several high school student groups invited to the event in the hopes getting an introduction to UD and building relationships that may one day become mentorships. This included students from the mentoring-focused groups Ladies of Legacy and Aspira of Delaware, as well as Dha'zhea Freeman, who impressed judges of a YMCA of Delaware essay contest with her words about Dr. Martin Luther King Jr. Freeman is scheduled to be a first-year student at UD in the fall.
Henderson noted there are many ways to think about mentorship, but highlighted the interpretation by Greek writer Nikos Kazantzakis. He wrote, "True teachers use themselves as bridges over which they invite their students to cross; then, having facilitated their crossing, joyfully collapse, encouraging them to create bridges of their own."
2019 Students of Distinction
College of Agriculture and Natural Resources
Behnam Abasht, Michael Abshat, Michael Babak, Matthew Bott and Jordyn Stevens
College of Arts and Sciences
Janelly Abreu, Victoria Acevedo, Javier Aguiar, Shumailah Ahmad-Statts, Patience Ankomah, Elaine Ansah, David Arredondo, Jason Austin, Kobe Baker, Keith Barnes, Thomas Bond, Sean Briscoe, Chenesia Brown, Camilo Cardenas, William Cavin, Jr., Sharlie Chisholm, Taurence Chisholm, Jr., Maria Chudzik, Nigel Clark, Norma Cruz, Rufino Cruz, Andre Cunningham, Wyatt Dawson, Leon DeShields, Jonay Desire, Kathryn Dias, Martine Edmond, Jean Filo, Braulio Florentino, Rigoberto Flores, Keynon Harris-Miller, Briana Kenry, Yanko Hernando, Lindsay Hoffman, Gillian Isabelle, Jayda Jenkins, Caleigh Johnson, Semaj Kelly, Edwin Lopez, Nana Marfo, Tylor Matthews, Keith Medley, Rigoberto Mejia, Donte Moore, Lizbeth Mora-Martinez, Eden Negusse, Brandon Okeyo, Comfort Osundina, Anthony Ozuna-Pena, Amorelle Penick, Garciela Perez, Courtney Porter, Michael Pugh, Daniele Richards, Maame Riverson, Ade Robertson, Atlas Moon Rodriguez-Decker, Barbara Romero-Duenas, Dianna Ruberto, Miata Smith, Jymere Stillis-Stanford, Michael Sydnor, Domonique Thurston, Santiago Vizcaino, Kayla Williams, David Wilson, Alexis Wrease, Heran Yosef, Marvin Smith
Alfred Lerner College of Business and Economics
Queen Agboye, Leah Austin, Patrick Bingham, Andrew Connell, Martisha Durant, Amanda Flores, Shawn Futch, Paul Gathii, Jordan Glenn, Russell Harris, Arynn Hernandez, Cesar Hernandez Sanchez, Tiana Jarman, Jazzlynn Jefferson, Melissa Jones, Cindy King, Chris Lynch, Briana Mateo, Iyanna McCoy, Andre McMillan, Joshua Moreira, Onyekachi Njubigbo, Destini Robinson, April Singleton, Malachi Walker
College of Earth, Ocean and Environment
Hanna Baffone, Brielle Bianchini, Ramiro Bruno, Kaylee Croce, Marissa McClenton, Christine Obeng, Jared Williams, Iris Perez-Mazariegos
College of Education and Human Development
Racine Boyle, Kwaku Edusei, Maame Bema Kyeadea-Amponsah, Joshua Lewis, Kadisha Mack, Nicole Mejia, Timothy Penn, Lindsey Perez-Perez, Alexus Ramirez, Nicole Robinson, Jillian Solomon, Mie-Hawa Sumner, Deandra Taylor, Jordana Woodford, Christina Woodson, Nefetaria Yates
College of Engineering
Abubakarr Bah, Kelechi Chukwunenye, Jorge Hernandez, Chin-Pao Huang, Keira Morgan, Olivia Powell, Stephanie Ross, Daniel Sanchez Carretero, Alexis Withers
College of Health Sciences
Luisa Abadia, Ayomide Adeoti, Shantelle Aidoo, Nana Asante, Justin Brown, Jordan Carr, George Class-Peters, Rachel DeLauder, Ngozi Dom-Chima, Leon Elcock, Camille Rischer, Vivian Guyton, Francisco Hernandez, Cindy Iheanacho, Sierra Kahete, Danyella Lopez-Juarez, Meiling Genavieve Miranda, Lizette Morales-Ixtepan, Abdual Musa, Maria Noguez Perez, Amber Rance, Keyanna Riddick, Keddy Rwara, Kameelah Slater, Gloria Soto, Ariona Thornton
University Studies
Christina Baughan, Aderolake Bolarinwa, Cassandra Harris