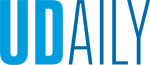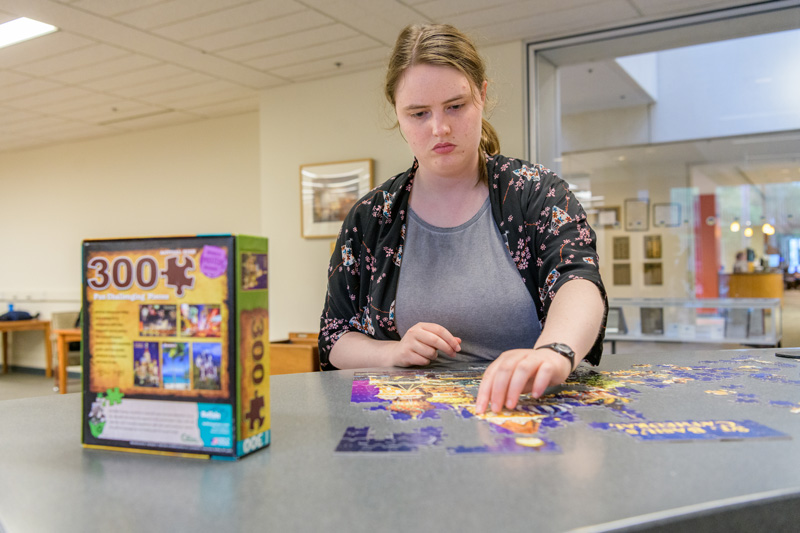 Solving puzzles
Article by Carlett Spike Photos by Evan Krape, Carlett Spike and courtesy of Deborah Ryszka May 29, 2019
The story behind the puzzles in UD's Morris Library
Beyond the glass double doors leading into the Reference Room of Morris Library at the University of Delaware is a desk typically occupied with jigsaw puzzles. Recently, on the right sat a 300-piece puzzle of St. Basil's Cathedral and on the left a 2,000-piece puzzle called "Vintage America," showcasing various elements to represent each of the 50 states.
Now a regular feature, the puzzles first debuted in the library in 2016. At the time, staff from the UD Library, Museums and Press were brainstorming stress-reducing activities for students around final exams. (Spring semester finals end Thursday, May 30.) With a limited budget, puzzles came up as a cost-effective solution.
Deborah Ryszka, librarian and interim head of the Cataloging and Metadata Department, got the project started by donating about 40 puzzles from her father, who had grown a collection throughout the years.
"He was really into puzzles," Ryszka said. "He did it to keep himself active as he retired and as he aged. There was always a puzzle on a card table in the living room. So I was happy to bring his puzzles here as opposed to throwing them out or finding another home for them."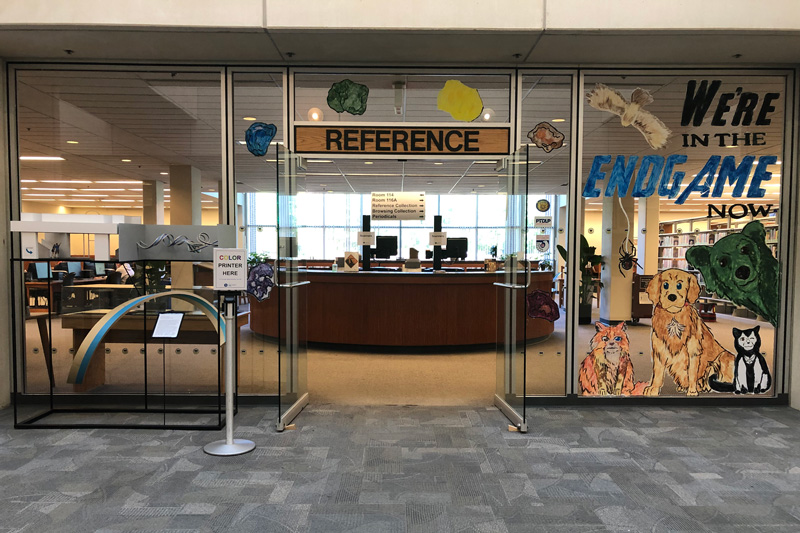 The plan was to only have them out during finals, but the puzzles were a hit.
During a typical day, it's not unusual to see all types of people stop by the puzzles — from commuters looking to kill time between classes to employees who stop by during their lunch break. There are typically two or three puzzles out at a time, ranging in difficulty. Once one puzzle is completed, it is swapped for another, so they are changed about once a week on average.
Thanks mainly to donations, the library now has a collection of more than 100 puzzles. The collection covers a variety of themes including nature, animals, presidents and holidays. There are also puzzles that coincide with Banned Books Week.
Kathryn Roth, an administrative assistant for the Reference and Instructional Services Department, oversees the puzzle operation. She said they keep a spreadsheet to make sure there is a fair rotation among the available puzzles.
Library visitors are not shy to leave feedback.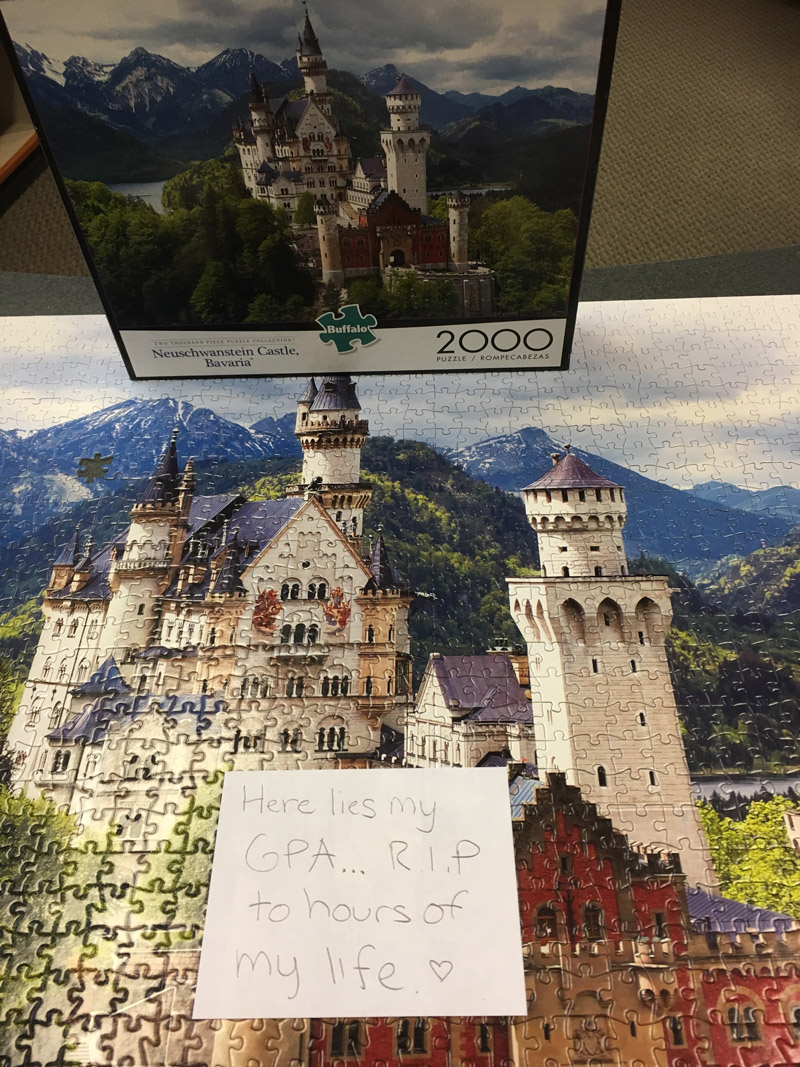 "Sometimes we get little post-it notes," Roth said. "There was one we took out of circulation because people didn't like it. They said it was too difficult. It was all very golden/tan colored scenery. It was a landscape of some sort, it was pretty boring."
She also recalled a time where the puzzles were put away during one Winter Session to have the desk thoroughly cleaned. It was not long before people noticed and they received a complaint, Roth said with a laugh.
There is some research that suggests puzzles and similar mental activities can provide stress relief. In our hyper-connected world with constant demands for our attention, focusing on a single task, like completing a puzzle, can put the mind into a meditation-like state. It creates a sense of peace and tranquility. Additionally, the brain likes finding patterns, so puzzles satisfy that desire, which improves our mood. Crosswords and Sudokus have a similar impact.
This was what staff at the UD Library, Museums and Press had in mind, said Marie Seymour-Green, electronic resources librarian.
"It's something that you have to concentrate on a little bit, but you can still be thinking about other things," she said. "I think it gives a little relief. If you're reading something intently or you're trying to memorize something you're working on for some sort of project, you kind of can still be mulling it over in the back of your mind while you're working on a puzzle."
While the puzzles have been a welcomed addition to the library, Seymour-Green said the biggest challenge they face is missing pieces.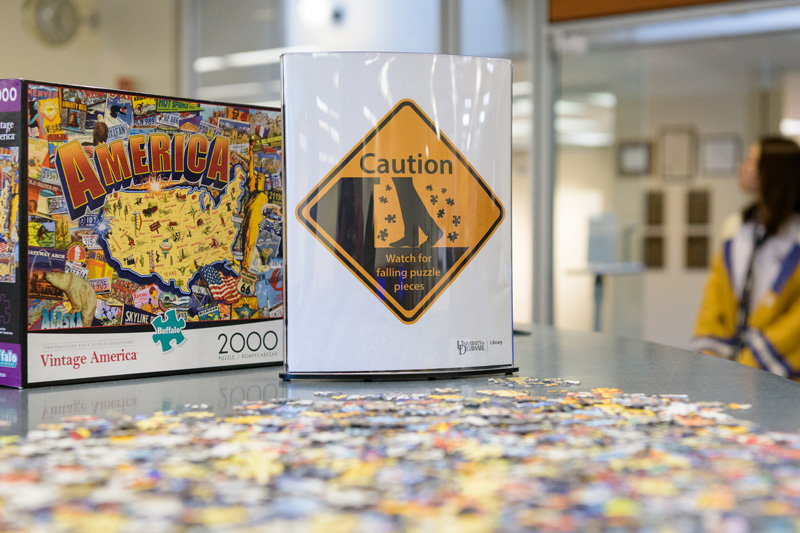 "People will be leaning on the table, where they are, really concentrating and a piece might stick to their arm — they walk away and then it falls off, who knows where," she said. "We had one person, a faculty member, send us back a piece that had got caught inside of her clothing and she found it later."
While the puzzles currently live on a former service desk, the library is planning to remove that desk. For the time being, the puzzles will be placed on another table near the same location. So don't be alarmed, they are not going away.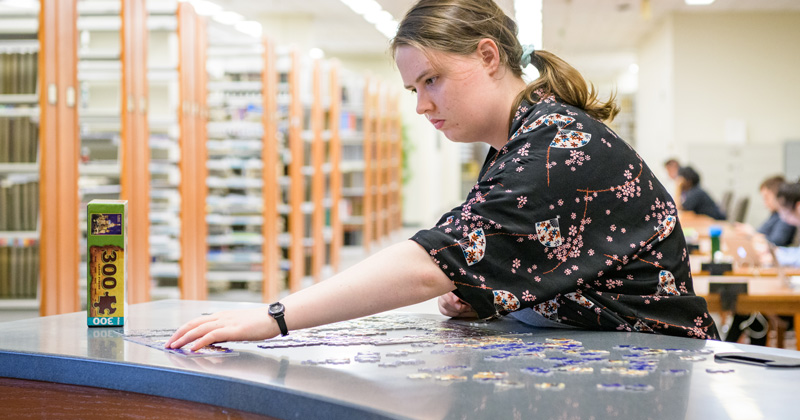 UD Senior Kate Whitcomb, a regular visitor of the puzzles, was recently at the library studying. She set up her bag and books in a corner desk, but wandered over to the puzzle desk before getting started. She looked over the progress made on the St. Basil's Cathedral puzzle and analyzed the scattered pieces. For about five minutes, she picked up pieces in search of a match.
Whitcomb estimated she normally studied about four times a week at the library during the spring semester. Most visits she would spend a little time solving a puzzle. She said the puzzles are a great resource.
"I usually play with the puzzles just because it is something relaxing," said Whitcomb, who is a double major in Japanese and Asian Studies. "I guess it's just easy to find a match and doing that feels satisfying."