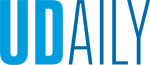 Faculty Senate concludes academic year
Article by Carlett Spike May 24, 2019
Meeting marked by resolutions and recognitions of faculty
The University of Delaware Faculty Senate concluded its 2018-19 academic year by voting on nearly 100 resolutions and recognizing faculty members with Senate awards at its May meeting. Among them, Senator Deni Galileo, associate professor of biological sciences, received the 2019 Jon Olsen Exemplary Senate Service Award.
"You all deserve a huge thank you for the amount of effort and time you put in, in service to help out this University," said Faculty Senate President Chris Williams. "But every year we need to think about one person who has really stood out, both in a formal role with past involvement and perhaps also with informal roles. This year we're very honored to give the award to Deni Galileo."
Williams also announced the winners of the other Faculty Senate awards for Excellence in Teaching, Excellence in Undergraduate Advising and Mentoring, Mid-Career Faculty Excellence in Scholarship, Excellence in Graduate Student Teaching and Excellence in Service and Community Engagement. He also recognized Stuart Binder-MacLeod, as the winner of the Francis Alison Award, UD's highest faculty honor.
The Senate voted and elected new officers for next year:
President-elect: Charles Boncelet from the Department of Electrical and Computer Engineering;
Chair of the Committee on Committees and Nominations (COCAN): Allison Karpyn from the Department of Human Development and Family Sciences;
COCAN Member-At-Large: Brittany Overstreet from the Department of Kinesiology and Applied Physiology; and
Secretary: Brian Hanson from the Department of Geography.
Most of the resolutions the Senate passed included revisions to existing programs at both the undergraduate and graduate level. A handful also included requests for department name changes as well as the establishment and disestablishment of various degree programs and certificates. All changes will go into effect for the fall 2019 semester. The full agenda can be found on the Faculty Senate's website.
In alignment with University efforts to better support students' mental health, the Senate passed a resolution adding mental illness as a recognized reason for an excused absence. The senators also approved a limited grade forgiveness policy, which allows students to retake a course if they earn a grade of a C-minus or lower. The new grade will then be calculated into their GPA. This will be an option for two courses or up to eight credits of a student's first 28 credits at the University.
There was disagreement on one resolution that would make peer evaluations for associate and full professors optional. Some senators expressed concerns that the review process is cumbersome and unproductive while others said some faculty would opt to skip it and miss out on the benefits if reviews were optional. In the end, they voted to return the resolution to its originating committee.
Williams thanked the senators for their hard work throughout the academic year. In total, the Senate approved more than 350 resolutions that impacted various areas, including program changes, the Faculty Handbook, student welfare and privileges, and the creation of the new Graduate College.
"I want to thank you first of all, for having a fantastic year," Williams said. The senators returned the thank you with a round of applause for Williams' guidance as president.