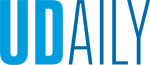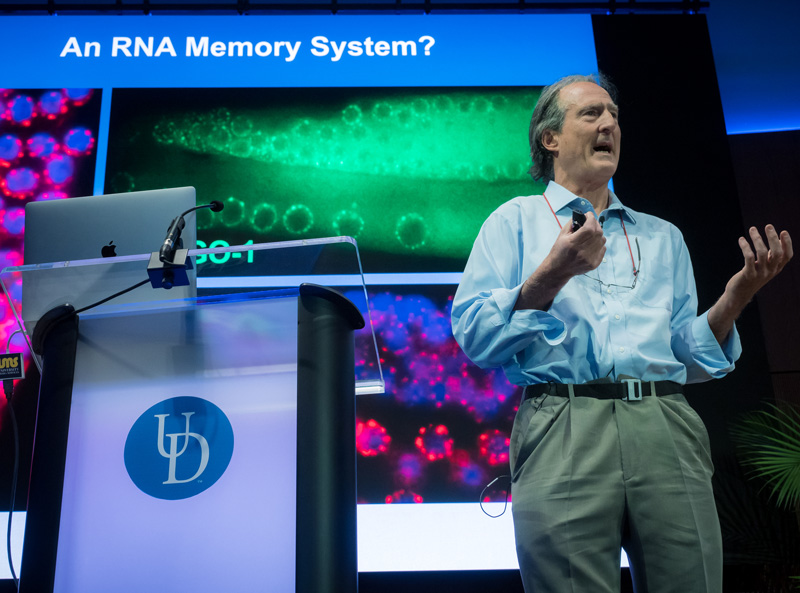 Nobel laureate Craig Mello shares joy of discovery
Article by Beth Miller Photos by Evan Krape and Suchat Pederson May 08, 2019
Sophisticated cell life in focus during Clark Lecture and inaugural Life Science Forum
If you've ever felt lower than a worm, stop that. And if you've ever felt superior to a worm, you can stop that, too, on the authority of Nobel Prize-winning biologist Craig Mello, who knows a lot more about worms than most of us do.
"All living things are masters of information assimilation and integration," he said during a two-day visit to the University of Delaware, April 23-24. "We think there is such a thing as 'higher organisms' — and we're them. But every organism is equally high. All have sophisticated systems."
Mello's favorite worm is the C. elegans nematode, which revealed the genetic tool now called "RNA interference" to him and his collaborator Andrew Fire in 1998. They won the 2006 Nobel Prize in Physiology or Medicine for that discovery, which Mello said C. elegans deserves just as much. One of his slides is a thank-you note to C. elegans and includes a list of other prizes it has produced.
Now, 14 labs in the RNA Therapeutics Institute that Mello directs are focused on this transparent worm, which is about 1 millimeter long, has no eyes and eats bacteria — one at a time. And it is having an impact on medicine. The U.S. Food and Drug Administration last year made its first approval of a new therapy based on RNA interference for treatment of patients with a rare, hereditary peripheral nerve disease. (More on RNA interference later.)
After decades of scientific inquiry, the distinguished professor in the University of Massachusetts Medical School's Program in Molecular Medicine and investigator with the Howard Hughes Medical Institute has conserved something well worth passing along to others, no matter what the focus of their study: A deep and joyous wonder at the marvels of life.
"When you study the world it makes the world more mysterious, not less," he said. "We're marveling at the mystery of a world we can't understand…. Science does not reduce, rather it always deepens the mystery of existence."
Mello's two-day visit became a celebration of the University's vibrant life-science enterprise, and his keynote speech at the inaugural Delaware Life Science Forum helped to extend the connections between UD researchers, clinicians and industry scientists.
He met with a dozen graduate students to discuss his research and theirs. After he told them about the efficiency of research with this worm and the effectiveness of the genetic injections made to study the germline, one student had an idea.
"Could you come and bless our injections?" he asked.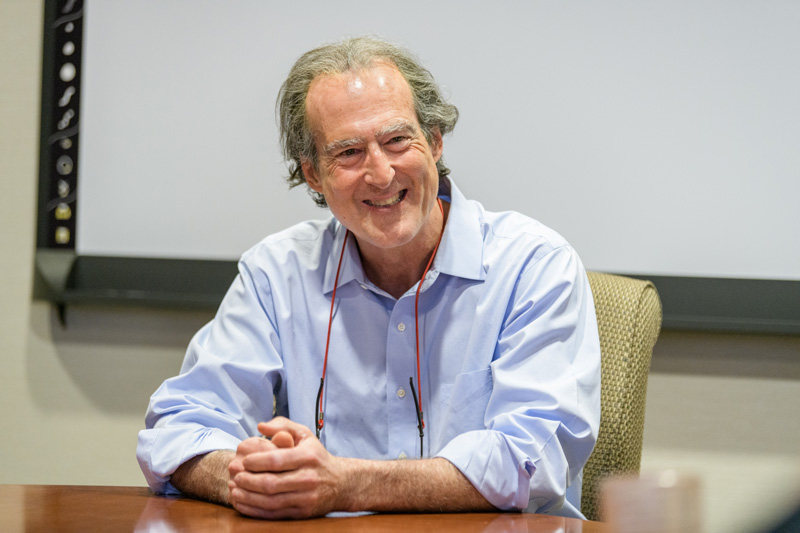 Mello laughed and invited several of them to visit his lab in Worcester, Massachusetts, where they could see the work and perfect techniques they sometimes struggle with. He even offered to stop by their labs and see their injection setup.
"Students seemed to be both surprised and excited that a scientist of such high caliber would offer his time to help advance their science," said Ramona Neunuebel, assistant professor of biological sciences at UD. "An important takeaway message from the students' interaction with Mello is that research is most successful when we collaborate and share knowledge."
After speaking with those students, he delivered the Department of Biological Sciences' annual Arnold M. Clark Memorial Lecture to more than 200 people at Wolf Hall.
And later, he was reunited with UD's Pew Scholars in the Biomedical Sciences, whom he knows from his work as chair of the national advisory committee that selects the winners of those prestigious awards. UD's Pew Scholars include Salil Lachke (biological sciences, 2012), April Kloxin (chemical and biomolecular engineering, and material science and engineering, 2013) and Catherine Grimes (chemistry and biochemistry, 2014).
It is remarkable, Mello said, that UD has three Pew Scholars and it should be commended for recruiting such excellent faculty.
"I've been really impressed by what's happening at the University of Delaware … and it's great to have an opportunity to come and see the great things happening," he said. "It's an exciting time for biomedical research."
Arnold M. Clark Memorial Lecture
The 1998 discovery that led to the Nobel Prize for Mello and Fire showed that C. elegans worms use a previously unknown process called RNA interference, which draws on the organism's genetic memory to exert powerful control over cellular life by silencing certain genetic functions.
The C. elegans worms are rock stars in the world of genetic biology, where their brief life cycle (two or three weeks) gives researchers a turbo-charged way to see how specific genetic machinery works and insight into what is called the "germline," the genetic information that is inherited by the next generation.
Mello said C. elegans and humans share ancestry that stretches billions of years, so what the worm teaches us gives us insight into our own species.
"It's humbling and fascinating and complex to see what our ancestors are able to do," he said.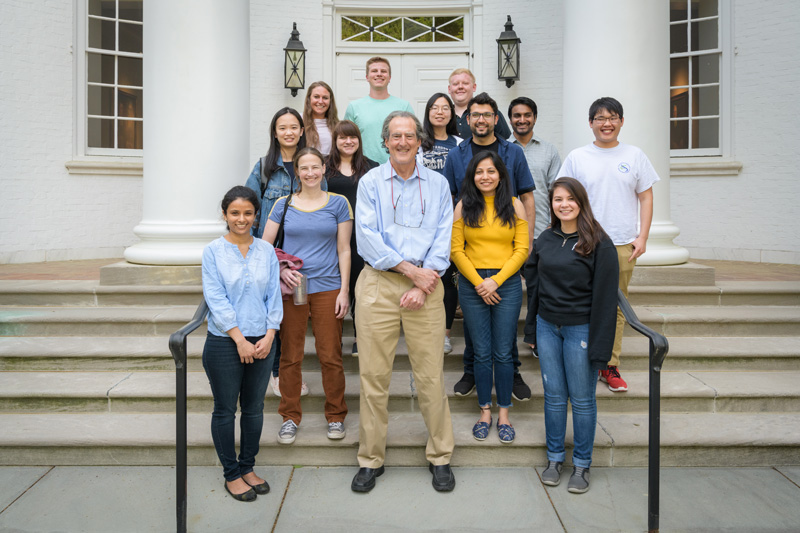 Mello said his zeal for science started when he was in high school and learned that bacteria could make human insulin. He saw that as a powerful mechanism and his gratitude for that discovery knows no bounds now that he has a daughter with Type 1 diabetes, whose life depends on insulin.
His work has focused on these genetic mechanisms and he continues to marvel over the constant flow of information between organisms and the constant modifications they make along the way to survive.
"It's more convenient for viruses and all of life to have a common code," he said. "If you can't read the other guy's mail, you'll be out of luck. So the winners biologically are those that can read the other guy's code."
He compares the underlying process of RNA interference to Google's search engine, which searches for data across the internet, tolerating misspelled requests and delivering a trove of matches. So-called "Guide RNA" allows for those searches at the genetic level, looking for coding sequences that have been encountered before, recognizing some as familiar, some as unfamiliar and — when necessary — silencing genetic response for strategic reasons.
At one point in this research, Mello said, the lab was doing transgene experiments — introducing pieces of genetic information into the genome of the worm by microinjection — to understand what was responsible for silencing genetic responses. A string of experiments showed no cellular activity after certain injections. Over and over — nothing. They discarded what they guessed were errors or duds. Then one student looked at the results another way and realized that what seemed to be negative results were really evidence of silenced genes.
"Some of the best stuff in your lab is probably in your trash can," Mello said with a grin. "There are a lot of additional secrets this germline holds for us. We should all go back to our trash cans and hunt for it."
That's an important point for researchers, Neunuebel said.
"For graduate students it was worthwhile hearing that as researchers we have to embrace many potential explanations for a scientific phenomenon," she said. "Otherwise, we may miss meaningful clues."
While the potential for new genetic therapies is exciting for medicine, Mello said he agrees with the scientific community around the world that we are not ready to edit the human genome. Serious ethical questions must be addressed, he said, as illustrated in the recent scandalous work done by a Chinese scientist.
"There is still a lot of potential danger," he said. "It is so easy to do and we need tighter controls. The scientific community is well aware of this issue. CRISPR [the gene editing technology] is a very good thing, but like anything it could be misused."
Delaware Life Science Forum
The inaugural Delaware Life Science Forum drew scores of research scientists and entrepreneurs from UD, Delaware State University and industry to the Audion at UD's Science, Technology and Advanced Research Campus to discuss their work and possible collaborations.
Presentations covered a wide range of study, including UD's Velia Fowler, chair of biological sciences; Terry Papoutsakis, professor of chemical and biomolecular engineering; and Catherine Grimes, assistant professor of chemistry and biochemistry. Presenting scientists from industry included Nihmat Morjana, director of Siemens Healthineers; Adam Marsh, chief science officer and co-founder of Genome Profiling; and Tanja Gruber, senior staff scientist with the DuPont's Industrial Biosciences business.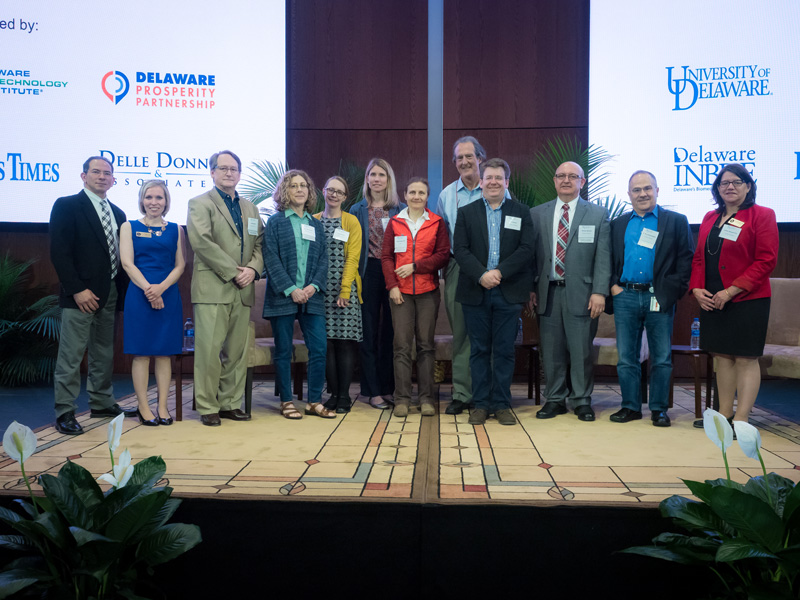 Participants also got a lot of information about UD's core facilities and the top-tier instruments, equipment and skilled technicians available to researchers.
"It's great to see the opportunities you have here," Mello said, "maybe even to build out a medical school and increase the clinical side. Genetics make medicine more of a hard science."
It was exciting for the assembled scientists to hear of advances in every area.
"At the end of the day these are the people who are building our longevity," said Joy Goswami, who has a background in molecular biology and is the assistant director of technology transfer at the Office of Economic Innovation and Partnerships, helping UD's innovators get their ideas to market.
And it is important to develop opportunities for these experts to collide again.
"Delaware has so much talent," said John Koh, director of the Delaware Biotechnology Institute, which organized the Life Science Forum. "Science has driven so much of Delaware's economy for 200-plus years and we need to know how to engage with each other in new ways to build an economy for the future.
"We have informatics invading every area and discipline and we need to train scientists to be literate and recognize the power of these technologies," Koh said. "We need a much more nimble workforce and there are a lot of common threads here — in public policy, regulatory issues, biopharmaceutical manufacturing, diagnostics, biomolecular studies. We're recognizing that all those different areas can work together. It requires more interdisciplinary teams and building the community. So we want to facilitate these collisions between scientists of different areas."
In addition to UD, other forum sponsors included: the Delaware Prosperity Partnership, the Delaware Biotechnology Institute, Delle Donne and Associates, Delaware Business Times and Delaware INBRE.
More about Craig Mello and the Clark Lecture
Mello is the Blais University Chair in Molecular Medicine and co-founder of the RNA Therapeutics Institute at the University of Massachusetts Medical School.
Before receiving the Nobel Prize, his work on RNAi was recognized with the National Academy of Sciences Molecular Biology Award, the Canadian Gairdner International Award, the Paul Ehrlich and Ludwig Darmstaedter Prize and the Dr. Paul Janssen Award for Biomedical Research.
He is a member of the National Academy of Sciences, the American Academy of Arts and Sciences and the American Philosophical Society.
The Arnold M. Clark Memorial Lecture was established by Dr. Howard Hudson, CAS'63, an anesthesiologist in Allentown, Pennsylvania, as a tribute to his professor and undergraduate faculty adviser.
Clark was a professor of biology at UD from 1946 to 1981 and was instrumental in establishing the graduate program in biology.
His research areas included developmental genetics, aging, human heredity and radiation biology. He studied Down syndrome and pushed for the establishment of a genetic counseling program in Delaware.
Clark's passion was teaching and mentoring, and he insisted that his undergraduate students take as many non-science courses as possible in order to become well rounded and better able to communicate with the public.