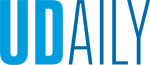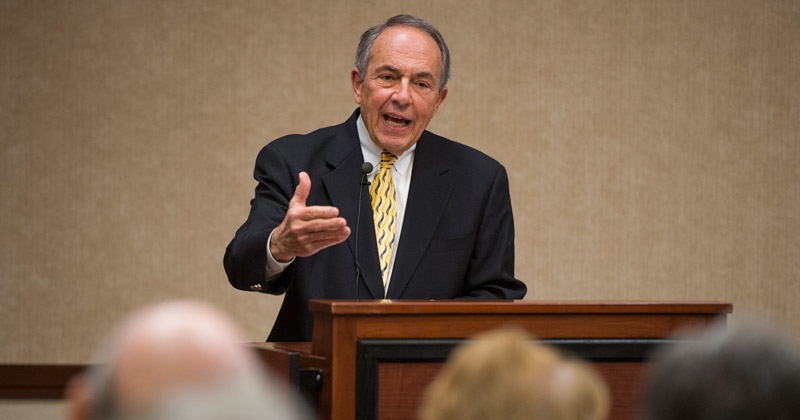 In Memoriam: Frank R. Scarpitti
Article by UDaily staff Photo by Kathy F. Atkinson March 05, 2019
Community remembers long-time faculty member, Alison Award winner
The University of Delaware community remembers Frank R. Scarpitti, a long-time member of the sociology faculty, a nationally recognized scholar and the recipient of UD's highest faculty honor, the Francis Alison Award. Dr. Scarpitti died Feb. 28, 2019; he was 82.
Department Chairperson Karen Parker said, "The Department of Sociology and Criminal Justice lost one of its greatest leaders just a few days ago. He was a humble and kind man, always taking time to lift up and support those around him. He was an eminent scholar, producing an influential body of work, and he was a colleague who took the department to new levels during his time as chair. He will be missed deeply. His influence lives on through his family, an award that is named after him that supports the scholarship of a graduate student, his scholarship and in our memories."
Dr. Scarpitti joined the UD faculty in 1967 as an associate professor. Two years later he was promoted to full professor and appointed chair of the Department of Sociology (later Sociology and Criminal Justice). He served in that position for 17 years over several terms.
A prolific scholar and writer, he was author, coauthor or editor of 19 books and more than 60 articles and chapters. He researched and wrote on mental health, crime, delinquency, corrections, deviant behavior, social problems, drug treatment and the role of organized crime in illegal waste disposal. His coauthored book, Poisoning for Profit, was widely cited by legal and legislative officials as the impetus for legal action designed to curb unlawful waste dumping.
He was recognized nationally by being elected president of the American Society of Criminology and held various offices in several other professional organizations. In 1981, he was elected a fellow in the American Society of Criminology, in recognition of his scholarly contribution to the intellectual life of the discipline.
Dr. Scarpitti was committed to the University of Delaware, particularly to ensuring a climate of equality. In 1968, he was appointed by the University president to chair the Advisory Committee on Policies, Programs, and Services Affecting Blacks and Other Minority Group Students. The committee was tasked with recommending policies to improve the campus climate for minority students. They presented their recommendations in what became known as The Scarpitti Report, which had a large influence on policies designed to increase recruitment of minority students and faculty, and also ensure their representation on the Board of Trustees.
In 1995, he was awarded the Francis Alison Award, the University's highest faculty honor given annually to someone who best characterizes "the scholar-schoolmaster," as exemplified by the Rev. Dr. Francis Alison whose 18th century academy eventually became the University of Delaware. In 2006, Dr. Scarpitti was named the Edward and Elizabeth Rosenberg Professor of Sociology and Criminal Justice.
Despite his various honors and awards, he was proudest of the many graduate students with whom he worked and who have assumed a variety of academic and governmental positions. Nearly 50 of them returned to Newark to attend his retirement celebration in 2005. In honor of his work as a graduate student mentor, the Frank Scarpitti Graduate Student Award is presented annually to a graduate student in the Department of Sociology and Criminal Justice.
Colleagues in the department remarked that it is still not uncommon for faculty and students alike to ask, "What would Frank do?" when challenging issues arise.
From 2010-12, Dr. Scarpitti served as president of the University of Delaware Association of Retired Faculty (UDARF), and in December 2012, he shared highlights of his academic career as part of UDARF's "My Intellectual Journey" lecture series.
Born in Butler, Pennsylvania, he moved to Cleveland, Ohio, at the age of 10. There he attended junior and senior high school and graduated from Cleveland State University in 1958. He immediately entered graduate school at The Ohio State University, receiving his Ph.D. in sociology in 1962.
Although trained in criminology, his first professional position was as director of one of the first community mental health research studies, testing the efficacy of home care for schizophrenic patients. This research was published in the book Schizophrenics in the Community and received the American Psychiatric Association's Hofhemier Prize for Research in 1967. Ater spending four years on the faculty of Rutgers University, he accepted the position of UD, where he remained for the rest of his academic career.
Family was the most important sphere of his life. A devoted husband and father, he participated with children Susan and Jeffrey in a variety of activities as they passed through their childhood and teenage years. For over 20 summers, the family moved to its farm in Pennsylvania, where they adopted a simpler lifestyle focused on the outdoors and the wonders of nature. For Dr. Scarpitti, these were perhaps the happiest years of his life. Although he worked a great deal, he always had time for baseball, mystery novels and old Western movies, a subject he often lectured on.
Friends and colleagues remember him as a kind, caring person, often generous to a fault, who once said he wanted to be remembered as a "good man." His family and friends believe he achieved his goal.
Dr. Scarpitti is survived by his wife of 60 years, Ellen Canfield Scarpitti; a daughter, Susan Scarpitti Newstrom, son-in-law, George; daughter-in-law, Lisa Scarpitti; granddaughter, Alyssa Padilla and her children Bella and Matthew Castro; sister, Rita Bournique; brother Ronald; and various nieces and nephews. He was predeceased by his son, Jeffrey, parents Frank and Geneva Scarpitti, brother Louis, and sister, Alice Lazor.
A memorial service will be held at a future date.
In lieu of flowers, contributions can be made in his memory to the University of Delaware, Gift Processing, 83 East Main St., 3rd Floor, Newark, DE 19716, including in the check memo line "Frank Scarpitti Graduate Student Award in the Department of Sociology and Criminal Justice." Gifts can also be made on the University of Delaware secure website, www.udel.edu/makeagift and including the same designation.
Condolences may be left online.