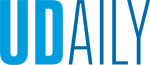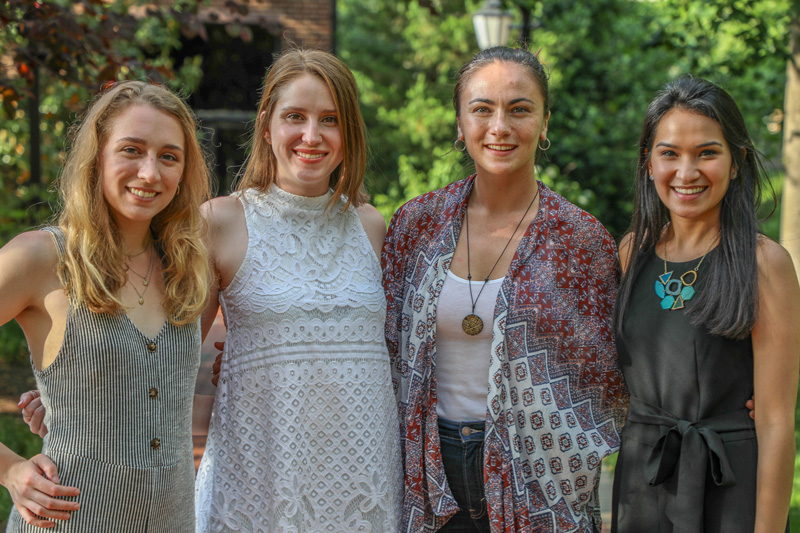 Fulbright winners
Article by Nikki Laws Photos by Nikki Laws June 21, 2019
Seven UD students and alumni win Fulbright U.S. Student Program awards
Beginning in August, seven students and alumni will travel abroad as the University of Delaware's newest Fulbright award winners.
The Fulbright Program, sponsored by the U.S. Department of State, is the nation's premier international education exchange program, designed to foster mutual understanding between Americans and people of other countries. The prestigious award allows young graduates and graduate students the opportunity to conduct research, study or teach English in over 140 countries around the world.
Mackenzie Campbell
Mackenzie Campbell earned Honors undergraduate degrees in three foreign languages and international business studies before earning a master's in French literature at UD. Campbell was awarded a Fulbright English Teaching Assistantship to Andorra, where she will work in a secondary school with young adults aged 14 to 16. A dual U.S.-Canadian citizen, Campbell said she looks forward to sharing her unique perspective on American life. "I was born in Montreal and my entire extended family lives in Canada," Campbell said. "I have always had a different sense of my identity and an insider-outsider perspective on the U.S."
A polyglot herself, Campbell said she is excited to teach and learn in a multilingual environment. "Andorra is one of the few places where every citizen is bilingual and many are trilingual or quadrilingual," she said. "It's always been a priority for me to pursue multilingualism. I'm also very excited to work with students who already have a knack for language in their brain."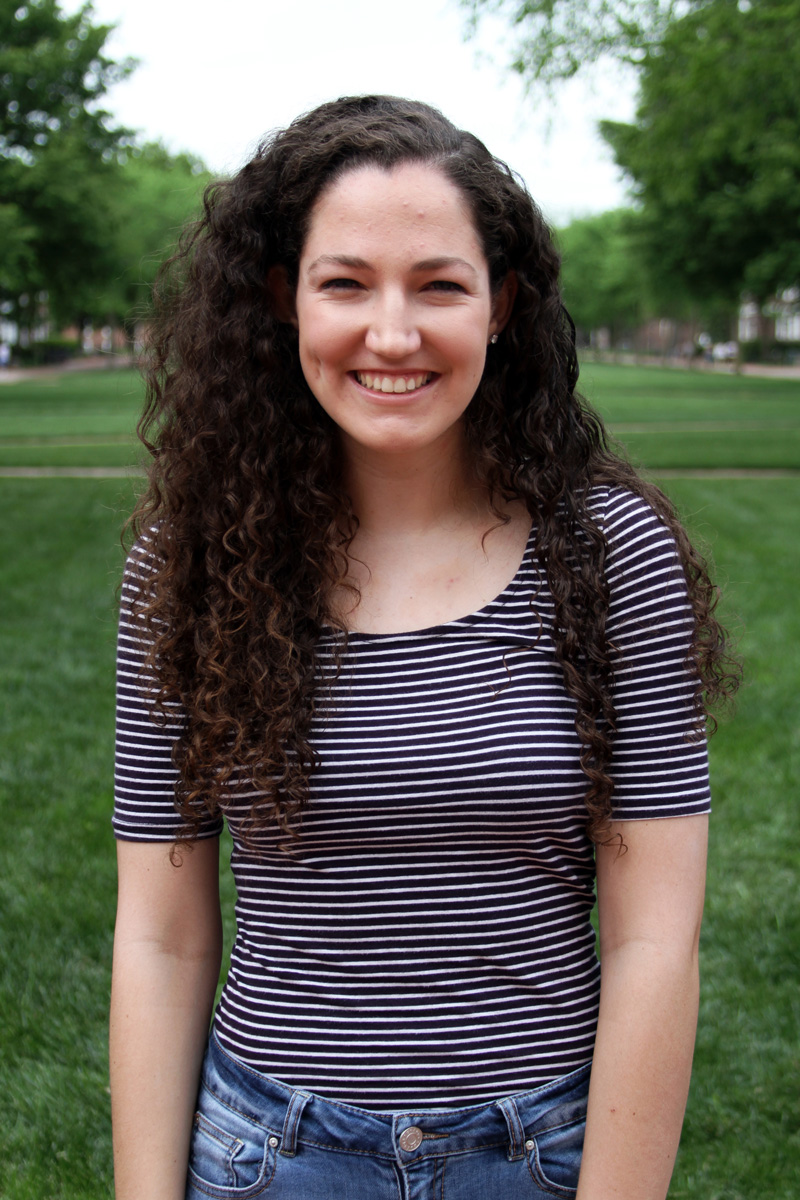 Meghan Jusczak
Meghan Jusczak received an English Teaching Assistantship to Romania. After graduating from UD in 2017 with an Honors degree in English and Women & Gender Studies, Jusczak became a journalist and now works with City Year, an AmeriCorps program, in Philadelphia.
In addition to teaching English at the Universities of Baia Mare and Oradea, Jusczak will pursue an independent research project in environmental journalism. "I'm particularly excited to be in Baia Mare because I hope to write a few articles specifically related to environmental health and agriculture," she said. "There was a devastating cyanide spill into the water supply there in 2000. I'm interested in talking with people, learning more from the local community, and using my position as an outsider to bring in different ideas."
Julianna Ly
Julianna Ly, who earned Honors bachelor's degrees in art history and art conservationa at UD and is now a graduate student in the Winterthur/UD Program in Art Conservation, will call the Netherlands home for an 11-month internship jointly offered by the University of Amsterdam and the Royal Picture Gallery Mauritshuis. Just one Fulbright/American Friends of the Mauritshuis Award is offered each year. "I'm really interested in Dutch Golden Age paintings, which is what the Mauritshuis is known for," Ly said. "Being there is not only going to allow me to be surrounded by these paintings, but I'll also be able to closely study and treat one myself. In conservation, we often refer to the three-legged stool of art history, hand skills and chemistry. I'll be approaching this painting from all three of those perspectives."
Ly will study alongside students in a graduate program at the University of Amsterdam. "I'm really excited to immerse myself in Dutch culture and, specifically, to collaborate with my international colleagues," she said. "We have so much that we can learn from each other."
Natalie Medlock
Fresh from a two-year assignment with the Peace Corps in the Dominican Republic, Natalie Medlock will venture to Brazil for a year as an English Teaching Assistant at the university level.
Medlock said UD inspired and prepared her for post-graduate global experiences.
"UD offers two Portuguese courses for advanced Spanish speakers," she said. "I took the first course simply because it fulfilled a requirement. Later, I fell in love with the language, took the second course and became really passionate about Brazil."
Medlock also served as a peer mentor for the University's Middle East Partnership Initiative Student Leaders Program and Study of the U.S. Institutes Women's Leadership Program and participated in the English Language Institute's American Host Partner Program. At UD, Natalie majored in international relations with minors in Spanish and Latin American and Iberian studies.
Megan Pacitti
A member of the inaugural class of UD World Scholars, Megan Pacitti was awarded an English Teaching Assistantship to Brazil.
"I learned about Fulbright almost as soon as I arrived to campus and immediately knew I wanted to apply," she said. No stranger to travel, Pacitti studied abroad in both Rome and Barcelona.
"I've taken courses in three different languages and have been exposed to different styles of teaching around the world," Pacitti said. "I've gotten many ideas from these experiences that will help me develop my own teaching style."
Pacitti graduated in June with majors in linguistics and Spanish studies and a minor in global studies.
Christian Pirhalla
Like Medlock and Pacitti, Christian Pirhalla was also awarded an English Teaching Assistantship to Brazil. "Receiving my acceptance email was incredible," Pirhalla said. "I'd spent about a year working on my application and it felt like all that time and dedication finally paid off."
After graduating in December with a degree in Spanish studies, Pirhalla began working with Wilmington's Latin American Community Center, an experience he said has been both rewarding and relevant.
"While my students will be different, I'm doing something very similar to what I will be doing on my Fulbright in Brazil," he said. "Right now, I work mostly with adult migrants who want to learn the language so that they can communicate, get jobs and access public resources."
Outside of the classroom, Pirhalla plans to seek a local community of fellow musicians in Brazil.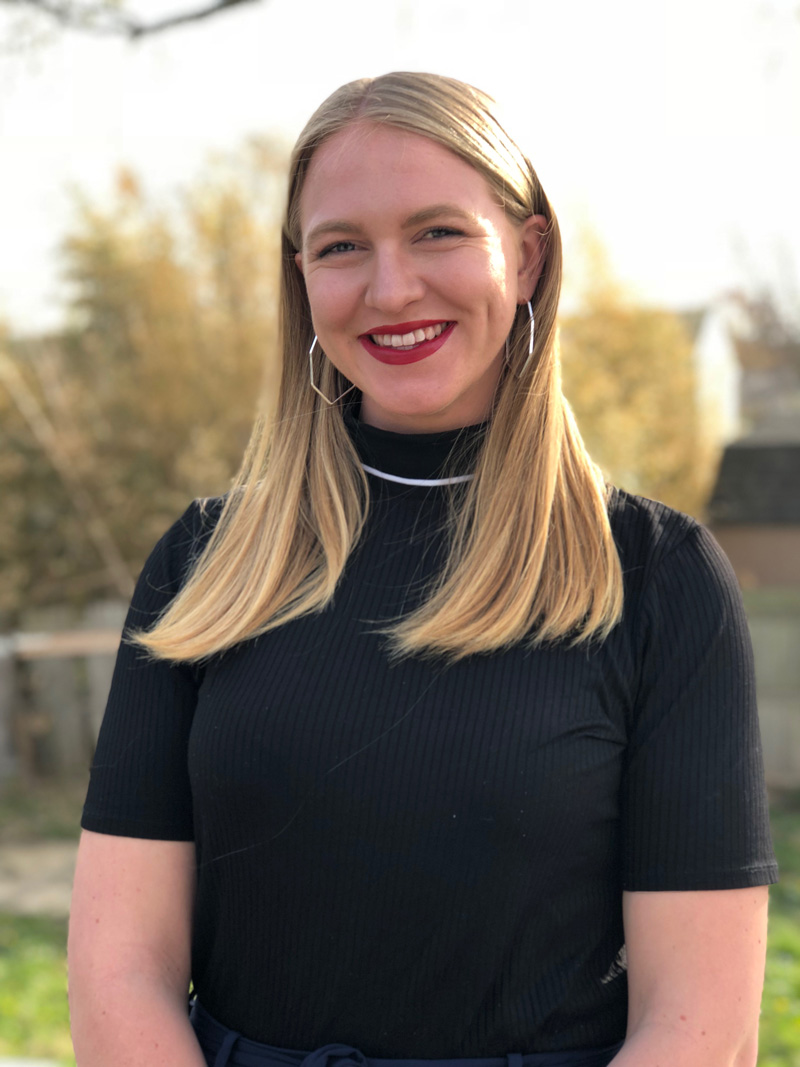 Rebecca Pedersen
After graduating from UD with a degree in three foreign languages, Rebecca Pedersen spent 2018 with the Teaching Assistance Program in France (TAPIF).  This fall Pedersen will embark on a Fulbright English Teaching Assistantship to the Republic of Georgia.
"At several points in my life, I was given the opportunity to live in, become a part of and learn about unique cultures, and I am compelled to pass that forward," she said, adding that Fulbright is the next, but not last, step in her journey to creating connections between people of the U.S. and other countries. Pedersen hopes to later fulfill her dreams of a career in the foreign service.
Alternates
In addition to UD's seven Fulbright grantees, four were named alternates:
Camilo Cardenas to Japan,

Sharon Hollenbach to South Korea,

Rosemarie Maholage to Germany, and

Olivia Rogal to the Czech Republic.
For Future Fulbrighters
The application for the 2020-21 Fulbright competition is now open. For those interested in applying for a Fulbright award, Pirhalla advised, "All it costs you is time. Think about your experiences in life and where you might be most needed. Then, just go for it."
Jusczak added that it's important for applicants to leverage all of their networks. "Reach out to as many people as you can," she said. "There is a Romania study abroad program at UD for graduate students and one of my acquaintances participated. She was able to connect me with a few Romanian students who really helped me understand what the culture was like."
Others, like Campbell and Medlock, applied multiple times and recommended persistence. "All hope isn't lost if you aren't successful on your first try," said Campbell. "You will have opportunities that will better position you in the future. Apply again."
Learn more about the Fulbright U.S. Student Program by visiting the Institute for Global Studies website.
About the Institute for Global Studies
The Institute for Global Studies (IGS) was created in 2009 to enhance the international dimensions of teaching, research and outreach at the University of Delaware. IGS provides leadership and support for programs and experiences that contribute to the education of informed, skilled, open-minded citizens of the world.
Best known for coordinating the University's study abroad program, IGS also awards scholarships and grants to faculty and students for a number of global opportunities, and administers internationally-recognized State Department-sponsored programs such as the UD Fulbright Initiative, Middle East Partnership Initiative (MEPI) Student Leaders Institute, Mandela Washington Fellowship Program for Young African Leaders, and most recently the Study of the U.S. Institutes for Student Leaders on Women's Leadership (SUSI-WL) program.
IGS sponsors such signature events as Global Month each fall and the Fulbright Lecture Series each spring.
IGS collaborates with other global partners on campus, including the Office for International Students and Scholars, the Confucius Institute and the Center for Global and Area Studies. In addition, IGS partners with Enrollment Management to coordinate the UD World Scholars Program.