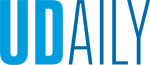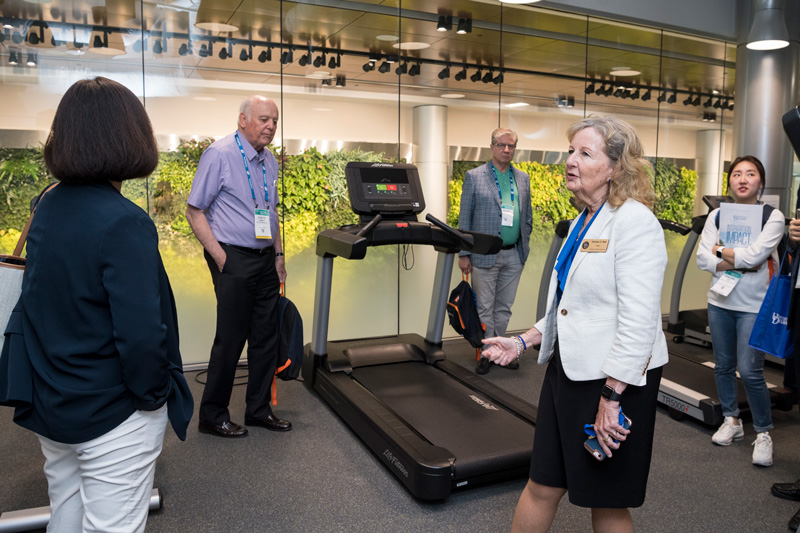 Biotechnology innovation hub
Article by Karen B. Roberts Photos by Kathy F. Atkinson July 03, 2019
Global experts visit UD to learn about biotech ecosystem
Global leaders and experts in biotechnology and life sciences toured the University of Delaware's Science, Technology and Advanced Research (STAR) Campus on Monday, June 3, to learn about the vibrant innovation community taking shape in Newark, Delaware.
The visit was part of a broader Delaware biotech ecosystem tour offered at the BIO International Conference, held June 3-6 at the Pennsylvania Convention Center in Philadelphia. BIO 2019, an international gathering of more than 16,000 people from 74 countries, provided a forum to network and learn about biotechnology and biopharma trends and policy issues, while celebrating the latest research and innovations in health care, agricultural, industrial and environmental biotechnology products.
The University of Delaware is a 21st century research university with a proud legacy of education and innovation, where academic research, discovery and entrepreneurship come together to make a positive impact on the world. UD's 272-acre STAR Campus is home to a growing community of trailblazers in health, energy, the environment, and financial technology and services.
"UD is an emerging leader in the exciting field of biopharmaceutical research. Building on our University's rich legacy, today's innovators — our students and faculty — are shaping the front lines of discovery," said UD President Dennis Assanis.
"New partnerships, collaborations and facilities developing on STAR Campus, including the Ammon Pinizzotto Biopharmaceutical Innovation Center, will accelerate our cutting-edge work targeting Alzheimer's, Parkinson's, diabetes, cancer and other devastating diseases."
Hub of innovation
In welcome remarks, College of Health Sciences (CHS) Dean Kathy Matt called the STAR Campus "an opportunity to bring the community in" and a way to inspire researchers and students to develop ideas and solutions that can have an impact on the community.
To achieve this requires more than transformative interdisciplinary research and academic instruction, she said. Partnerships are a critical part of creating this innovation ecosystem. 
In the Health Sciences Complex, for example, walls that formerly housed equipment to produce automobiles when the site was part of the Chrysler assembly plant now hold a physical therapy clinic, nurse managed health center and speech-language-hearing clinic, where students learn while partnering with the community and businesses. These facilities are situated in close proximity to research labs, inspiring "collaboration through collision," Matt said.
Visitors learned about the new Ammon Pinizzotto Biopharmaceutical Innovation Center currently under construction, which will serve as the headquarters for the National Institute for Innovation in Manufacturing Biopharmaceuticals (NIIMBL) and the Delaware Biotechnology Institute (DBI), among others. 
NIIMBL is a nationwide public-private partnership and national consortium focused on advancing personalized medicines to treat cancer and other debilitating diseases. It is one of 14 manufacturing institutes in the United States, but the only institute focused on biopharmaceuticals. NIIMBL brings together partners from different schools, companies (large and small), startups and nonprofits, heavily partnered with the National Institute for Standards and Technology (NIST), to accelerate innovative technology and workforce development in manufacturing. The six-story lab building will offer a flexible, shared environment with testbed space where members can work on proprietary technologies.
"This collaborative development and manufacturing innovation space will boost not only the local region, but also the nation through partner organizations in new technologies and products that benefit the entire community, and biopharmaceutical manufacturing more broadly," said Chris Roberts, NIIMBL associate director.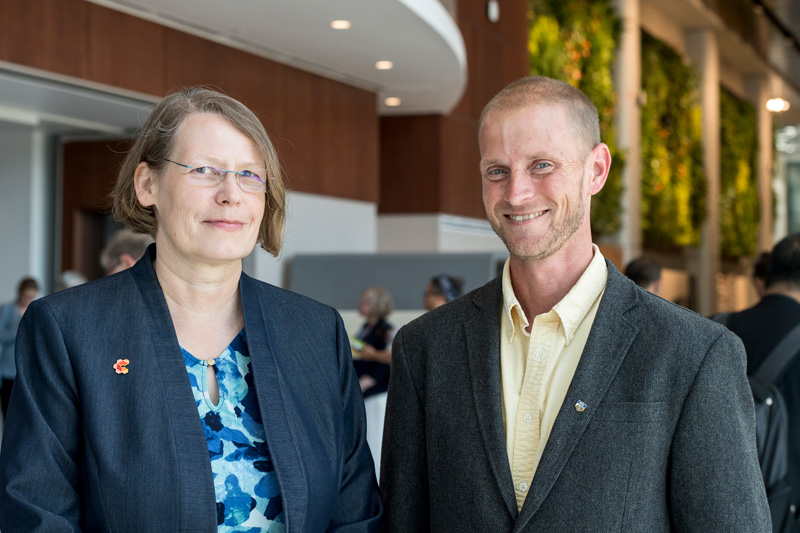 Adjacent to the Ammon Pinizzotto Biopharmaceutical Innovation Center will be the Chemours Discovery Hub, which is expected to bring approximately 350-400 research and development (R&D) scientists and staff from the Chemours Company, a Fortune 500 company, to STAR Campus by the end of this year.
Heidi Martelock, process development manager for the Chemours Company, a global leader in chemistry and advanced materials, called the new environment "instrumental" for improved collaboration and continued growth, especially as new tenants — "maybe some in the room" — consider making Delaware and STAR Campus their future home.
Significantly, Martelock said, STAR Campus also represents access to UD research teams and — students, for internships, co-ops and jobs. 
"We see ourselves as providing opportunities for students. We hope that some of these students, when they graduate, will choose Chemours as their place to work," Martelock said.
Labs and incubator spaces
While at UD, visitors had the opportunity to tour STAR Campus incubators and labs. Highlights of the tour included the CHS demonstration kitchen, health innovation design lab and health care simulation lab, all designed to provide students with research opportunities, training and skills to ensure job-readiness.
Mike Bowman, president of the Delaware Technology Park (DTP), showed the visitors through the DTP@STAR incubator space. Eunjung Eom, a junior assistant at Institut Pasteur Korea, said she chose to visit UD because she had heard from colleagues that UD's "biotechnology ecosystem was well-organized." Her work includes efforts to support bio-startup companies to get off the ground, she said, making the information provided during the UD visit useful as a benchmark for how to create similar support programs in Korea.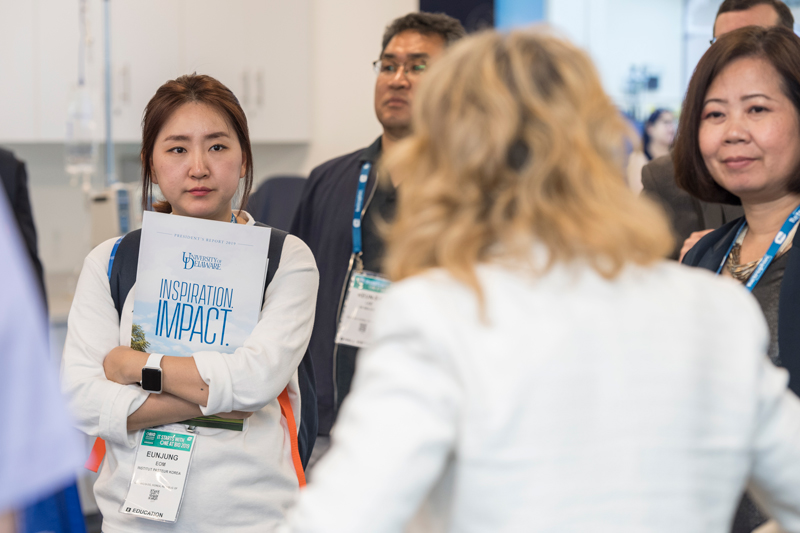 Companies that get their start in UD's incubator space vary from faculty/student driven companies that grow out of University research, to local, national or international scientists and businesses with ideas who are in need of a place to get going.
"This is the best of the best of the little guys," said Bowman.
Vara Prasad, a senior director of product development at the Cleveland Clinic in Ohio, called the incubator spaces at STAR Campus "fantastic," particularly for early stage startups. Specifically, he pointed to the ability for small science-based businesses to occupy smaller lab spaces to work on and grow their innovations, while leveraging the incubator's wider, shared facilities and business advisory services, and access to University assets, including faculty, students and equipment.
"It's wonderful. I'm surprised how much they [UD] have done here," Prasad said.
Robert Huberty, a retired chemical engineer who spent nearly 40 years with 3M, agreed. Huberty, president of RJH Enterprises Inc., called himself an angel investor and said that he attends conferences like BIO2019 as a way to stay engaged in the innovation landscape. He was particularly impressed with the development and progress on the STAR Campus, especially the use of a public-private partnership with a developer to develop the space.
"You're making rapid progress … it's pretty exciting," Huberty said. 
Already STAR Campus comprises 1 million square feet of real estate, in use and under construction, including labs, offices, clinical, incubation and coworking space. Construction is currently underway on a new and revitalized train station, too, to ensure easy access by Northeast industry partners. 
Future development plans include additional amenities to serve a growing number of residents, collaborators and visitors, such as hotel and conference spaces, housing and retail amenities.
The Delaware tour was sponsored by UD, Christiana Care Health System, Delaware Prosperity Partnership, Delaware Bioscience Association and Delaware Biotechnology Institute. The day-long trip also included a stop at Incyte, a Wilmington-based pharmaceutical company that ranks No. 7 on the Forbes list of the world's most innovative companies.