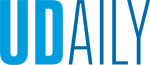 Lerner MBA students visit Amazon
Article by Queen Agboye Photo courtesy of Amazon January 17, 2019
Mathematical insight meets the physical world in operations management
Editor's Note: Queen Agboye is a first year MBA student in the University of Delaware's Alfred Lerner College of Business and Economics. As a graduate intern for the Lerner College Communications Office, Agboye will be writing about her firsthand experiences with the Lerner College MBA Program.
On a Monday in October, after less than an hour of driving from the University of Delaware's campus in Newark, Delaware, a group of Lerner College Master of Business Administration students walked through the doors at Amazon in North East, Maryland. Adam Fleischhacker, associate professor of operations management, brought his principles of operations class for a tour of the company's distribution facilities, specifically its shoe warehouse.
"I wanted students to embrace a future where they see themselves modeling real-world decisions, because they believe in the power of bringing mathematical insight into the physical world," Fleischhacker said. "The fact that we could do this at one of our country's most well-known companies — one that just about everyone does business with — is a nice added bonus."
With the 1.15 million-square-foot warehouse space stacked high with shoe boxes as his backdrop, warehouse operations senior manager Zachary Smith gave the class a presentation and tour of the facilities. The tour provided students a rare glimpse inside the internet retailing giant and how it fulfills, sorts and ships millions of orders around the world each day.
"I cannot believe how impressive the Amazon fulfillment center was, and I am deeply appreciative that our professor arranged for us to visit," said MBA student Maria D'Arcangelo Poole. "The trip allowed us to see process flow in action, and showed exactly why Amazon is an industry leader. Their pick, pack and ship systems are amazing to see in action, and the warehouse is absolutely immaculately spotless."
The principles of operations course (BUAD 831 in the catalog), is a required course for all MBA students and serves two broad purposes. One is to get students comfortable modeling real-world decisions and processes. The second is teaching students how extract managerial insights from those models. These insights provide guidance for how to align processes to strategy, manage uncertainty and improve business processes.
At Amazon, the physical location and movements of employees and products are completely orchestrated by mathematical models. The synchronization between physical and virtual worlds is more tangibly perceived during a tour of the facilities.
According to Fleischhacker, the benefit of this visit is that, "From the seemingly random placement of inventory to the fact that no two pickers were trying to be in the same aisle simultaneously, you sense the tremendous computing power that must be behind these phenomenon. Students have to contemplate how these feats are accomplished."
"This course, has made a significant impact on me," said Arpita Gandhi, a member of the MBA class of 2016 and a project manager at Citibank. "There is a reason why BUAD 831 is called a 'core class' in the business program. Operations management is an integral part of any business, whether it is selling of goods or services."
Fleischhacker gives his students the following four guiding principles of operations management. He said mastering them leads to a lifelong ability to create value for organizations and themselves:
Strategy sets a destination, operations management gets you there.

All models are wrong, some are useful.

To outcompete rival firms, create value through faster, better and cheaper processes.

Manage uncertainty or be severely disappointed.
"This class had such an impact on me because it provides eye-opening perspectives on the importance of aligning strategy with operations," said Poole. "I learned that even service processes can be measured and improved, but that the first step is to make sure that change is not just for change's sake but rather to serve the direction of the organization."
Students in Fleischhacker's class said that they left the Amazon trip with a better understanding of their coursework in action.
"The course has some core principles that were reinforced on this tour," said Fleischhacker. "Zachary and his team at Amazon did a wonderful job talking about the mathematical insights guiding Amazon's business process decisions."